5 Times We Wanted To Recreate Ananya Panday's Hairstyles
Eesha Kokane , 11 Dec 2019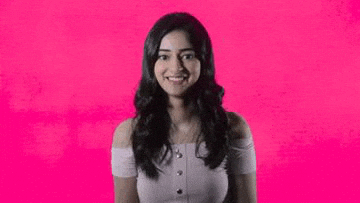 Newbie on the block and our lastest girl crush, Ananya Panday is absolutely slaying Bollywood with her latest performance. Besides her delightful personality and on-screen performance, what I really like about her is her hair game! I love it when celebrities experiment with their hair and try out new hairstyles. I recently came across Ayesha DeVitre's (who happens to be Ananya's hairstylist) Instagram page, and I have to say that I've spent a significant amount of time scrolling through it. Ananya's hairstyles range from everyday simple to edgy chic, and I had a hard time picking my favourites. However, after a lot of consideration, I can finally conclude that these are the hairstyles that I loved the most:
1. Fishtail Side Braid
A side braid is a classic hairstyle, and it looks like Ananya is as much of a fan of it as I am. It's quick and straightforward, and honestly, there's no way you can get it wrong (the messier, the better, IMHO). If you want to spice it up, then opt for a fishtail braid and tie it up with a minimal gold accessory just like Ananya did.
2. Romantic Waves
Looking for a new look for your next date night? This one is it! You can easily recreate this hairdo with a curling iron and some texturising spray. Take small sections while curling your hair so that the curls are tighter.
3. Artsy Braid
This hairstyle is super quirky and unique, and I'm all for it. I agree that it may not be wearable every day, but it looks like a piece of modern art.
4. Sleek High Ponytail
This Ariana Grande-esque ponytail is kinda hard to pull-off, but Ananya is slaying it! If you're planning to try out this hairstyle then one tip I'd give you is to use clear mascara to tame your baby hairs.
5. Business Chic Side Bun
Say hello to your new go-to hairstyle to wear for work. Whether you're having a good or a bad hair day, this hairstyle will be perfect to wear at the office.
Which one of Ananya Panday's hairstyles are you excited to try out next? Let me know in the comments below.
Follow @missmalinibeauty on Instagram for more updates.