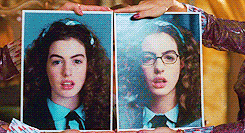 New year, new you and… a new look? Whilst it's tempting to chop off your locks or go on a shopping spree, you can freshen up your style by upping your beauty game! Here are 7 cool looks that will inspire you to dig deep into your makeup kit and come up with your own creations.
1. Double-Rimmed Eyes
If you can't live without your black eyeliner (trust me, I understand!), this edgy makeup is the one for you. By using an inky, matte hue on your upper and lower rims you can really enhance your peepers. Just remember to clean up any stray liner with a cotton bud so that your makeup looks crisp, instead of messy!
2. Multi-Toned Magic
Feel like experimenting? Open up your most versatile makeup palette and go crazy! Whilst the pastel and metallic shades showcased here work beautifully together, you can even opt for bolder hues to get a strong look. To ensure that your efforts look like a piece of art, keep blending the hues to get a seamless transition of colour.
3. One Colour To Rule Them All
On the other hand, you can also stick to a single shade for a cohesive look. This pink-toned makeup keeps the lids and cheeks muted with a soft sweep of rose, whilst turning to the spotlight on to that bright pink pout. If you are keen to try this look out, keep your base clean and dewy so that the pinks can truly pop.
4. Glitter And Glam
2020 is your year to shine! This look pairs the magic of a timeless cat-eye with a confetti-like sparkle to create a visual impact. Mix up the size of your glitter particles to add to the rock-and-roll vibe.
5. Mixed Finishes
Molten lids and matte lips are a lethal combination. Stick to metallic hues like deep golds and bronzes so that you can play around with more vivid lipsticks such as corals and oranges. Pair these together with defined brows and fluttery lashes for a complete look.
6. Jewel Tones
Deep blues, purples and greens look great on us desi girls! Those of you who are willing to go all out should opt for shadows, whilst those looking for a subtler option can use a liner in these hues. For maximum drama, reach for products with a shimmery or metallic finish.
7. Contrasting Tones
This year is all about breaking age-old makeup rules. Instead of picking between a statement lip or eye, take a leaf out this look and go for both! Bonus points if you happen to match the colours to your outfit.
Which of these makeup looks are you most excited to try?
P.S: Follow @missmalinifashion and @missmalinibeauty on Instagram for more updates.