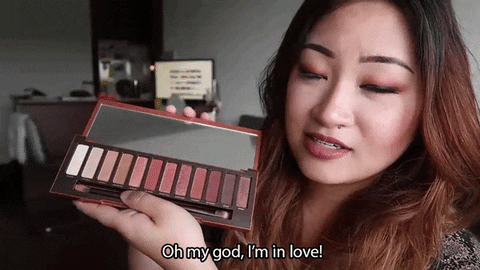 If I was a millionaire, my makeup vanity would probably be the size of my current bedroom. However, since I'm not, I have to make do with what I can. Fortunately, after a lot of trial and testing, I found out that you don't always have to spend a ridiculous amount of money on makeup for it to be of good quality. There are a few fantastic products out there that do a great job (if not better) than their luxury counterparts. Take eyeshadow palettes; for example, there are some gorgeous palettes out there. Although if I went to buy the luxury ones, I'd end up spending a small fortune. That's why I rely on these trusty and affordable eyeshadow palettes:
1. Maybelline New York Blushed Nudes EyeShadow Palette, INR 905/-
This palette is a classic, and I think everyone should have it. It has the most beautiful combination of shimmery, subtle and muted colours that look so natural once you apply them. If you're someone who doesn't experiment with eyeshadow, then these classic colours will be perfect for you. I highly recommend this affordable eyeshadow palette.
2. Makeup Revolution Re-loaded Palette – Velvet Rose, INR 850/-
This right here is my go-to eyeshadow palette for a girl's night out. It has a superb collection of colours, and they're all warm-toned. So if you have a warm undertone, you'll love this palette. It has the perfect balance of shimmery and matte colours. The fact that it is affordable makes it one of my favourites.
3. Wet n Wild Color Icon Eyeshadow 10 Pan Palette, INR 499/-
Pretty colours, excellent pigment and affordable, this eyeshadow palette is ideal for you if you want a budget good quality product. What makes it even better is that it has transition shades (which should be applied to your crease), which help make your makeup look more natural.
4. L.A Colours Sweet! Eyeshadow Palette, INR 950/-
If you want autumn in an affordable eyeshadow palette, then meet your new BFF. It has shades like, pumpkin, mauve, magenta and mustard, which are relatively hard to find. That's why this palette is a dream to use.
5. NYX Ultimate Edit Petite Shadow Palette, INR 800/-
Travelling anytime soon? This sleek eyeshadow palette will come in handy when you're travelling. It has six gorgeous shades, and it's super pigmented.
Which one of these eyeshadow palettes are you adding to your shopping cart next? Let me know in the comments below.
Follow @missmalinibeauty on Instagram for more updates.