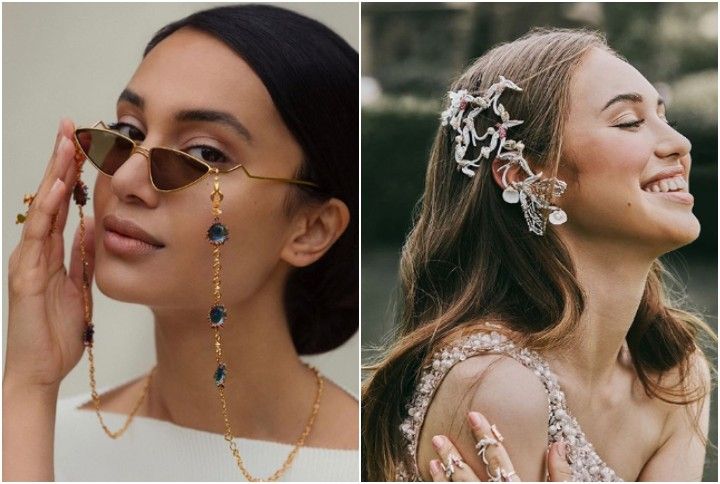 Jewellery is a staple accessory that every woman needs to complete her OOTD and can elevate your entire outfit. It's as simple as adding hoop earrings or a minimal necklace to a basic outfit like t-shirt and jeans. Jewellery can range from simple to elaborate and delicate to chunky, and you can also add some heavy-duty Indian pieces to spruce up your wardrobe. If you don't know where to get the right accessories for the summer, we've picked some of our favourite brands that you can shop from!
1. Apala By Sumit
Apala By Sumit has a wide range of Indian jewellery you can pick from. These peacock eclectic earrings in particular are perfect for summer with their pretty pinks and jewel tones. Most of their collections have traditional designs with unique and edgy, contemporary touches.
2. Tribe By Amrapali
This elegant set from Tribe By Amrapali is from their Heera Noori collection. Their store is well know for hand-crafted jewellery that could be best used with your outfits for parties and weddings.
3. Misho Designs
This brand is one of our top favourites—Misho Designs has jewellery that is so beautiful to look at because their designs are very abstract, experimental and avant-garde. They have a lot of convertible pieces like this knotted, flower choker that can also be worn as a sophisticated head band.
4. Goenka India
If you're gearing up for a fancy, up-scale event and are looking for something simple yet eye-catching to wear, this brand is the one for you. Goenka India has chic, fashionable and elegant jewellery but is more luxury aligned than your everyday basic options. They also have bridal collections that are to die for!
5. Outhouse Jewellery
Outhouse is another brand that's one of our favourites. They have really cool collections—the edgy and unusual eye promise collection and their tropical bridal collection kaleeras. Their jewellery is very uncommon and peculiar, so if you're looking for something to make a statement this summer, then this brand has what you need!
6. Anaqa Jewellery
Anaqa Jewels has young and fun designs in their collections. Their jewellery looks lightweight and can be worn effortlessly to match any outfit, this summer. The addition of tiny accessories always makes the final outcome a more polished one!
What brand do you think you will incorporate in your summer wardrobe? Let us know in the comments below!
Follow @missmalinifashion on Instagram for more style updates