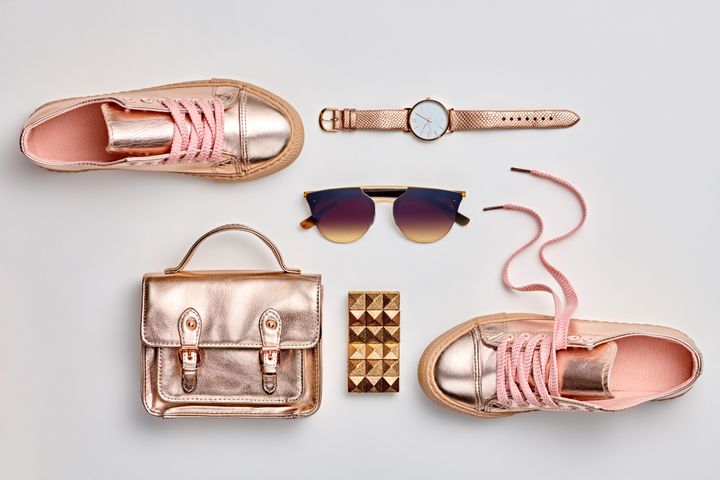 Yesterday I gave you a list of must-have clothing essentials to help you grow your wardrobe. And today I want to give you a list of basic accessories to help support that wardrobe. Yes, it is true that some looks will have you stepping out sans accessories but you will always have at least 1 to 2 pieces from this list on you at all times. I used to think wearing lots of accessories and being OTT was the way to go. Until I realised the lesser the better, you tend to look more elegant and sophisticated.
The thing that I've noticed about accessories is that they always make for great conversation starters. I can't tell you how many times random people have walked up to me and asked me about an accessory I have on. They're always curious if there's a story behind that particular item. Sometimes there is and most times there isn't. That's why they say go down the vintage road, each piece is unique and tells a story. Someone once told me that before you leave the house do a double-take in the mirror and remove one accessory out of all the accessories you have on. Of course, those great words came from Coco Chanel but I didn't know back then! And that advice stuck with me and has really worked.
Soon I became the minimalist that I am. That being said I still feel everyone needs a basic outline of key elements and items to invest in. And yes it is ok to over accessorise with dainty pieces because they don't act as in your face elements. I know there are several myths about how you shouldn't be mixing your metals but honestly do as you please—If you're that OTT girl who likes wearing many accessorises then you go rule girl. This is just my preference and how I like to see myself, so no pressure! The reason why accessories are a must-have is that they change the look and appeal of your wardrobe staples by adding colour and can totally reinvent the way one can wear these staples.
Here's a list of 18 must-have basic accessories to use with your expanded wardrobe basics:
1. Sneakers
This is my favourite type of shoe. I used to wear 6-inch heels when I was fresh out of school because I was in a rush to be an adult. But after adulting, I can attest to the fact that sneakers are definitely the way to go. Who wants to consistently be in pain or waddle through life on Mumbai's terrible roads?  Buy these bad boys in any colour or style but definitely start off with a simple white pair and make sure you own a pair of Converse shoes too.
https://www.instagram.com/p/3UmIpkricd/
2. Sandals
If you get sweaty on your feet often and like the easy-breezy vibe then sandals are definitely the right fit for you. Get these in tan, dull gold, silver and black. I like a good pair of slides and sometimes I enjoy the tie-ups especially when I want to channel my inner bohemian self.
3. Heels
I know that heels are a must-have item, and while the higher heels are fab, it really looks uncomfortable to watch women totter in them. If you do find a pair that you can hold your head high in then, by all means, buy it, but if you know the shoes are uncomfortable then rest assured you'll end up looking unattractive because of how they make you walk. But if that's the case then look for shoes with block heels, platforms, wedges anything that is chunky and will be able to hold your body's weight must be better than a pair of stilettos.
4. Holdall
A handbag is a dead give away about the type of person you are. Are you the type of woman who likes to carry your world with you? or are you the type of woman who likes to be fuss-free? Evidently, if you are the former then you walk around with a holdall and if you are the latter then you pick a sling bag or a cross-body bag. You can choose from a range of bags but I can tell you this, that a good black or tan bag will go a long way and will work with any outfits you have. I tend to like more structured firm bags, but you can look at tote bags, hobo bags and even the jhola style over the shoulder ones made from fabric.
5. Cross-body Bag
A bag that slings right across your body and is perfect when you go out to drinks and music festivals. You can buy these in several types of shapes. I like a nice bucket style bag or even a rectangular style works.
6. Clutch
A tiny handheld version to only carry your essentials is mostly carried to parties and functions, buy these in black, gold and silver before expanding to other colours, prints and textures.
7. Waist Belt
A good waist belt will cinch your waist in, it gives the illusion of a thinner waistline and also makes some frumpy clothes look more streamlined. Start by buying a black or tan belt with a gold or a matching buckle before buying the fancier options.
8. Slim Belt
A slim belt is a must-have accessory to hold those denim pants in place. Sometime a slim belt will also look great on a dress and over a blazer as well. The over-the-blazer look is quite on-trend in fact at the moment. Again buy this belt in tan or black, to begin with, and work your way up. I do however like to experiment with interesting buckles and you can start with something that's more than a little basic for this specific accessory. And when you use these around your waist you'll realise it's a lot longer than required but you can tuck the excess bit into your belt and create a neat knot as well.
9. Long Necklace
A long necklace looks great on plunging necklines, on T-shirts and maxi dresses. Find one that has an interesting pendant or has interesting detail all over. If you wear a long necklace then pair this accessory with bangles or cuffs and not earrings.
10. Statement Necklace
A chunky necklace says it all. You really don't need to add any more jewellery to this look but if you must, then try dainty rings or really tiny stud earrings. I love pairing a chunky necklace inside shirts, somehow they look so fantastic.
11. Stud Earrings
Stud earrings are mostly used for formal do's, you pair them with a shirt or when you have your hair pulled back in a bun. However and whenever you choose to use them, they look beautiful. Start with dainty pearl ones and work your way up to diamante styles or fun colours and shapes. I really love buying those packs that have multiple studs, so many options to choose from in one go.
12. Statement Earrings
Huge fan of statement earrings, I have to say that I'm a collector of these. Every month I try and buy myself a pair of unique looking earrings. They could be in the form of hoops, enamel coloured or battered metal. All shapes, sizes and kinds of earrings work. They leave room for so much experimentation and often I love mixing them with prints and bright colours. And that's why statement earrings should be part of your must-have basic accessories.
13. Ring
I used to collect all sorts of rings back in the day and was highly inspired by Phoebe from Friends who would wear rings on all her fingers. But like I said, I went down a more minimal route in time and started investing more in gold midi rings and statement cocktail rings. And I really found that they went better with my basics and made me feel more sophisticated. Basically basics rule!
14. Charm Bracelet
I know they'll tell you that a cuff is a must-have and while it is and looks great, I have to override that by saying there's something special about owning a charm bracelet. I used to love collecting charms when I was younger and I was able to add on things that were special to me and represented something in my life. Perhaps you are passionate about travel and would add elements like the globe, aeroplane and the Eiffel tower. Imagine what a great conversation starter a bracelet like this would make.
15. Scarf
I'm not big on wearing long scarves and stoles because I tend to get quite warm. But I really do love them when I'm travelling and they look oh-so-chic under a trench coat. And that's why this item also becomes a must-have basic accessory to add to your wardrobe. You can invest in handkerchief style scarves that are mostly silk and printed. I love me those vintage Versace prints and they look so elegant when worn the right way.
16. Sunglasses
Ok, so the thing about sunglasses is that the types constantly go in and out of style, which makes you want to invest in cheaper buys. But I'm here to tell you that those can really mess with your eyesight. This is one must-have accessory that will require you to splurge a little. If nothing else invest in a pair of classic Ray-Bans that you can never go wrong with. I personally tend to prefer the oversized all-black sunnies in general. What kinds do ya'll like?
17. Watch
A classic watch in gold or silver works like a charm. Choose the dial size of your choice and a style of your choice. You can go down a more feminine route or like me own and rock a G-shock with a massive manly dial.
18. Stockings
A nice pair of stockings are always a must-have basic accessory to own, they look so lovely with mini dressed or even under a pair of shorts. Get them in opaque black and pair of more transparent ones. The skin coloured ones are a tad old school but get them only if your work demands you wear them.
I hope this list acts as a simple add-on to your must-have wardrobe basic list. There's lots of room to experiment with accessories and this list could have been endless. But like all good things, this blog too must come to an end. Let me know in the comments below if you already own any of these accessories.
And make sure to follow @missmalinifashion on Instagram for more updates.