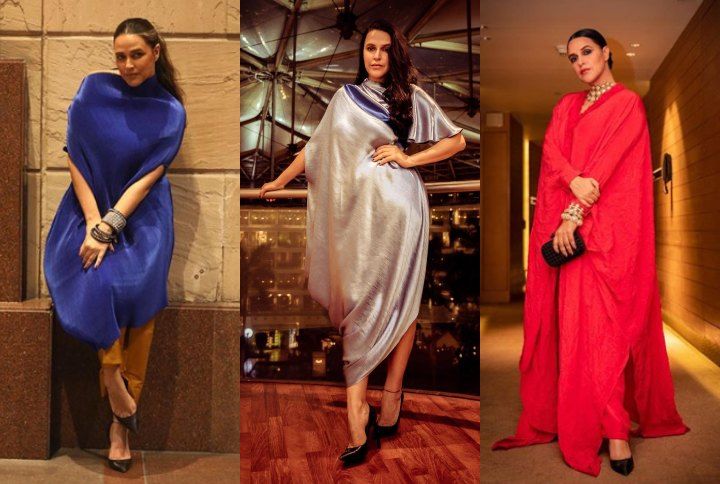 Neha Dhupia's sense of style has been on fire for the past few years. With an overflow of TV shoots, awards and events she has attended, every outfit she wore has been perfect for the occasion. Neha's typical style is very unusual with a lot of prints, suit jackets, asymmetrical dresses topped off with statement jewellery. Over the last few months we've seen a lot of badass, biker-chic kind of outfits since she has been shooting and hosting MTV Roadies. Through the posts on her Instagram, it is evident that she likes to keep her style bold and fierce.
Neha Dhupia In House Of Masaba & Rare Heritage
Neha showed us how exactly fierce she can be in a striking red outfit that she wore to an event. Gurleen Gambhir and Sukhmani Gambhir of Gumani Stylists styled her in a cherry-red look from House Of Masaba and Rare Heritage. The outfit consisted of pants and long-sleeved top-turned cape combination. For accessories, they dressed her in chunky, kundan necklaces and bangles and a small back clutch. They chose a pair of black pump heels to complete her look.
For hair and makeup, Elisha Agarwal went for matte skin with a deep contour. She gave Neha a smudged smokey eye kind of look with a nude lip. Hamida Idrisi pulled back her hair into a sleek low bun with a middle parting. Her hair and makeup looked so elegant with her outfit.
In Payal Khandwala
Another perfect example of her unusual style is this outfit from Payal Khandwala. Neha wore an asymmetrical, multi-pleated, royal-blue dress. Her off-shoulder dress was styled with ankle-length mustard-yellow pants. She wore a pair of black pump heels for this look too. The Gumani team accessorized her beautiful outfit with bangles from Ritika Sachdeva.
For this look, Neha wore minimal makeup with a soft contour showing off her amazing cheekbones and blushed cheeks. Her hair was styled in messy waves pulled up into a tight high ponytail.
In Urvashi Joneja
Neha slayed is this metallic silver and blue asymmetrical dress from Urvashi Joneja. This unusual, silky dress is another example of her unusual and edgy style. They styled her outfit with the same pair of black pumps. With these three outfits, Neha also showed us how to rock the same pair of heels for completely different looks!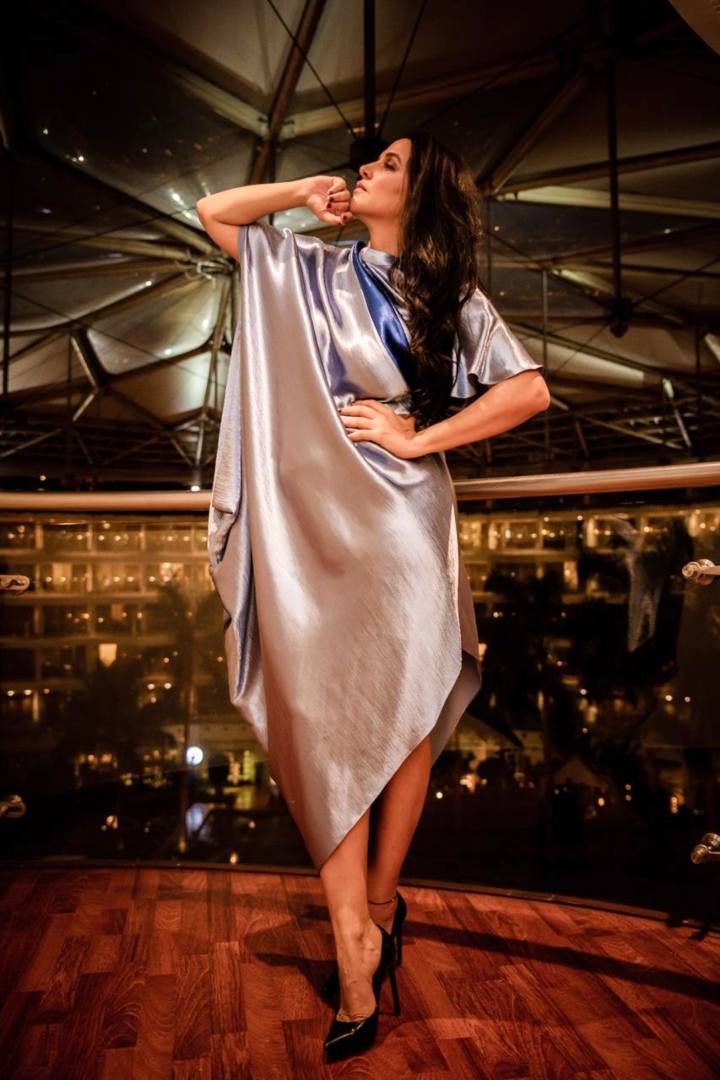 Her makeup for this outfit was kept natural with slightly flushed cheeks and a light brown smokey eye. Neha's hair was styled in loose messy curls and kept to one side. For distinct dresses like this, natural-looking hair and makeup works best.
We personally love the royal blue dress and pants duo! Which outfit of Neha Dhupia's did you like the most? Let us know in the comments below.