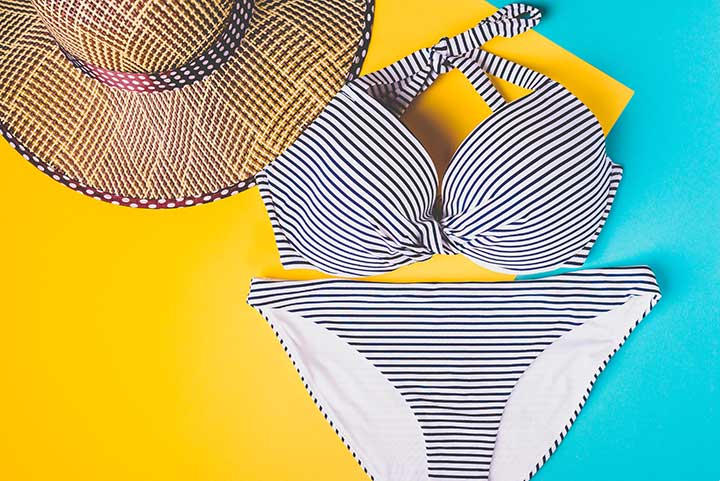 Summer is here and it's that time where all of us would have planned an outing to the swimming pool or a relaxing beach vacation. However, none of that is happening. We're on a national lockdown due to the global pandemic, COVID-19. It is an unfortunate situation for the whole world and most of us have to spend our time isolating ourselves and maintaining social distancing. But don't worry if your summer plans are cancelled. You can always get out once it all settles. Taking a dip in the pool is on my list of activities to do once this all ends. But when I was cleaning my closet the other day, I realised  I've grown out of my swimming costume. So I started surfing the internet to find some good swimwear brands. The most important part of any swimming costume is the fit and I came across so many labels that cater to all body types. So, take a look at the list of Indian swimwear brands that you can shop from once the quarantine period ends.
1. Marks & Spencer
M&S is one of my favourites. It's my go-to brand for lingerie and swimwear. The brand has an array of stylish costumes and bikinis in trendy cuts, prints and colours for women.
2. Shivan & Narresh
Ace designer duo, Shivan & Narresh are known for their resort wear collections. They have the coolest swimming costumes and bikinis for women of all shapes and sizes. If you're big on prints and love luxury wear, you must check out their beachwear collection.
3. Pretty Secrets
Pretty Secrets is another brand that caters to every type of body. They keep comfort and style both as a priority while designing swimwear. I own a bikini from this brand and in my opinion, the quality is quite good and it is also worth the price.
4. House Of NM
Nidhi Munim's House Of NM is a label known for definitive and classic travel essentials. I personally love her floral printed suits but she also plays with an array of styles such as colour blocking, dual tones, stripes and much more.
5. Flirtatious
If you prefer one-piece suits but still don't mind experimenting with unusual styles, Flirtatious is the brand for you. I love their cuts in their swimming costumes because they make the suit look so different. In case you're the type who worries someone else might have the same costume as you, check out this brand for their range of unique swimwear.
6. The Summer House
If simplicity is your style, then don't forget to take a look at The Summer House. The label has simple swimwear in clean cuts and muted, solid colours that are basic, yet so gorgeous on wearing. On top of that, they are a sustainable brand. The distinct aspect of their swimsuits is that they are reversible and are made from econyl, a revolutionary fabric made from abandoned fishing nets fished out of the sea. Isn't that amazing?
7. NothingSwim
Wondering where to get a swimsuit that mixes aesthetic and sexy with form and functionality? Then NothingSwim is for you. This Indian brand makes sure that their locally made beachwear provides coverage and support where we ladies need it the most.
8. Oceaniss
Oceaniss houses some of the best international swimwear brands and operates online. So if you're a hundred percent sure that the size is correct and will fit you, I would give this brand a recommendation. It's got multiple labels and a plethora of options with respect to style. Apart from swimwear and its accessories, they also have items for maternity wear.
9. PA.NI Swimwear
Here's another label that makes sustainable swimwear from fishing nets, which are derived from high-grade Italian fabric. PA.NI Swimwear's costumes work for all sizes and the brand intends to spread body positivity. Fit, comfort, and style are of the utmost importance to the brand.
10. The Label Life
The Lable Life has a variety of clothes and accessories for women of every age, shape, size, skin tone. And, they also have a beautiful range of beachwear. From swimsuits to bikinis and sarongs, their trendy collection will make you want to go to the pool or chill by the beach!
11. Verandah
Anjali Patel Mehta's Verandah is an eco-conscious and ethical brand that has some of the best prints and patterns for travel and resort wear. Her tropical printed swimsuits are to die for.
12. Salt Skin
Salt Skin by Deviana Gupta is an Indian brand that ships worldwide. From swimming costumes to bikinis and monokinis, this beachwear company keeps up with the latest trends in swimwear.
13. The Beach Company
From shipping stylish and well-fitted suits to swimming accessories for men, women as well as kids, The Beach Company is every beach bum's go-to. Their range consists of resort clothing and swimwear for women, swim trunks and boardshorts for men, bags, accessories, loungers & inflatables, suncare, and sunglasses.
Which swimwear brand did you like the most? Let me know in the comments below.