India is a country with a vast, diverse, non-homogenous culture. Even though we are one nation, each region and state has its own language, dialect, food, clothing style, and art forms. Of all these, a striking place that has a dynamic tradition is the Himalayan region. When you think of the Himalayas, what comes to mind? Meditation, peace, and isolation? However, there's so much to this part of our country, especially with regard to their art and culture. The locals staying there have a Tibetan influence and it is very distinct. One of the people who has taken a keen interest in reviving their culture is Lhanzey Palden. She does this through her clothing and home decor label, Mapcha. Derived from the Tibetan word for 'peacock', Mapcha was born out of a desire to place traditional Himalayan arts and aesthetics within the contemporary space.
The unique design studio launched a special edition jewellery line this year in February and called it the Losar Edit. Losar, the Tibetan Lunar New Year is celebrated between 24th to 26th February. ​I got the opportunity to get in touch with Lhanzey and get a deep dive into this label. Read on to know more.
The New Jewellery Collection
Traditional in spirit and contemporary in form, the handcrafted earrings in sterling silver and 18k gold dipped takes inspiration from the clouds (​Trin-pa​) of the auspicious Thangka art—a Tibetan Buddhist scroll painting, often including Buddhas or mandalas. Take a look at how their inspiration from a painting was transformed into a beautiful pair of earrings below.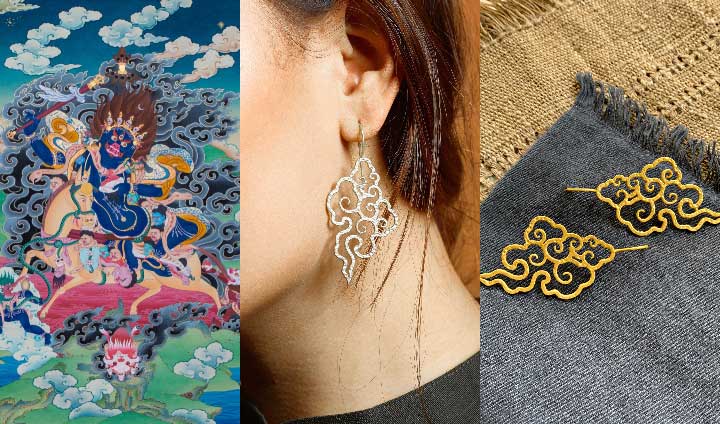 But Wait, What's The Story Behind Mapcha?
I was very interested in Lhanzey's story behind starting this lifestyle label and here's what she had to say,
The concept of a Himalayan lifestyle brand has been with me for a long time now. It gained clarity and matured as I grew, and in 2018, I launched Mapcha. I have always been a visual person and my rich cultural background has been a major source of my inspiration in my work or life in general. I wanted to represent the traditional and give it a modern touch adopting a design language that was in my personal style and taste. My time in JNU where I did my Masters in Arts and Aesthetics helped me delve deeper into the culture and literature side as well which further propelled me towards the vision I had for Mapcha.
Why The Focus On Himalayan Culture?
Himalayan culture, be it the arts, textile, architecture or just the way of life is very unique. And it's amazing to see the diversity and richness of each region. Growing up amidst this, I was very full and brimming with ideas and I needed an outlet. Mapcha enabled it.
Design Aesthetic
In a world of loud, kitschy designs, Mapcha's aim is to create designs that are minimal. On asking Lhanzey how she fuses her design aesthetic with her inspirations from Himalayan culture, she told me,
For me, simplifying the design is important. As the old saying goes, "Less is more." Bringing the focal point to one aspect of the design and working the elements accordingly is something I like to work on. I love block colours and I'm heavily drawn towards vernacular Himalayan architecture, especially Tibetan, for the earthiness of the colour palette, the textures, and materials used.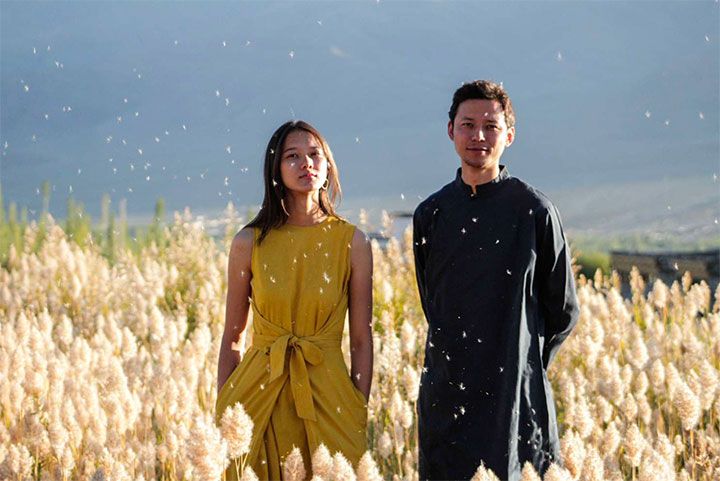 The simple and fluid silhouettes of Mapcha's clothing line Upalla are timeless, making it wearable for multiple occasions. The collection makes use of natural fabrics like cotton and linen. It takes traditional Himalayan attires and turns them into versatile contemporary silhouettes. That's how the label adds a modern touch to the outfits and I personally love it.
Reason Behind The Store Location
The founding studio is located in the culturally rich and commercially bustling district of Majnu ka Tila, which was a Tibetan refugee settlement but is now one of the key tourist attractions in New Delhi. I was quite fascinated to know why Lhanzey chose to locate her store here.
Majnu ka Tila is a 'Tibet Town' in itself and everyone knows it as the one-stop for all things Himalayan for decades now. There are so many cafes, restaurants and stores representing different Himalayan regions of Tibet, Nepal and even Bhutan. There didn't seem to be any other better place to start from, other than the roots. Also, I have seen the place grow massively in terms of culture and tourist value in the past 3-4 years and I'm happy to be a part of it.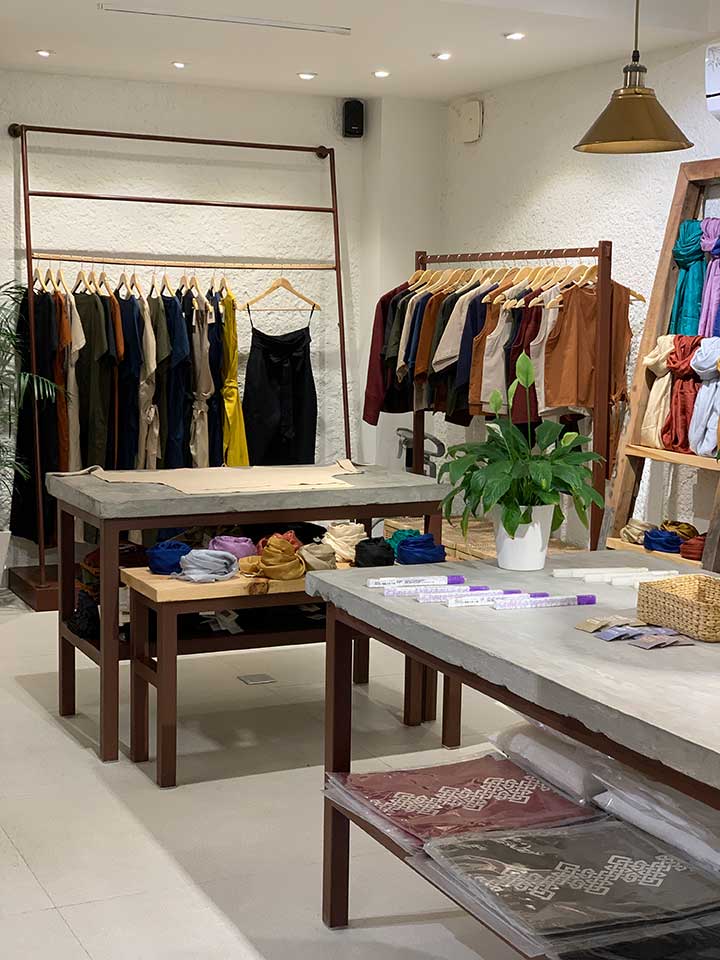 This area certainly sounds fun and I wouldn't mind paying a visit to it and also drop by the studio once we get to travel again. Wouldn't you?
What are your thoughts on Mapcha? Let me know in the comments below.