5 No-Equipment Workouts You Can Do In Your Living Room
Eesha Kokane , 13 Apr 2020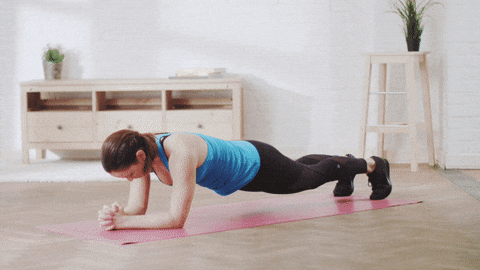 I never thought I would say this, but I miss going to the gym. This lockdown has made me realise that I used to take simple things like working out in the gym for granted. Now that I am sitting on the couch with a slice of banana bread in one hand and my phone in the other, I'm missing the treadmills, dumbells and all other gym equipment that I used to use. However, recently I came across online workouts that don't need gym equipment. I tried a few of these workouts, and I have to say that they give the same results (and an equal amount of soreness, ouch!) as a regular workout in the gym. So if you want to get off the couch and get moving, then here are some of my favourite at-home no equipment workout that you can give a try:
1. Blogilates
I started doing these workouts a few days ago, and when I first started doing them, I thought, "Pfff How hard could it be?". It turns out it is much harder than it looks. Cassey Ho's workouts are challenging but also fun. So grab your mat and wear your shoes and prepare for a gruelling no-equipment workout!
2. FitnessBlender
This channel always has the best no-nonsense workouts; whether you want to train your legs, abs, arms or full-body, they have a complete workout for you. This one no-equipment workout is my favourite because you can always feel the burn the next day!
3. MadFit
This YouTube channel has the most exciting workouts, and most of them are choreographed to the latest pop songs! So whether you're looking for a quick 3-minute workout or a 30-minute no-equipment workout, this channel has it all.
4. PopSugar Fitness
This is one of the OG YouTube fitness channels, and they have a vast variety of free workouts for you to try out. I love this channel not only because of the range of workouts they have but also because most of these workouts require no equipment.
5. The Zoe Report
If you've always wanted to try a pilates class, but you have been too intimidated to try one, then try an online mat pilates class! You can get the same results from a mat pilates class as you would from a machine pilates class.
Follow @missmalinilifestyle for more updates.