The Easiest Recipe To Make Eggless Chocolate Brownies
Eesha Kokane , 14 Apr 2020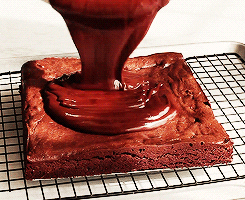 Remember those good old days when we could step out of our house and eat at restaurants with our friends? Aah, those were the best times… Ever since the lockdown was enforced to stop the spread of coronavirus, we've had to (temporarily) say goodbye to a lot of activities—going to work or college, working out at the gym and eating out at restaurants with your friends. It's the last-mentioned activity that I miss the most. However, I won't let social distancing stop me from eating yummy food. Instead of whining about how we can't step out of the house, I took up a hobby—baking. With YouTube as my teacher and it's endless recipes as my homework, I'm proud to say I've gotten pretty good at it. My favourite YouTube channel when it comes to baking is Bake With Shivesh. The recipes are straightforward, and he explains the procedure to make the baked goods very well. Recently I tried his eggless chocolate brownie recipe, and I have to say that the brownies turned out amazing! So if you want to satisfy your chocolate craving, then try this fun recipe:
Ingredients:
1/2 cup of all-purpose flour
1 teaspoon of baking powder
3 tablespoons of cocoa powder
1/2 salt
1/2 cup of butter
2 cup of white sugar
1 cup of roughly chopped chocolate
1 cup of yoghurt
1/2 teaspoon of vanilla essence
Instructions:
Start by melting the butter and the chocolate pieces together.
Next, take your yoghurt and strain it to remove any excess water. If you're using greek yoghurt, then you can skip this step.
After you have strained the yoghurt, add the sugar to it and mix it with a whisk till you reach a creamy consistency.
Once the butter and chocolate mixture has cooled down, add it to the sugar and yoghurt mixture and mix it well.
Add the vanilla essence to the batter and mix it in.
After you've mixed all the wet ingredients together, it's now time to add the dry ingredients. So pour your measured amounts of all-purpose flour, baking powder, cocoa powder and salt into the batter. Stir until everything is mixed.
Then transfer the brownie batter onto a baking tray lined with parchment paper.
Place the baking tray into a preheated oven and let it bake for 30 to 35 minutes at 180°C.
After the brownies are done baking, let them cool for an hour in the fridge.
If you missed Shivesh's video, then you can find it here:
Follow @missmalinilifestyle on Instagram for more updates.