For years and years, I've seen rather peculiar makeup hacks on social media platforms like Instagram and Snapchat. From priming your face with aloe vera gel to using a knife to contour your cheeks, the internet is a weird place sometimes. One thing genre or makeup hacks I've always wanted to try was winged eyeliner hacks. Anybody who knows me well knows that eyeliner is my desert-island beauty product. So that's why I decided to try out three hacks for winged eyeliner to check out if they actually work. Here's how it went:
1. Hack #1—Wing Stamp Eyeliner
This isn't a "hack" as such; it's instead an innovative product that helps you nail winged eyeliner every time. It has a wing stamp at one end, and a standard felt tip liner on the other end. To use this product, you first have to use the wing stamp at the corner of your eye and then line the rest of your lashline from the inner corner of your eye to the outer corner till the wing is complete. It was easy to use, and it gave me good results, however, once the wing stamp dries out, this product won't be as unique as before. I was happy with the precise wings it created, and I will probably use it in the future again.
My Rating: 9/10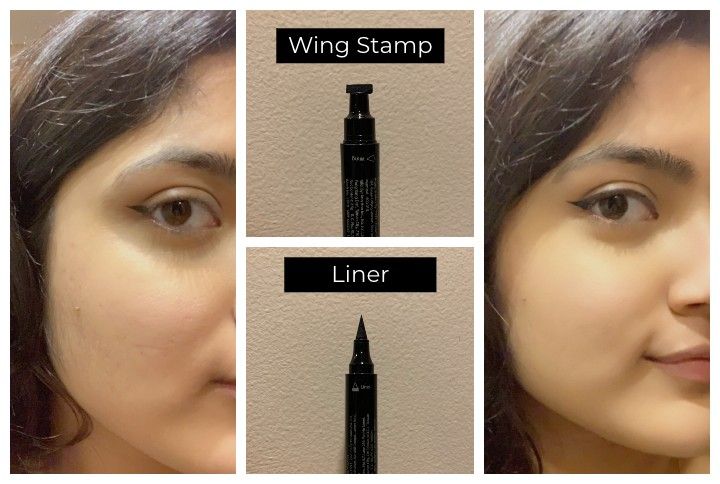 2. Hack #2—Use A Card
Another hack that I saw for winged eyeliner was using a card to create the wing. I was a little sceptical about this at first, but after I tried it, I somehow understood the logic behind it. Take any card and hold it at the outer corner of your eye and angle it toward the end of your eyebrows. Once you have the card in place, take your eyeliner and trace the wing along the edge of the card. Once you've drawn the wing, line the rest of your lash line and join it to the wing. This hack was helpful, but I was not that impressed with the results. The eyeliner and the wing looked very thick.
My Rating: 7/10
3. Hack #3—Use Dental Floss
This hack seemed ridiculous from start to end. I used a piece of dental floss and darkened the floss with eyeliner to create the wing. The plastic part of the dental floss kept poking me in my eye and results were so horrible that the poking wasn't even worth it. I would not recommend this hack at all!
My Rating: 0/10 (it's better to skip the winged eyeliner than try this hack)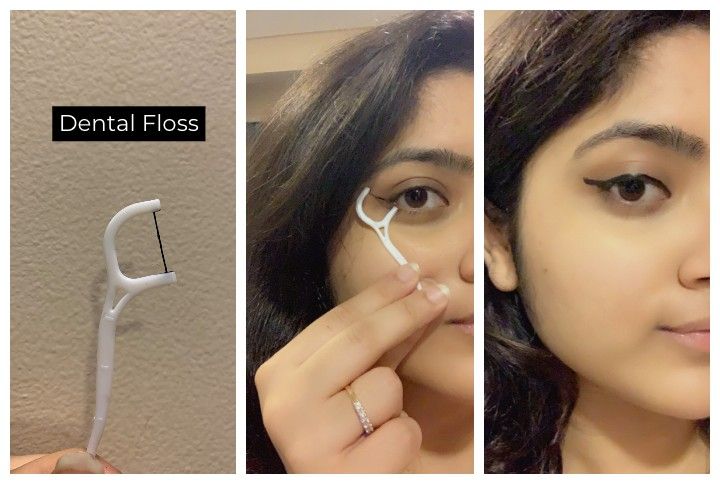 So in conclusion out of all the hacks, using a wing stamp eyeliner is the best option. However, in the future, I'd prefer drawing the winged eyeliner myself instead of using a hack.
Follow @missmalinibeauty on Instagram for more updates.