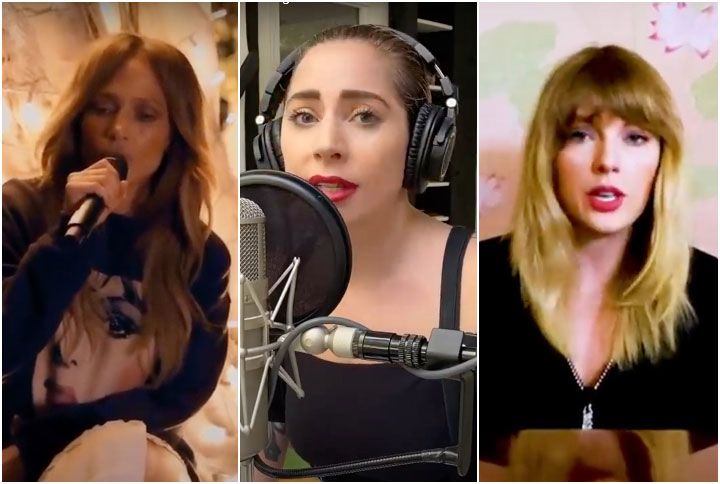 The pandemic of COVID-19 has changed a lot of things this year. We can't step out of the house in order to practice social distancing. However, we can definitely stay socially connected. There are a lot of concerts that have got cancelled, disappointing fans globally. But ever since Chris Martin started a concert on his Instagram live from his home to help his fans cope with the stress during lockdown, several artists followed. And thanks to him, the idea of having a concert from home came about.
The One World: Together At Home concert was organised by Lady Gaga with Global Citizen and the World Health Organisation (WHO), in which several musicians, as well as celebrities, took part to support all the medical workers and researchers around the world who are on their toes to fight the Coronavirus. A sum of money generated from this concert would go to the COVID-19 Solidarity Response Fund for the WHO. But Gaga made it clear that this wasn't a fundraising event on television, and it focusses more on the messages of solidarity and entertaining people at home.
Popular late-night show hosts, Jimmy Kimmel, Jimmy Fallon, and Stephen Colbert hosted the digital concert and kept their light-hearted humour alive to add a little entertainment for their audience. Apart from watching all my fave artists perform from their couch, I also liked listening to the messages of support from renowned people like Priyanka Chopra Jonas, Shah Rukh Khan, Oprah, Michelle Obama, Idris Elba, and so many more. Here are some of my favourite performances from the televised gig!
1. Lady Gaga
Lady Gaga sang Charlie Chaplin's Smile and dedicated it to everyone who is going through this tough time and wondering when all this will end. She certainly did put a smile on my face with her beautiful voice.
2. Paul McCartney
Before singing the Beatles popular number, Lady Madonna, Paul sent out a heartfelt message to all the doctors and nurses and sang this song for them.
3. Shawn Mendes And Camila Cabello
One of my favourite couples in the music industry right now, Shawn and Camila sang their own version of What A Wonderful World.
4. The Rolling Stones
The Rolling Stones gave us a four-cam video concert from their own homes on You Can't Always Get What You Want and synchronized perfectly to Mick Jagger singing. Even though the band's drummer, Charlie Watts didn't have his drum set, he worked around with a makeshift one that defs did the deed. Man, I wish I could watch them live.
5. Keith Urban
How many of are Keith Urban fans here? He's one of the country singers whose songs I enjoy listening to. Now multiply Keith three times, and you'll get a brilliant performance from him vocalizing, harmonizing and playing the guitar on Higher Love by Steve Winwood.
6. Lizzo
Lizzo has a massive vocal range and she gave it all by singing Aretha Franklin's A Change Is Gonna Come.
7. John Legend And Sam Smith
John Legend sat by his piano and sang Ben E. King's Stand By Me. He was also joined by Sam Smith, and the duo did full justice to this iconic song.
8. Jennifer Lopez
The stunning JLo performed Barbra Streisand's classic, People. She sat at her home's backyard, which was lit up with yellow lights. It was mesmerising to watch her sing.
9. Billie Joe Armstrong
Green Day's lead singer Billie Joe Armstrong took me back to my school days when he started strumming his guitar to When September Ends. This one brought back lot of memories for sure.
10. Taylor Swift
Taylor hit me right in the feels when she began singing Soon You'll Get Better, a song she had written for her mother battling cancer.
11. Closing Performance
The concert from home closed with Andrea Bocelli, Celine Dion, Lady Gaga, Lang Lang, and John Legend singing The Prayer, the perfect tribute to all those who have been working during this crisis.
The other artists who joined were Billie Eilish and her brother Finneas O'Connel, Niall Horan, Liam Payne, Rita Ora, Ellie Goulding, Charlie Puth, Luis Fonsi, Maluma, Adam Lambert, Hozier, Stevie Wonder, Elton John, and many more. Indian singers Vishal Mishra and Lisa Mishra also took part. Amazing, isn't it?
If you want to watch the One World: Together From Home concert, check it out here:
Don't forget to follow @missmalini for all the updates!