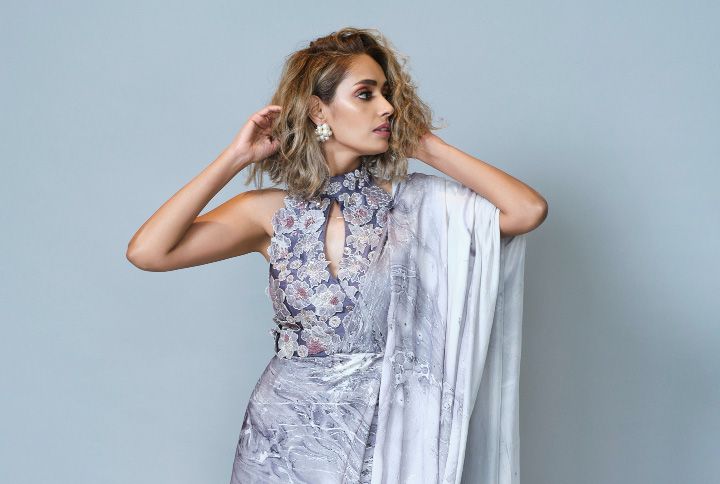 A saree is a quintessential wardrobe must-have for every Indian girl. There's just something about the saree that looks so elegant and graceful when draped, right? No doubt that the traditional way of draping a saree looks the best but as the years go by, designers, influencers, saree lovers, and other fashion enthusiasts have experimented with this beautiful piece of fabric in multiple ways. Today, there are various methods of styling it, and it still looks fantastic. So if you want to stand out in the crowd at your next festive occasion, then try revamping your saree in these seven unique ways.
1. Play With Drapes
Start by exploring different draping techniques. The best way to learn is by watching video tutorials online. One of my favourite saree stylists is Dolly Jain and I recommend you all to follow her. She gives the best tips and tricks to wear a saree in classic as well as trendy ways.
2. Go Bold With A Pantsuit
Shereen Sikka aka Shereen Love Bug is a blogger who is always super creative when it comes to playing with trends. And how bold is this look! She draped a beautiful saree over a pantsuit and paired them with sneakers.
3. Wear Straight-Fit Pants
Ditch the petticoat and wear straight-fit pants as the base before draping your saree. Prerna Mehra aka The Girl In Sky High Heels looks so chic and fashion-forward with this look, right?
4. Add A Peplum Belt
When Kangana Ranaut was invited to grace us with her presence at the Cannes Film Festival in May 2019, she chose to stick to her Indian roots by wearing a saree but gave it a contemporary twist. The belted saree has been in trend for a long time but she opted for a peplum style, wide belt along with elbow-length gloves to add a Victorian touch to her elegant look.
5. Style It With A Top + Jeans
Take notes from Masoom Minawala Mehta on styling your saree over a top and denim jeans. The drape becomes faster and much easier. Cinch your waist with a belt and voila! You've got yourself a stunning look.
6. Add A Jacket
In the latest season of Lakme Fashion Week, designer label Mishru took the saree game up a notch with some pre-draped styles. Not only were the colours of the collection serene but the fall of the fabric was perfect, which made the outfits stand out on the ramp. I really liked the sarees that were paired with blazers. That's another stylish way of wearing your saree.
7. Choose A Statement Blouse
Not only the drape but also the blouse can add so much oomph to a saree, noh? Opt for a blouse with an unusual style that will make a statement as well as grab eyeballs like Rosi Das, a saree blogger who also, added a modern touch by accessorising her look with a pair of ankle-length boots. Looks cool, right?
How are you going to revamp your saree? Let me know in the comments below.
Don't forget to follow @missmalinifashion for all the updates!