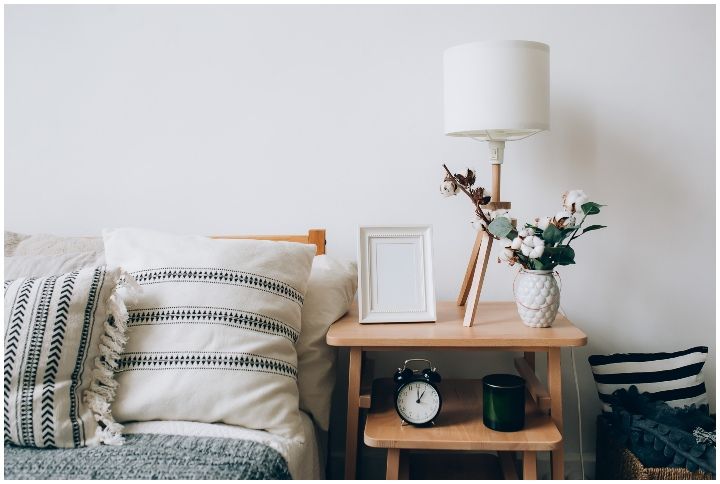 Decorating a house can seem like a pretty intimidating and daunting task. It doesn't have to be if you approach it with an open mind and a clear plan to execute your vision. The first step is to decide the kind of person you are—Are you a minimalist? Do you prefer eclectic trends? Or do you simply just want your home to be a cosy space? Do you share this house with someone else? Because if you do you'll want to get their inputs as well. The best thing to do is research together, honestly, before I make any decision I do a whole lot of research. Pinterest is like my favourite wormhole to get lost in and looking up room decor is like a drug to me. Make a Pinterest board and share it with the person you'll be living with. I'm sure you'll find common ground.
I would start by finishing all the details in the bedroom first and then moving on to the other rooms because everyone needs a sanctuary to escape to. A bedroom often provides a safe haven for most people. Take it one room at a time and set a budget for each room because that's a practical way to approach an overall spending budget. That way you're able to prioritise what you want from each room. A home should be a reflection of the people living in it. It should inspire you to be happy apart from it just being a livable space.
Here are 8 tips to keep in mind when it comes to making your room look and feel cosy:
1) Colour Scheme
Setting the colour scheme is a very important detail when trying to make a room look cosy and comfortable. It is also best to decide the colour of your walls first. The simplest and easiest way to achieve the cosy outcome is by working with dark hues and by adding warm, earthy tones with the help of your furniture. You can add wooden floors and laminates that are also easy for cleaning and beautiful to the eye. Lighter colours work better in the living room and kitchen area where you would like more light to reflect through your space. These tones can also make a space look larger—you could also work with feature walls and exposed brick for a fun element. Choose colours that can be easily warmed up and cooled down with accessories through different seasons.
2)Furniture
It depends on the outcome you are trying to achieve, sometimes you want a more modern vibe or a more vintage vibe. Once you figure that out, it'll be much easier for you to spot the type of furniture that would suit your needs. Make a list and also choose the colour of the wood you want to add to the space. To make your bedroom cosy, you could add a tufted headboard in luxurious fabric or you could create an overhead canopy with light, flowy fabrics to create a cosy cocoon. Make sure to also find the right placement for each object because it will ensure you have a good looking and cosy space. If you have a spacious bedroom, you could add an upholstered bench or loveseat at the foot of the bed. It can be where your extra pillows rest at the end of the night.
3) Cushions And Throws
I'll start by talking about the bedroom first, you'll need a soft, high-quality but thick mattress that you'll need to keep in shape by rotating and flipping. You'll want to really splurge on bedroom decor and good sheets with a higher thread count are the best because there's nothing better than slipping in between soft sheets at the end of a long workday. Bonus points when you add quilts and blankets. I would go with solid colour sheets and add in textures, patterns and colours with the throws and cushions. The fluffier the cushion and bedding, the cosier your space is bound to look. Textures have a way of adding depth and personality to your room so consider these carefully.
4) Curtains
The right curtains can envelop the space like a warm hug and keep away that pesky morning sunlight. Albeit, sunshine is great, everyone enjoys a nice restful slumber from time to time. Pick light colours but a heavy fabric that will help block the light out. Linen and faux jute work really well, keep the tones neutral so you're able to add colour through the accessories easily. They'll match your room's style no matter how many times you change your room's look, also an easy way to get privacy.
5) Rugs
The first I do after waking up from my slumber is I set my feet on a really nice colourful rug. It instantly hits me with freshness and keeps my feet comfy too. Rugs are a great way to add colour and texture. Layering rugs is a cool way to show your aesthetic ability with mixing patterns and prints. I would throw in some floor cushions too just to make it look extra-cosy.
6) Flowers And Plants
I love the idea of bringing hints of the outside inside by using flowers and plants, fake or real and green hints make a lovely decor accents. If you're not the best at caring for plants then you can buy succulents, cacti and vines or just get some fake greenery. I love using vases in differing sizes and adding different flowers in them. Look how cosy and warm it can make your space look. I would imagine these details would make a nature lover the happiest.
https://www.instagram.com/p/B_70wVznU8h/
7) Lighting
I feel like lighting is what can really make or break a space. White lighting can make your space sterile and cold whereas orange lights really add the warmth you require to make your space cosy. You can explore lighting in the form of table lamps, floor lamps and pendant lights. You could create a cluster of pendant lamps that could make it a larger feature piece in your room or you could keep it simple and add candles. Think relaxation and romance when you think of your lighting, you could always add in a dimmer to aid you in reading too.
Burning candles in a space with linen can be risky especially while you're asleep but you could add these candles under glass votives with candle holders. These would add the romance and add to the pretty cosy decor. Alternatively, you could consider artificial candles, there's no flame risk and you could place them anywhere. They are battery operated and can be easily replaced and cleaned. Another option that adds soft light and twinkle to the ambience is fairy lights that can be draped on any surface or placed in bottles or vases too.
8) Accessory Details
Once you've decided the surfaces you want in your space, it's now time to decorate them with collectables and trinkets. These items will fill up your space with happiness and add to the value of your room. Stack coffee table books on your nightstand for that tranquil vibe. These books will be within reach to read right before bed. This is a good time to also pull out your DIY skills and make the space your own. Another beautiful way to decorate your space is by adding photo frames and artwork. Choose warm colours with grey, green and blue to create a serene vibe. Add wicker baskets to dump your dirty clothes in instead of having clothes piled on other surfaces. Alternatively, they can also be used for storage.
If you have a window seat in your room then you're one of the lucky few to have a ready-made reading nook. And if you don't have one worry not, just add a comfy large, feature chair in a corner, with a floor lamp and a throw to make it a cosy space to read. Vintage finds from antique shops can also add a lived-in cosy vibe to your space.
If you want to keep your room cosy you should actively keep your tech and wires at bay. Ask your electrician and find a way to conceal unruly wiring.
Do you have any tips that you use to make your space look and feel cosy? Let me know in the comments below.
And don't forget to follow @missmalinilifestyle for more interesting updates.