6 Things I Learned After A Year At My First Job
Aryana Dalal , 20 May 2020
Today, I completed one year at my first-ever job! This is actually very exciting for me, I didn't think I could actually keep up going to work every day and traveling alone on the train… But more on this later. I have learned so much in my first year, one that I was so scared to start that I thought I'd share a few things I've learned from working for 365 days at an actual office to maybe help someone who is just like I was a year ago. If you're starting your first job, these are a few things that could help you ace your work-life.
1. You can do it
Before I started working at MissMalini, my longest time working anywhere was two weeks. Even then, it was a marketing internship where all I did was watch the newest season of Keeping Up With The Kardashians. I also hadn't had a fixed daily routine since I was in school. I hated going to college and only went maybe three times a week, spent most of my time napping and watching every TV show under the sun. So, my biggest fear about starting a job was whether I would be able to actually do it! I'm notorious for starting things I can't finish. When I was buying my train pass for work, my dad asked if we should just buy it for a month because "Aryana doesn't stick with anything." But I did it! Here I am four, 3-month train passes into my first real-life job and I'm having so much fun. If I can do it, you can definitely do it! I also never thought I could do train travel. Some back story- I live in Breach Candy, which is all the way in the south of Bombay and the MissMalini office is an hour away in Santacruz. I could've travelled an hour each way by car but I don't know how to drive and the cab ride is too expensive for me to even consider. The Mumbai local was my only option. My dad had to teach me the absolute basics of train travel and physically drop me to work for the first three days but I figured it out! It wasn't easy but I'm telling you, I'm the most spoiled, sheltered, lazy girl there is and if I can do it, you can do it.
2. Making lists
Okay, so this one may seem obvious but it took me ages to religiously do this every day. Making lists makes your life a lot easier. You feel organised and professional. Having everything you need to do in front of you can give you a lot more perspective and a better chance of finishing your tasks for the day more efficiently! 10/10 would recommend making a to-do list at the start of your day. Plus, crossing things off your list is satisfaction level 1000.
3. Your manager is your best friend
This is something I took the longest time to learn. As previously mentioned, I had close to zero work experience going into working full time. I went into my first job wanting to impress. What I did not want to do was say I had too much on my plate and that I needed a break. I didn't want to burden anyone with my problems, which I didn't think were important enough to bring up. A total wrong move! You need to discuss all troubles you're having, it's the only way to stop having them. Also, the best pro-tip I could ever give anyone working—your manager exists to make your life easier, so use them to the fullest! If you're finding it hard to do something or to deal with someone at work, (trust me, there's always someone trying to make your life harder at work) your manager is there for you and has got your back! Trust them and your work life will be a breeze!
4. Work friends make life better
Starting a new job is very intimidating. I honestly didn't know how intimidating it was till it was already too late to back out. The day I joined, two other girls joined with me. Going through the process of starting a new job is a lot easier when you have someone with you for the ride. I know not everyone is as lucky as I was to start their job with someone else but I thoroughly encourage you to find your people at work. Trust me, going to work on Mondays is not half as bad when you're excited to tell your work pals about how your weekend went. Mornings don't seem too bad when you're starting your day off with gossip sessions and days don't feel long when you always have a work best friend to order food with. I found five work besties and they made coming to work something I looked forward to. Don't get me wrong, I love what I do but some days you just don't feel like going to work and on those days, having work buds is the saving grace you didn't know you needed. They understand what you're going through and know the people you work with so if you just need to rant about your boss for a bit, they're there for you. Find friends at work and you will be the happiest, I promise.
5. You're not alone
There's a lot of firsts at your first job—your first task, first friend, first pat on the back and also the first time you cry in the office bathroom. While this last experience may seem oddly specific, it is in fact very common. And while I thought I was the only one who had used the bathroom to cry in, there was literally everyone else who had done the same. Know that you're not alone and your experiences are not unique. This sounds bad but I mean it in the nicest way. What you're going through at work, the hardships, the struggles, the times where it feels like you're messing up constantly and it's all too much, there's always someone who has been through or is going through the same as you. It also may not seem fun to talk about and you'll probably want to forget it happened but if you work up the courage to tell someone you work with about your bathroom adventures, chances are, they tell you about their time feeling the same and this makes it all better. It's comforting to know that everyone is silently united by their tears. My point is, silly mistakes, big mistakes, they're all going to happen and you can cry about them as long as you don't let that stop you. When you mess up, learn from it and grow from it and you'll be fine. Take it from me, I make mistakes all the time.
Exit
6. Take every opportunity you get
My last tip for anyone starting their new job is what most people will tell you but I will tell you again just to drill it inside your brain—take every single opportunity that comes your way. Say yes to do everything. Don't worry if you don't know what you're doing, no one expects you to know a ton, it's your first job after all. Don't overthink too much. If you have a question, ask it. If you have an idea, say it. It's great to be heard but its also important to listen to everyone and soak in your surroundings. Your first job is great for you to get experience and figure out what you want to do. Make it a point to try everything your company has to offer and talk to everyone you work with about their experiences at their current job and every other job they've had. Get out of your comfort zone and do things you wouldn't do otherwise. Just know you're going to do amazing and you will.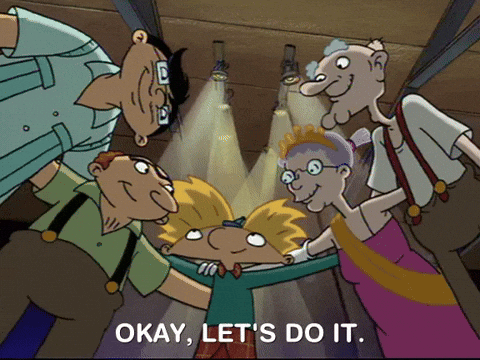 I really do hope these tips help you flourish at your new job and I wish you all the luck you need to kill it! I honestly can't believe I've been working for an entire year! Sometimes it feels like I've been here forever and other times I feel like it's only been a few months. I'm so proud of myself reaching this milestone. It means a lot that I committed to something for this long and I feel like I still have so much more to give. Having a job gives you responsibility and makes you accountable, you have people counting on you to show up and that's a good feeling to have – that you're adding value to something. I'm so excited for what the future has in store for me.