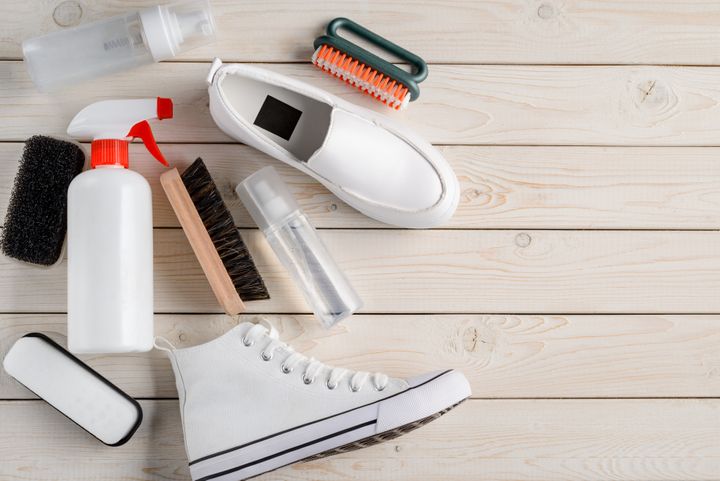 There's no time like the present to get into the grind of cleaning out your space. It's also the best time to re-evaluate that closet and donate things you haven't worn in the last two years. But is that all you've been looking at? Clothes are not all that we shove in our closets. Let's also take a quick look at all the shoes we've been hoarding for years. I know I have a pair of heels that I say I need because what if? but they're so uncomfy that I just can't bring myself to put them on. I'm that girl at a wedding in a gown but with a pair of sneakers. I am a woman obsessed.
But I also know all these shoes require a nice clean every now and then to stand the test of time. Use them, clean them, love them and give them a little air to breathe every now and then or they start to come apart. Now, this is crucial information here, obviously, all your shoes are made from different materials. Which means that each of them would need special care and attention. Which is why I felt this blog is a super important one, we need to know how to clean our shoes without worrying about damaging them.
Pre-wear, footwear care:
Protect your shoes right when they are in the box, look for protectors that will help avoid liquid damage and is safe for your shoes.
Next, store them in the cloth bags that the stores provide you. Especially if you store your shoes in boxes and not openly on display.
Scroll below to see how you too can clean and care for your shoes with ease:
1) Fabric And Canvas Shoes
Wipe down your shoe with a nice wet towel, this will get rid of all the excess dry dirt. I would avoid using paper towels because they leave behind tiny balls of fabric that get stuck to the shoes. What remains are just stains, in order to tackle stains. You will need to mix warm water with dishwashing soap. Use a toothbrush or a brush and do not over-wet the shoes. Target small sections at one time and work with the grain of the fabric. To clean the soles of these shoes use a paste made of equal parts baking soda and water scrub with a toothbrush. Use a damp sponge or wet towels to get rid of the soapy suds. Air dry and to retain the shape of the shoe, stuff it with paper towels till shoe is completely dry.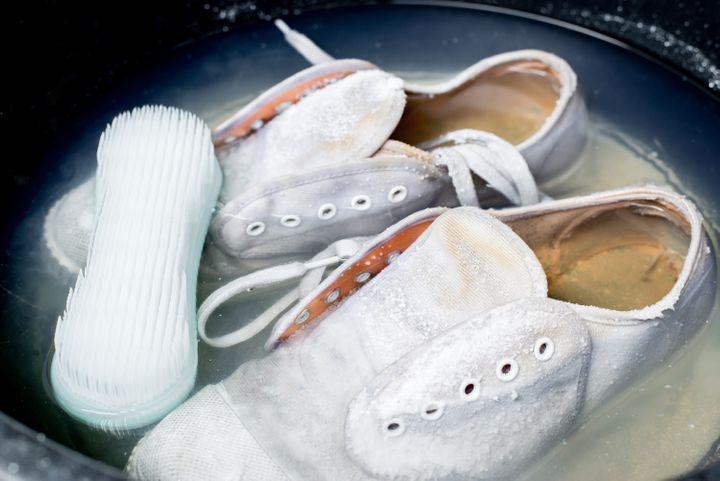 2) Leather, Patent Leather And Faux Leather Shoes
For leather shoes, clean off the dirt and dust by wiping your shoes with a solution of equal parts water and white vinegar. For scuffs, use a commercial polish and if the polish doesn't match the colour of the leather then use a soft wet cloth and dip it in baking soda. now, gently rub into the area and wipe away the residue with a clean cloth or paper towel. For scuffs on patent leather and faux leather shoes, rub the areas with a little petroleum jelly and rub with a soft dry cloth. You can spritz the shoe with glass cleaner to add a wee bit of its old shine back and then wipe down with a dry soft cloth.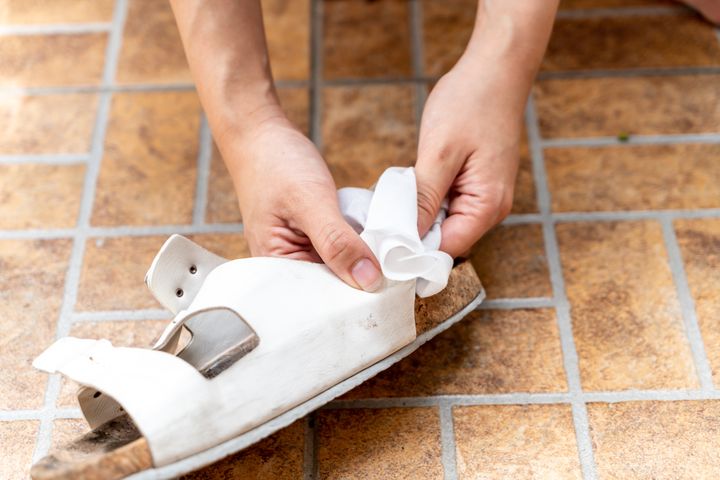 3) Suede Shoes
These shoes need to be kept as dry as possible and only cleaned with a soft brush to dust off any excess dirt. If your shoe has marks and scuffs, you can use an eraser or nail file to buff them out. If you have an oil stain then treat the area quickly by sprinkling it with powder or cornstarch to absorb the oil. Leave the powder on the stain for at least an hour and then brush it off the area. Repeat until all of the oil is absorbed. If you've dropped water on your shoe then blot it with a paper towel to absorb the water. For stubborn stains, use a white washcloth to rub white vinegar or rubbing alcohol to treat the area. Allow the shoes to air dry completely and not under sunlight. When done brush to smooth the area.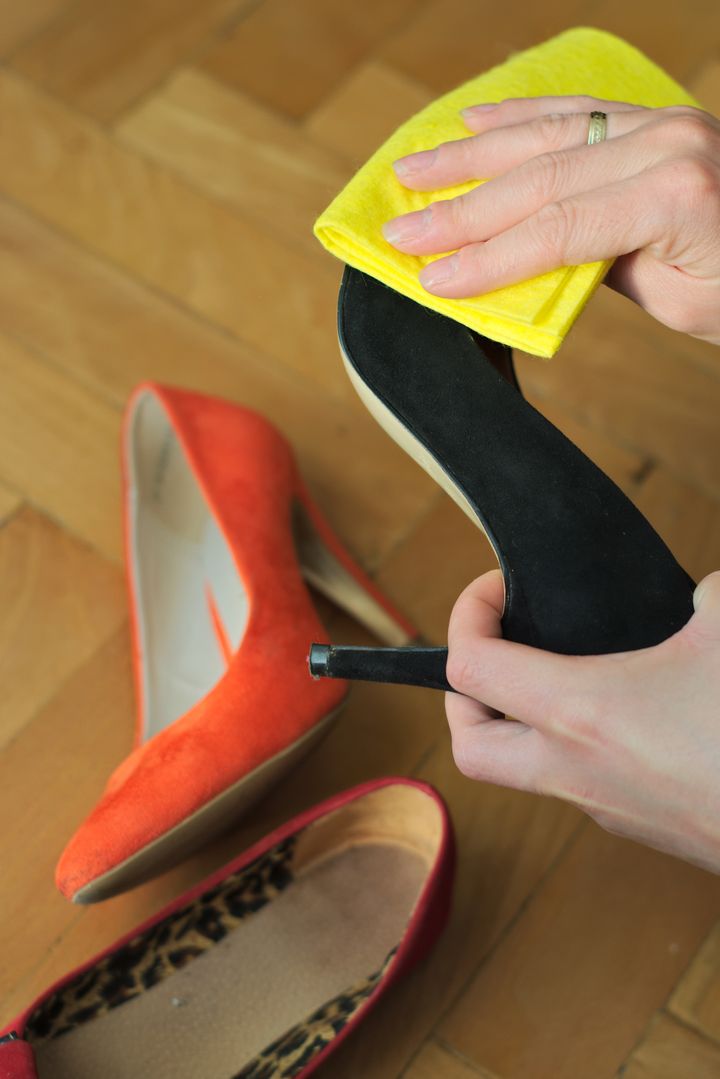 4) Rope And Cork Wedges
When dealing with rope wedges or espadrilles use a toothbrush, simply because it will cover smaller areas at a time and is more gentle to this texture. Work in one direction to keep the rope from fraying. Use a cup of warm water mixed with a quarter cup of distilled white vinegar and a teaspoon of dishwashing detergent. When you're finished cleaning the area wipe it down with a wet cloth and leave to air dry.
Working with cork shoes is a lot easier, mix 2 cups of warm water with half a cup of white vinegar and a teaspoon of dish detergent. Use a cloth to dip in solution and clean the surface. Once done, use a dry cloth to wipe it off the surface.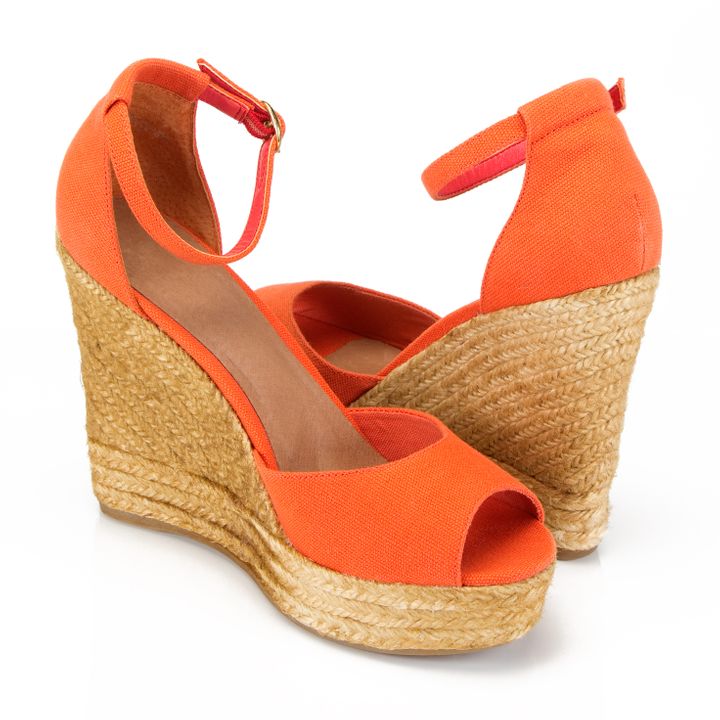 5) Athletic Shoes
Probably the easiest shoes to care for, but they're also the easiest to get dirty. Especially since they get put through rigorous activities. You can toss them in the washing machine, but remember to take out those insoles and laces before doing so. Use a detergent when washing your shoes, I'd probably just do a load of shoes and nothing else for obvious reasons. Also, do a quick brush down of your shoes if they are muddy or dusty, even a nice wipe down with a wet cloth works. Use a disinfectant spray on your insoles and you can hand wash your laces with a scrubber. Remember to always air dry all these part of your shoe, exposing them to dryer heat may destroy the fibre of your shoes.
Alternatively, if you wish you hand wash your shoes then use a brush to dust of the dirt. Next, mix some laundry detergent with water and scrub fabric, mesh, and rubber areas. It would be best to no apply this solution to foam or leather. Use a damp sponge to take off the soapy solution and don't forget to clean off the area around the laces before restringing your shoes.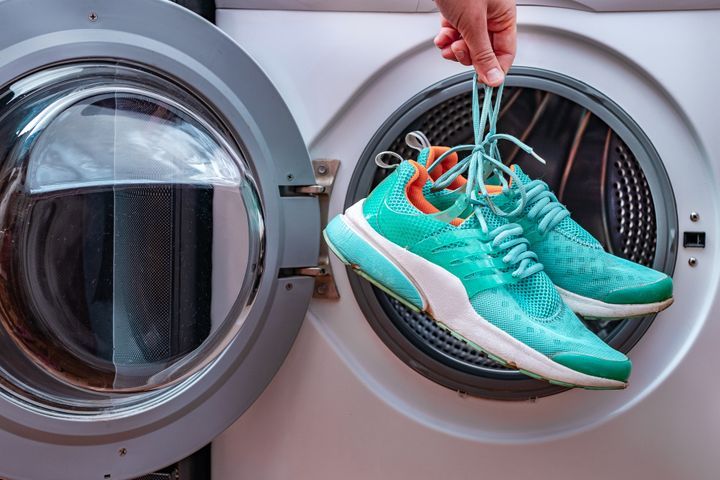 6) Flip-Flops
If you live in Mumbai then you have sweaty flip-flops that may have turned black with your foot-print. To clean them run your slippers under warm water. Don't worry, all you have to do next is generously sprinkle baking soda over your flip-flop, let it rest for 5-8 minutes. Then scrub it off with a soft scrubbing brush. You can also use dishwashing soap to scrub them once you've rinsed off the baking soda. I'd only do this step if you're dealing with stubborn stains. If you wish to put them in the washing machine you can use just a little detergent with a cup of vinegar and run it through a quick wash with cold water.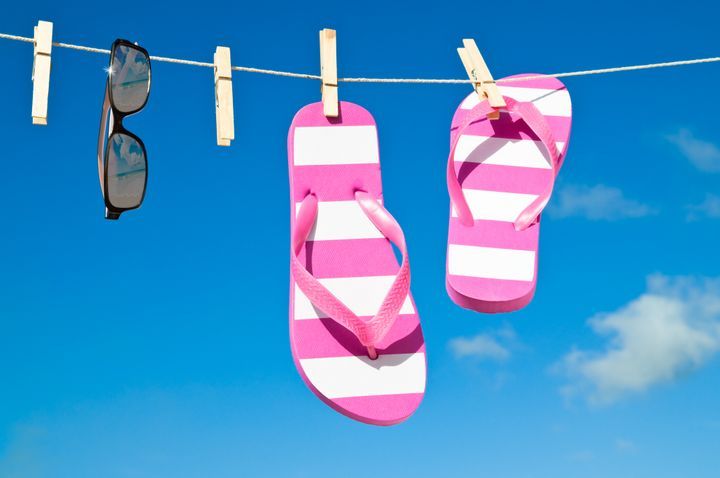 Hope these tips were helpful. Will you use these methods to clean your shoes during quarantine? Let me know in the comments below.
Be sure to follow @missmalinifashion on Instagram for more updates.