Airport style as a fashion category was quick to gain fame. Thanks to our Bollywood stars who have managed to take over the role of fashionistas oh-so-effortlessly. I can't remember one day that I am not on the lookout for stars that are jet-setting. The reason being their basic to not-so-basic outfits that they sport at the terminals. From trying on new silhouettes to picking bold colours or stepping out of their comfort zone, our Bolly babes do it all! Truly, all of the airport looks I've come across leave me with at least one style cue that I religiously take note of.
Now, I was thoroughly enjoying spotting celebrities making their way through the paps at the airport until this lockdown. Ever since then, my daily dose of airport fashion inspiration has gone from 100 to 0. But, who's to stop me from revisiting some of my favourite outfits from this year? From basic tees + jeans combo, denim-on-denim styles to pristine white kurta sets, logo-slammed jackets and more, there is so much versatility in all the outfits. Of all the looks from 2020 that I saved to my style board, here's a few of 'em you should definitely check out. What's more, you can recreate these looks with pieces from your wardrobe as well!
Scroll ahead for 10 of our favourite airport looks from January – March:
1. Alia Bhatt
Alia's layered denim style proves that you can be breezy and comfortable even in denim! Channelling her inner cowgirl, the actress teamed a pair of brown boots with her panelled, midi dress and a denim jacket. And concluded her look with a Gucci purse to lockdown her airport glam.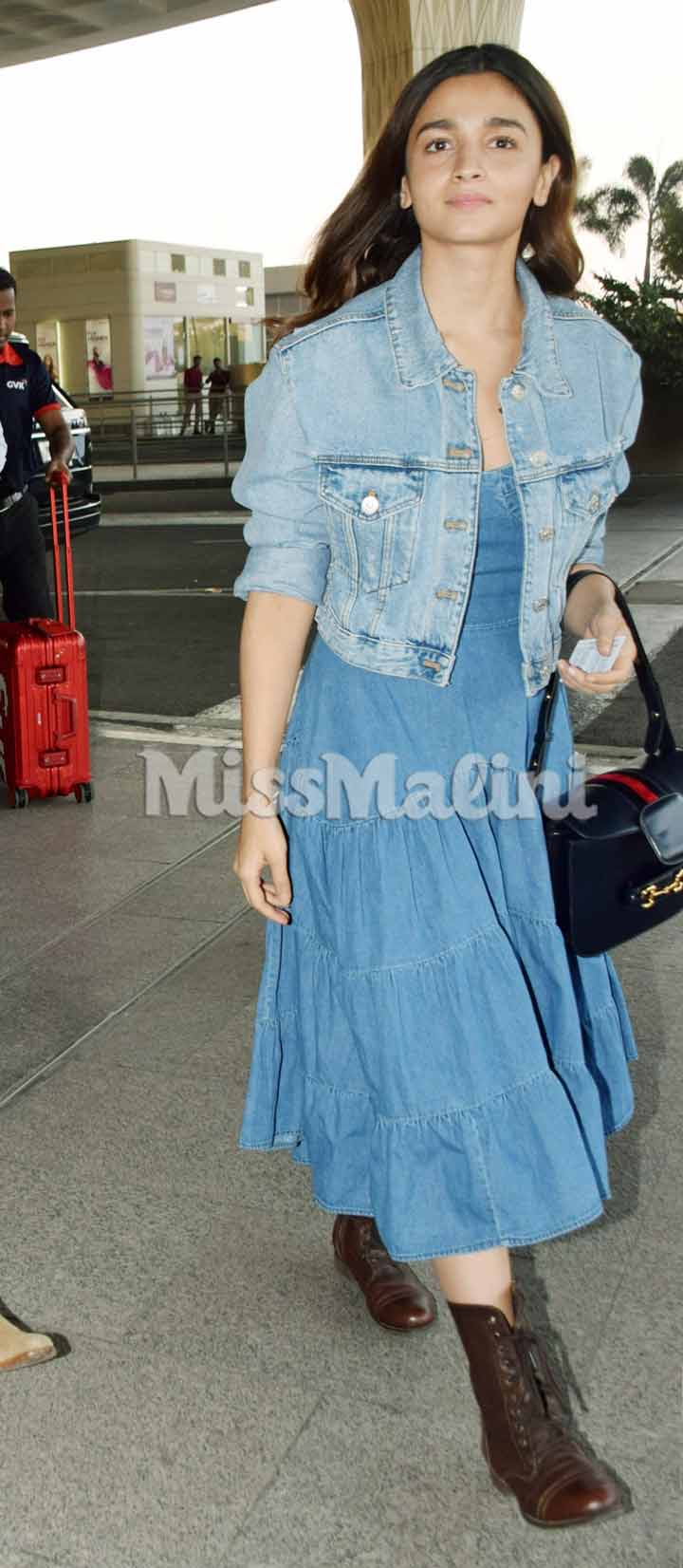 2. Ananya Panday
The variety of pantsuit iterations are endless! But no matter what the style, pantsuits are one of my favourite ensembles. Absolutely love how Ananya's Leo & Lin pantsuit mixes the two F factors—fun and formal. While the structured blazer keeps the vibe classy, the balmy trousers and the cropped corset add a playful vibe to the look. Not sure if this is the most comfortable look to sport at the airport but I love it none the less.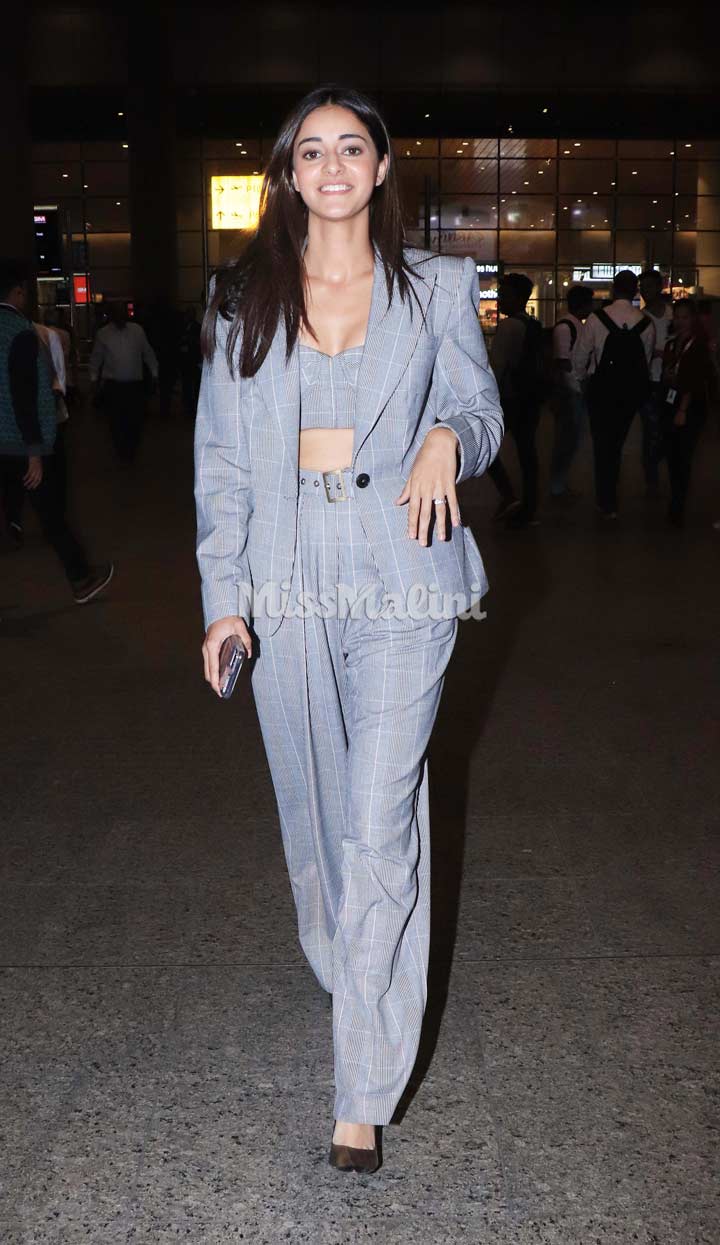 3. Anushka Sharma
Anushka's penchant for quirky jackets is well-distinguished at the airport by now. Around this time of the year, the actress jet-setted in a clean, cool yet a note-worthy outfit. Her picks: A pair of neat, black trousers worn with a white tee and a beige Burberry cropped jacket. And in the accessory department were her trusty white sneakers and a Louis Vuitton Multi Pochette Accessories bag.
4. Bhumi Pednekar
It's safe to say that Bhumi's style is quite versatile and the actor does not shy away from experimenting especially with her airport style. Giving a nod to the colour-blocking trend, the actress donned a turtle neck and billowy leather pants in a mustard hue. She broke the monotony of the outfit with a denim trench coat featuring plaid lapels. While this look isn't recommended for the Mumbai heat, surely, you can put it together on a winter night for a long flight.
5. Deepika Padukone
Deepika's love for including a hint of denim in most of her airport looks is quite unmissable. She adds a surprise element of picking the disputable cycling shorts to wear over her smart choice of layering a denim jacket over a white shirt! Don't you just love this whole style? I, for one, do!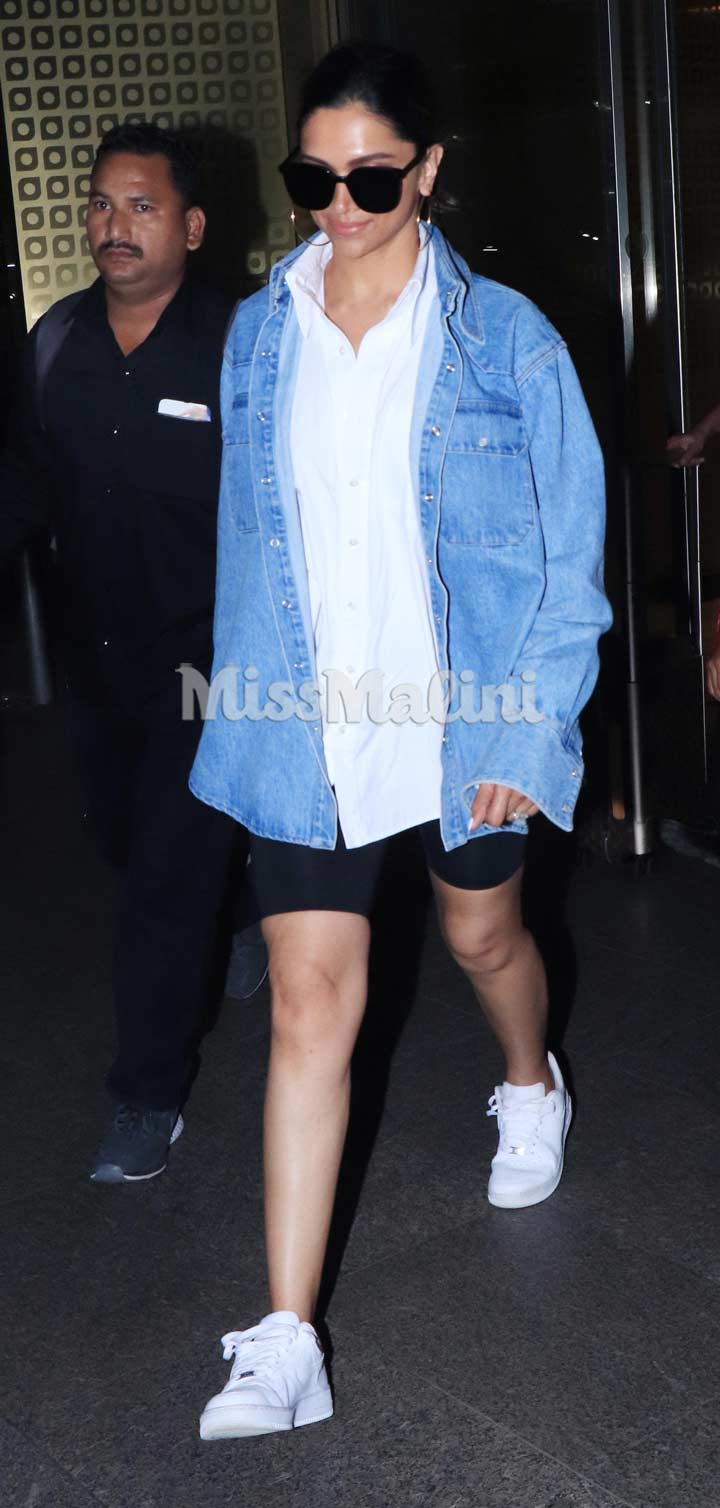 6. Kareena Kapoor Khan
By now, we all know that the Bollywood Begum is known for her basic off-duty styles. But every now and then, Kareena's off-duty wardrobe makes major style statements like its no big deal! To spice things up for her otherwise basic choice of outfit, she picked a logo-slammed denim jacket by Acne Studios x Starter Black Label. Not going to lie, it's a head-turning piece that I really can't get over it!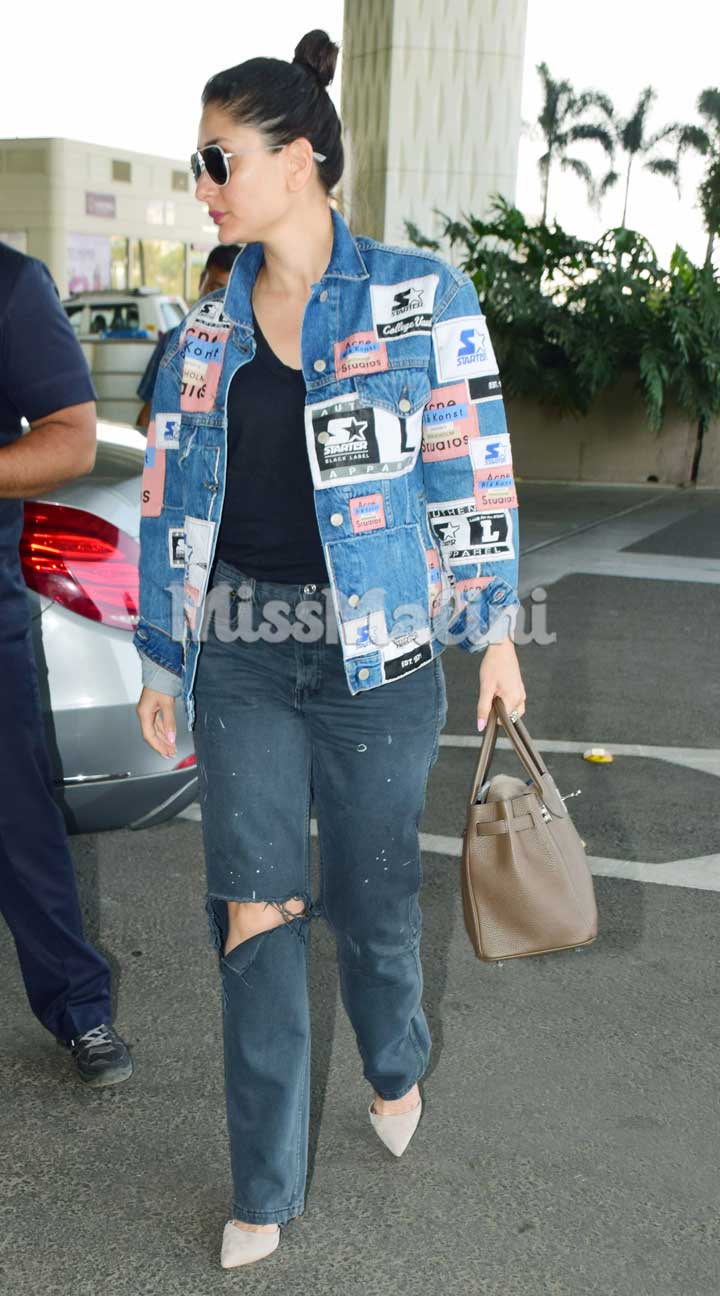 7. Kiara Advani
Do you ever have those days where you're really lazy to put together an outfit but you also want to look the best? No? I do. Therefore, I am taking notes from Kiara on how to style a simple, oversized tee precisely in a bold hue with skin-fit jeans! The actress wore an Amiri tee and finally left it to a good pair of heels to effortlessly up the ante of her airport outfit!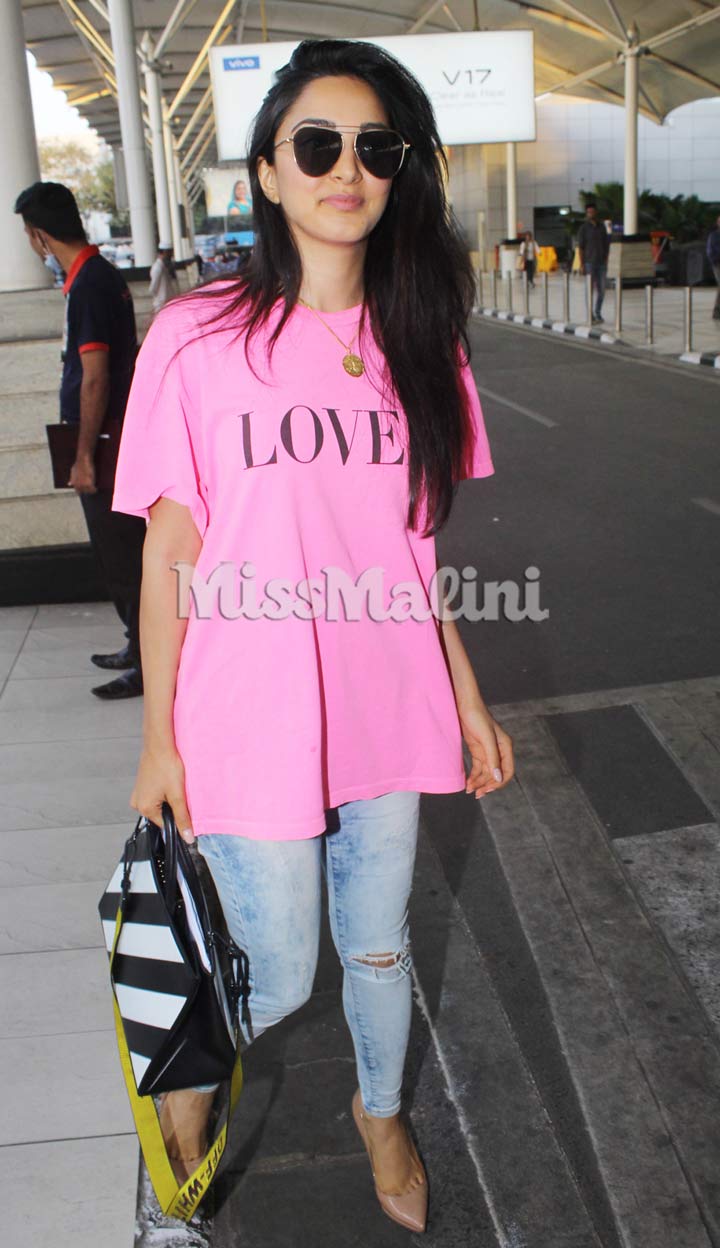 8. Raveena Tandon
The classic LBD can go a long way by which we mean, for a myriad of events. For her journey, the former actress looked super chic with her mini black dress featuring a turtle neck. Layered with a checkered overcoat and teamed with black pantyhose and knee-high boots, she ensured her cosiness for her airport look.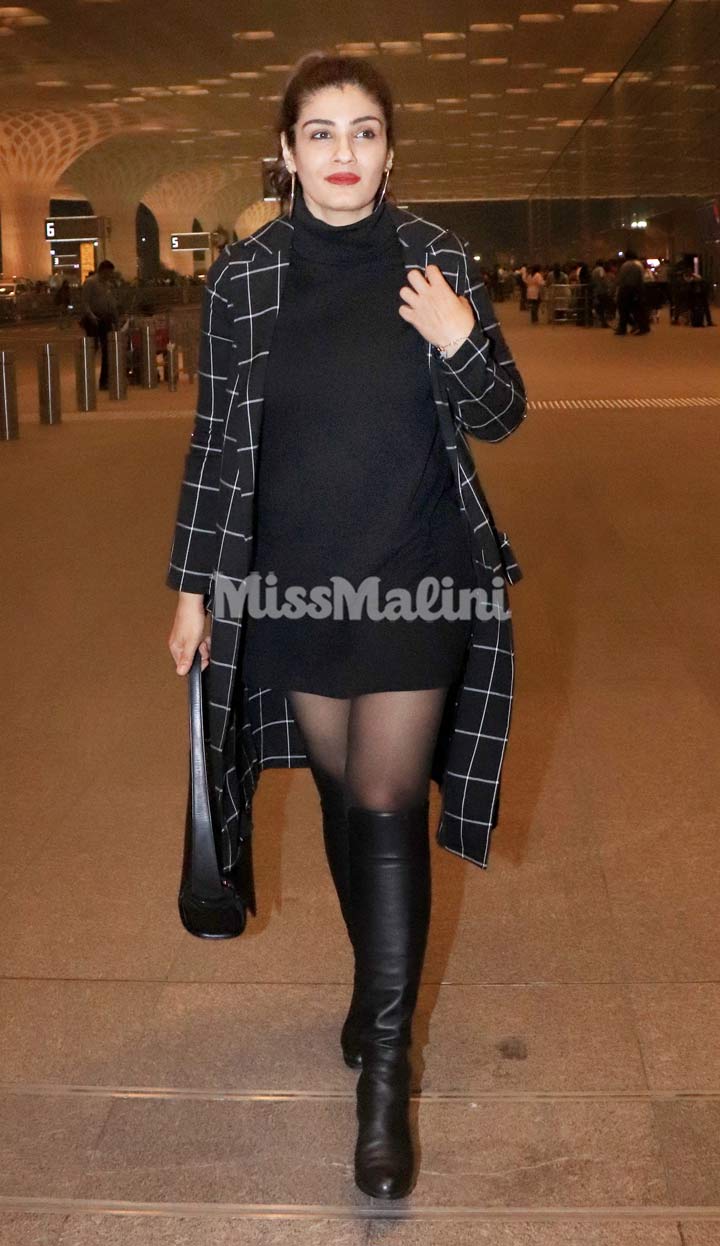 9. Shilpa Shetty
Two words to describe Shilpa's outfit: boardroom chic. A simple white tee is a wardrobe staple for all the right reasons! The fitness guru wore a River Island t-shirt with a textured, leather skirt featuring a centre-slit for her flight back home. Looking sharp as ever, her choice of accessories for her airport look included a pair of animal printed heels and the Hermes' Birkin bag.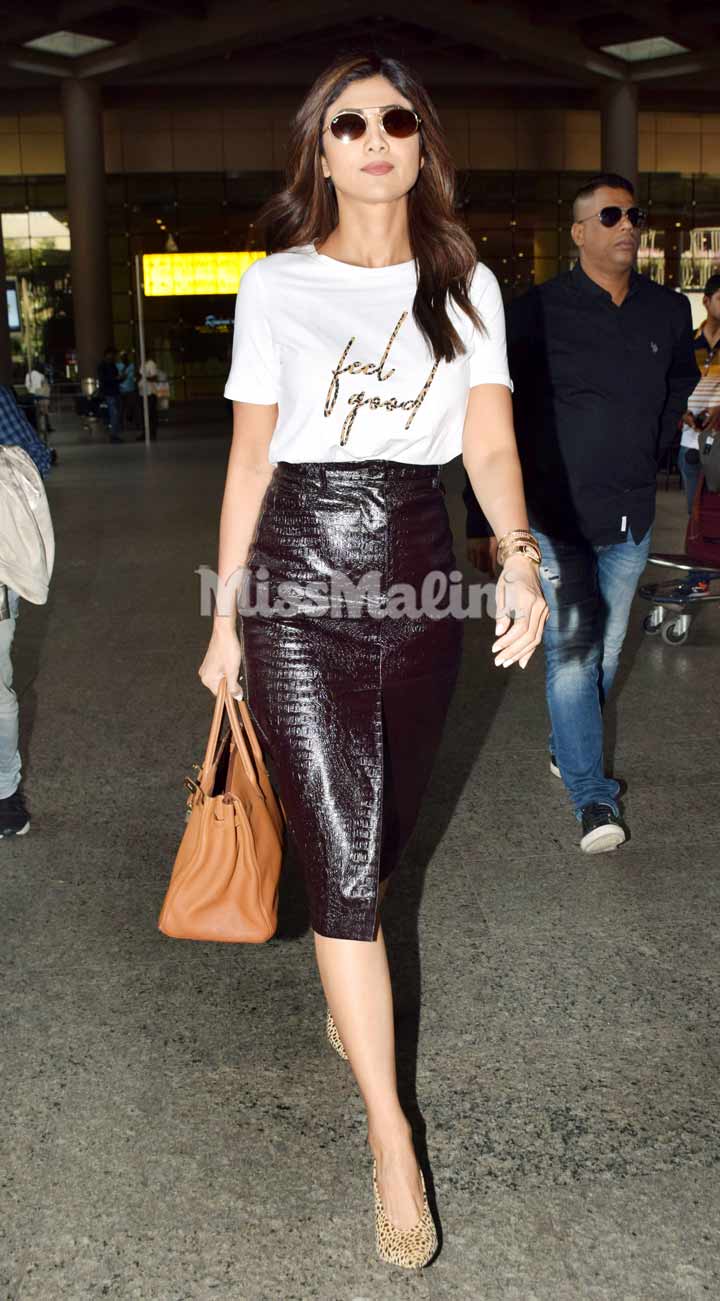 10. Sonakshi Sinha
I am personally a hoarder of all-white kurta sets. So naturally, Sonakshi's Mulmul set makes its way to my favourites. The netted fabric on the sleeves, the scalloped neckline and the cropped pants are the three elements that I absolutely love from this outfit that she sported at the airport!
Which of these airport looks did you like the most? Tell us in the comments below!
And don't forget to follow @missmalinifashion on Instagram to never miss a style tip!