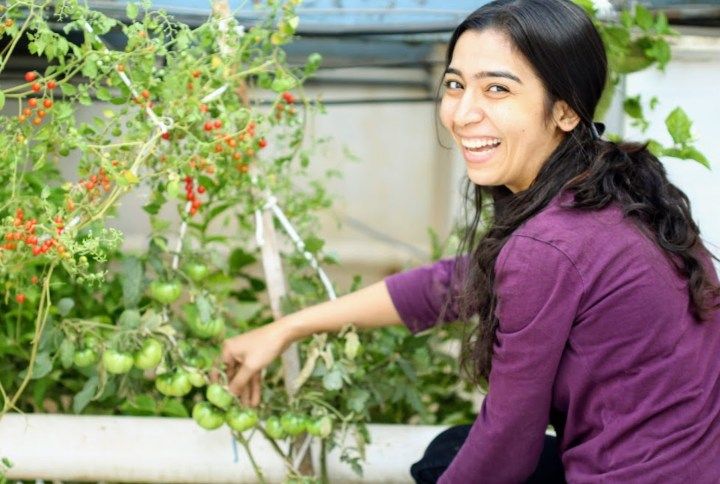 How great would it be to cook a meal with ingredients fresh out of your own kitchen garden? For someone who hasn't grown a single sapling (like me), it can sound really intimidating at first. But I recently got in touch with Dr. Vinnie Mehta—a dentist by profession and a passionate food grower, to guide me on how I can start my own kitchen garden. The tips I received by her made me understand that it isn't rocket science and I can actually do it! If you'd like to give it a try too, then scroll down to check out the steps guided by Vinnie.
1. Find A Spot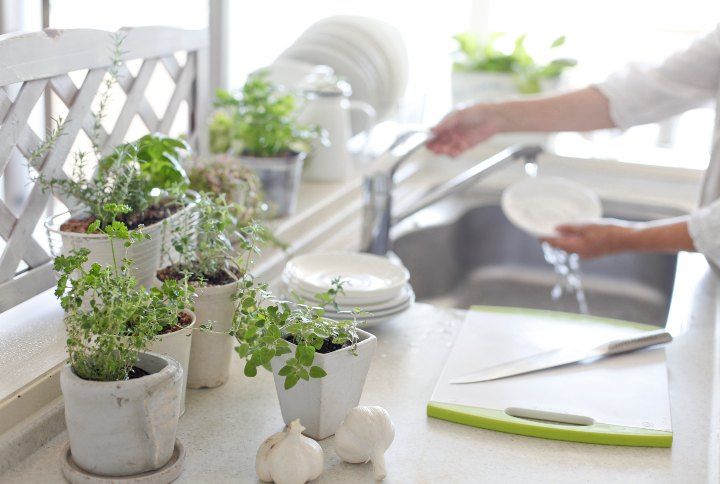 The place where you want to grow your plants should get at least 3-4 hours of bright sunlight. Plants you can grow in this type of setting are herbs, vegetables like tomatoes, peppers, cucumber family, etc. If you want to it on a balcony or window grill, try growing your plants soilless. Typical garden soil has a lot of weight plus it leaves a red-brown stain on your walls and parapet when water flows out. Garden soil is also less porous, and hence not very suitable for container growing. Soilless growing is ideal for balconies since the weight of your pots becomes less than half.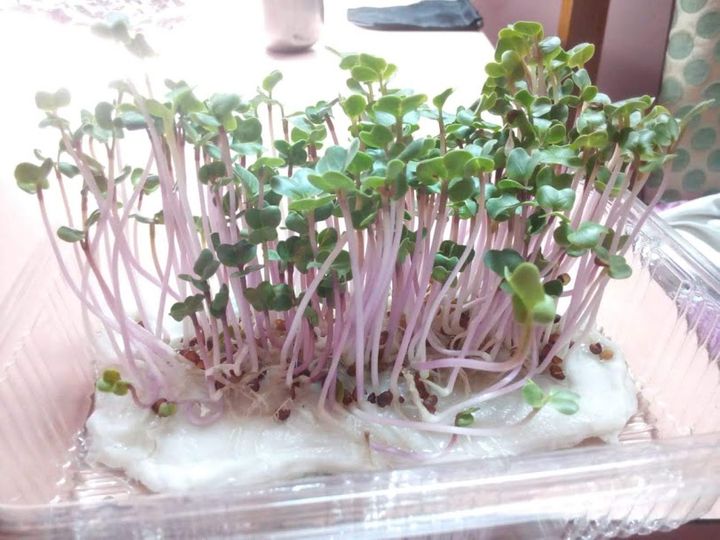 Here's how you can prepare a soilless medium:
Take 1/3rd part of cocopeat, 1.3rd part of perlite/vermiculite to make it lighter, 1/3rd part compost (vermicompost, cow manure, etc.). You can also add small parts of extras such as bone meal, neem pellets, etc. to enrich your soil further.
You could also try your hands on hydroponic growing. The plants grow in nutrient-rich water without soil.
A common mistake most people do is use soil that gets rock hard. If your soil is rock hard, has cracks, its not the soil for containers. The plant roots won't be able to expand.
2. Pick A Container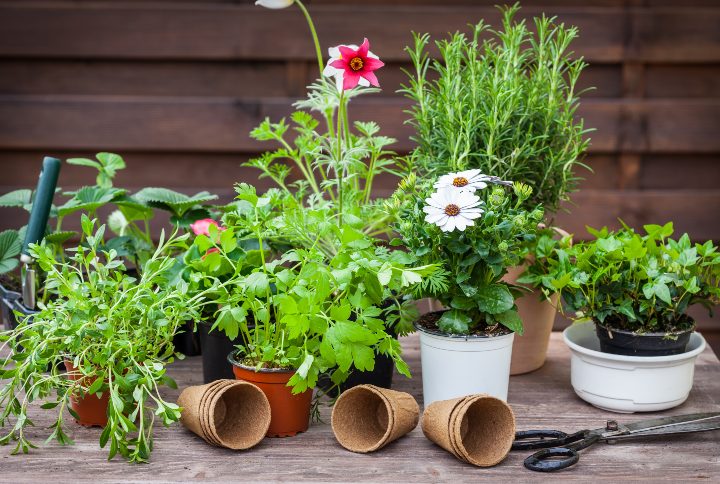 Once the location and growing medium for the kitchen garden are finalised, the growing container needs to be selected. It can be random containers lying around your house if you are not concerned with aesthetics. Or, you can buy plant containers from the store. The size of the containers to be bought depends on the plant you are growing. Herbs require a container preferably 10-12 inches in depth and width. Vegetables require a bigger container preferably something about 18-20 inches wide and have a 20-liter capacity approx.
3. Pick Your Veggies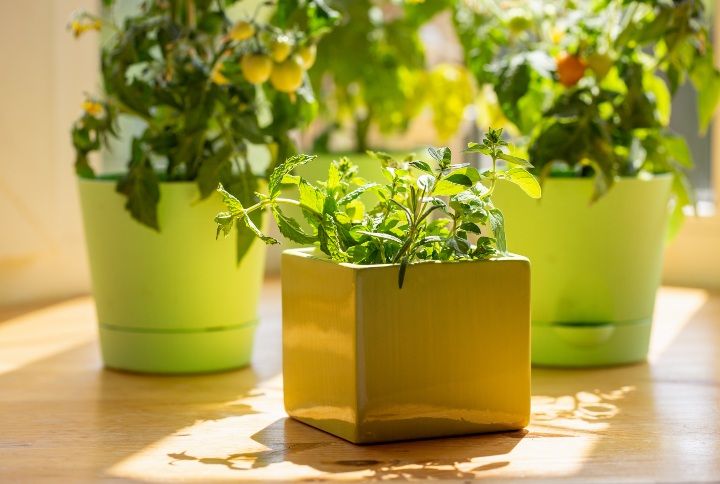 Now its time to finalise the herbs and veggies you want to grow in your kitchen garden. Plenty of information is available online about what vegetables are ideal to be started in which months. Herbs generally can be started anytime if you don't experience extreme weather conditions and have adequate sunlight.
4. Get The Seeds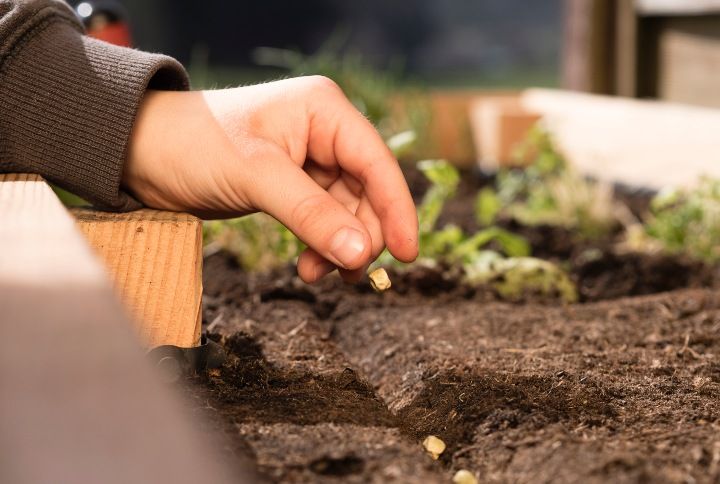 You can get the seeds for the same from a garden center or online nurseries or also from your own store-bought veggies. However, for beginners, I recommend buying seeds from a trusted dealer because store vegetables might be grown from GMO seeds (genetically modified). If you harvest seeds of these fruits and vegetables, it may not grow true to type or may not give any vegetables at all.
You can buy organic vegetables and harvest seeds from them and start growing. Some easy to grow organic vegetables from seeds include green chillies (but the red dried chillies to harvest seeds), bell peppers (but the red/yellow ones) tomatoes, garlic, etc. Herbs to grow from store-bought herbs mainly include mint, rosemary, thyme. Some others like celery, scallions can be grown from the base cutting, however, they may not keep producing forever. It is best to start herbs except for mint from seed to ensure more chances of success. Cuttings may or may not root and may disappoint an early gardener.
5. Time To Plant The Seeds In Containers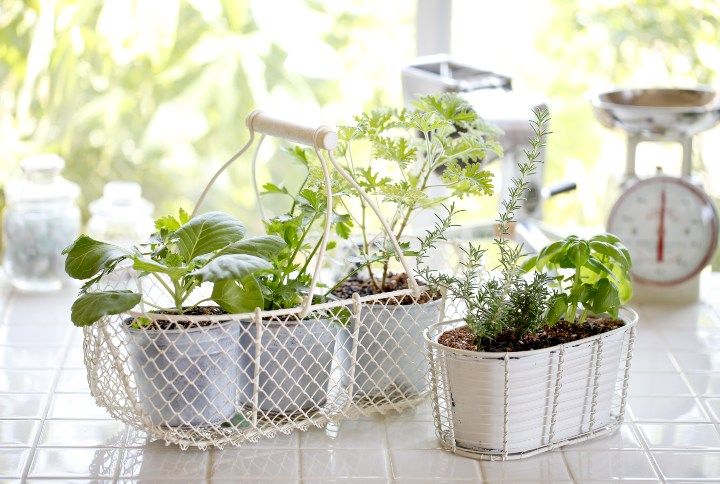 Seeds should not be directly planted in their final containers since they may dry out. Plant in small containers like paper cups, take away containers, disposable glasses, or special seed starting trays. This ensures consistent moisture. They should ideally be 3-4 inches in depth for the best result. Make sure these containers have holes in the bottom for excess water to drain out. Put them in a tray and water the seeds and young seedlings preferably from the bottom to prevent the fungus from growing on them. Once the seeds become about 2-4 inches in size and they look healthy, they can be transplanted to the final container. While doing so, here are some precautions you need to take:
Remove the plant with the soil around it and transplant it the same way inside the final container.
Disturb the roots as little as possible for minimal transplant shock.
Make sure the final container soil is adequately watered before transplanting and excess water has been drained.
For beginners, try putting only one plant per container. As you grow more, you can put two or more herbs in one container or you can pair plants. Companion planting makes your plants look beautiful but it is difficult to get the combination right and maintain for them well for beginners. Also, one plant per container makes it easy to identify any pests.
6. Growing & Taking Care Of The Plant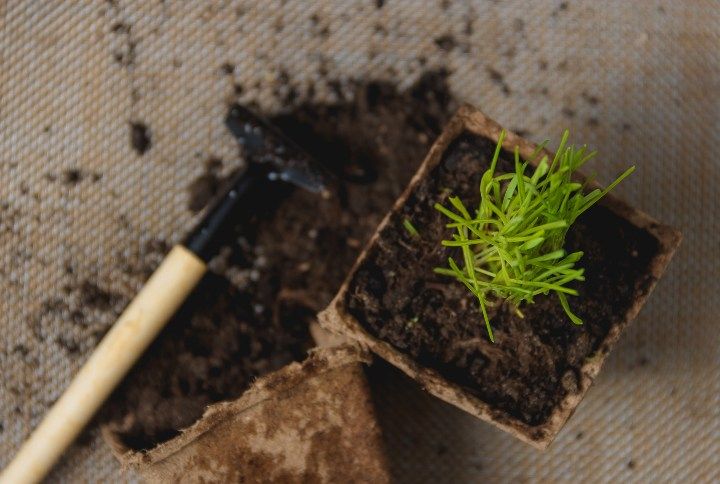 Grow the plants according to the instructions, there is plenty of information available online or you can even take the help of other fellow kitchen gardeners around you or on social media groups. Give your plants fresh fertilizer once every few weeks depending on the type of plant.
Watering advice may vary from location to location and your container size, material, the plant, etc. A good way to know when to water is to put your finger in the soil 1-2 inches deep. If the soil is dry, its time to water it. Again water the containers carefully, being sure not to splash the water on the plants since it may make them prone to fungal infections. Herbs and vegetables may require pruning and pinching. This may vary from plant to plant.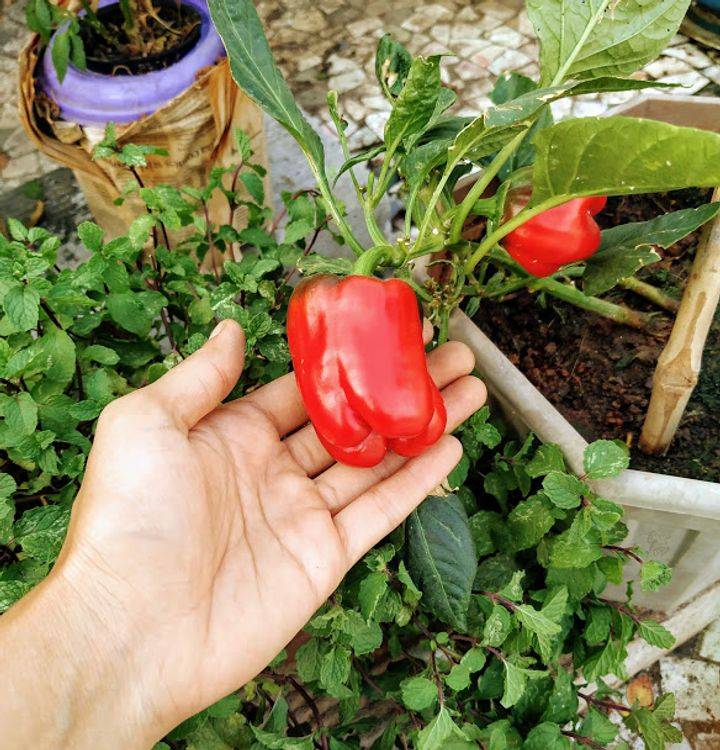 Expert's Note:
The ideal herb to start growing for extreme beginners is basil. Grow it from seed—it grows easily, is hardy and the smell and taste of fresh basil is beyond words.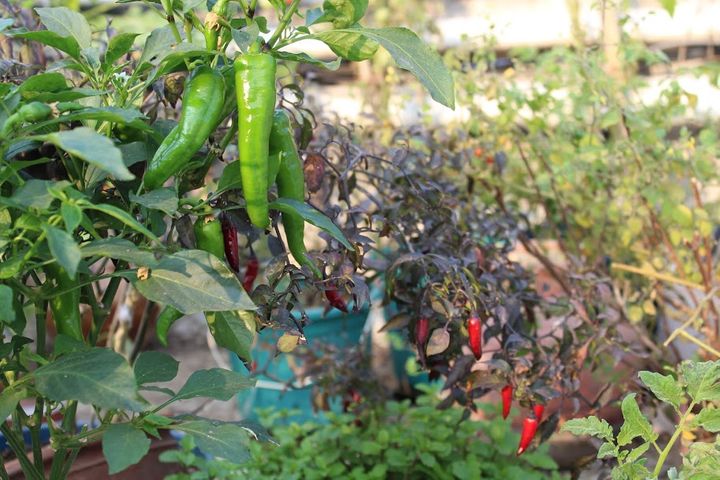 The ideal vegetable to start from is cherry tomatoes. They require very little maintenance, and they produce so many sweet little ones to add to your salads and other dishes.
If you are an absolute beginner, grow just one or two herbs to start with. It will build up your confidence.
Do not try to aim to be self-sufficient. If you are growing and you do not have enough for your entire family, do not be dejected. Grow what you can, and then expand later.
The entire process may seem a long drawn one, however, it takes only a few hours to buy and set everything up and just a few minutes daily to be on your way to harvest fresh produce right from your window sills or balconies.
About Vinnie Mehta: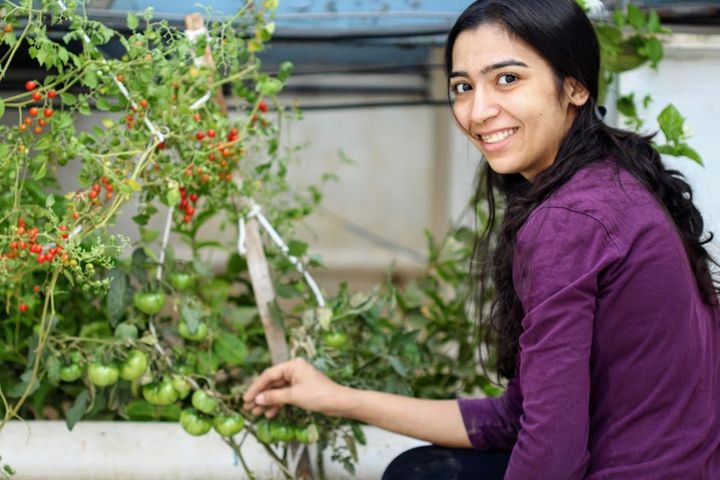 Vinnie currently grows over 6 varieties of basil, 7 varieties of peppers, and over 5 varieties of tomatoes, amongst other veggies and hers. She does this on a corner of her building terrace located right in the middle of the concrete jungle city of Mumbai.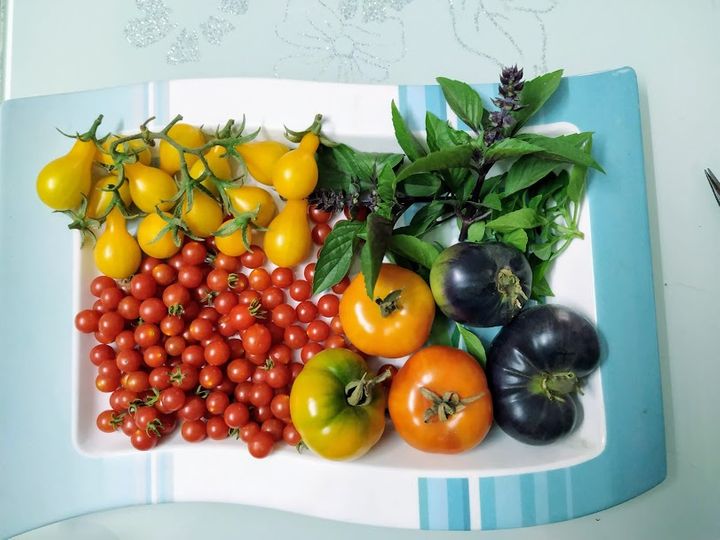 It has been over 2.5 years since she has started growing and she says she is already dreaming about her own farm one day when she can be truly self-sufficient. Till then, she says she will continue to grow as much as she can because that is how she is growing too. To be a part of her growing journey, you can follow her at @terracegreen on Instagram where she regularly updates what she is growing!
When are you starting your own kitchen garden? Let us know in the comments below!
Follow @missmalinilifestyle for more updates.