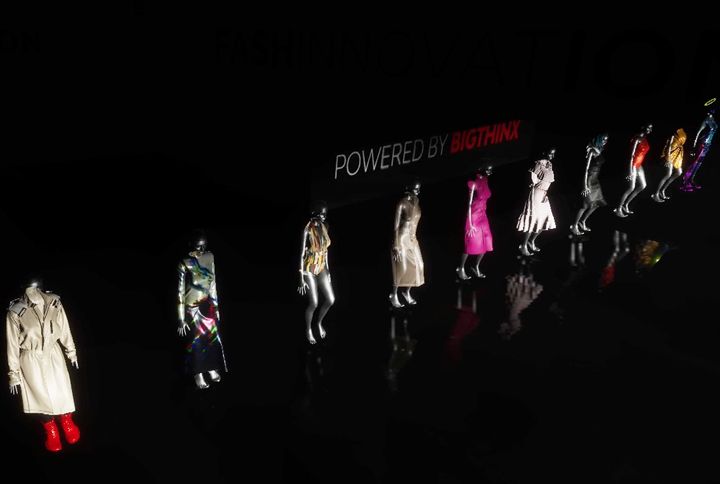 The pandemic has industries across the world alter their business and marketing strategies in an effort to stay afloat and relevant. And the fashion industry, in particular, has been an active participant in doing so. Amongst many such examples is FASHINNOVATION—a fashion and technology-driven conference that debuted at New York Fashion Week in 2018. The company primarily connects global names in the fashion fraternity with tech enterprises to merge fashion and technology beyond limits. In their efforts in doing so, FASHINNOVATION presented their first-ever 3D virtual fashion show on June 6th. And better yet, the creator of the virtual show was a Bangalore-based, AI company Bigthinx. Co-founded by Shivang Desai and Chandralika Hazarika, the entrepreneurs made headlines for their astonishing move of putting together the show in a short span of two weeks!
In a time-frame so tight, the award-winning startup did an incredible job, to say the least. The show was in collaboration with a total of 10 brands. It is set against an azure backdrop of oceans as June 8th is recognised as World Oceans Day.
We spoke to Shivang and Chandralika to know more about how the show was put together! Here's what they had to say:
On their entry into the sphere of creating virtual fashion shows:
Bigthinx is an AI company providing size, fit, and visualisation solutions for fashion and retail. Bigthinx's LYFSIZE software uses just two smartphone pictures to determine 44 precise body measurements of any person. Bigthinx's LYFLIKE software goes a few steps further and uses a selfie of one's face in addition to the body pictures to create a lifelike 3D virtual avatar that looks and measures exactly like the user. LYFLIKE also uses an automated AI based fashion digitalization pipeline which automatically recreates clothing in 3D from normal photos.
In April 2020, a client who had been hard-hit by the cancellation of fashion weeks and travel bans asked us if we could create a virtual photoshoot of their clothing on the avatar of a famous supermodel which they could showcase to their buyers and distributors around the world. To illustrate the capabilities of Bigthinx's technologies, we created a short demo video of the supermodel's avatar walking a virtual ramp along with still captures, which could be used in place of real photoshoots. This video went viral and FASHINNOVATION reached out to Bigthinx and asked us to put on a virtual fashion show at their Worldwide Talks on June 5th and 8th. Bigthinx successfully delivered a virtual fashion show themed on World Oceans Day which featured clothing from 10 designers and brands from around the world, and virtual avatars of real models from HOP Models USA. The show was live streamed globally on 5th June, 2020.
The process behind creating 3D models out of 2D body scans:
As Bigthinx's AI technology automatically creates lifelike virtual avatars and digital clothing, we requested pictures of the models which were created into virtual avatars, and detailed pictures of the clothing from the designers which were recreated in realistic 3D. These garments were showcased on the virtual avatars for the fashion show.
For fashion and retail, these pictures are taken through a smartphone app or mobile website which instantly create a virtual avatar of any user by generating 3D facial topography and virtual bodies sized to the measurements obtained. These avatars can be used for virtual clothing trials and also for gaming, fitness and a host of other applications.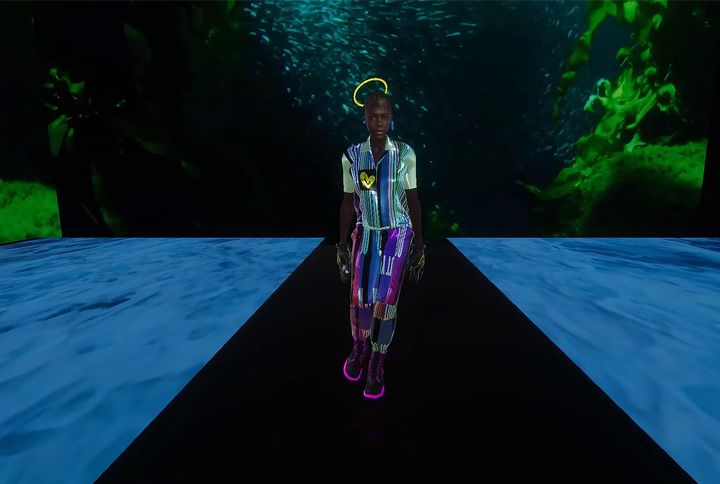 The process of draping the garments on the models:
The digital clothing is sized based on the brand's specifications and is draped on the virtual avatar the same way that one puts on clothing. The garments drape on the virtual body in the same way as clothing in real life to simulate an exact representation of a trial room experience.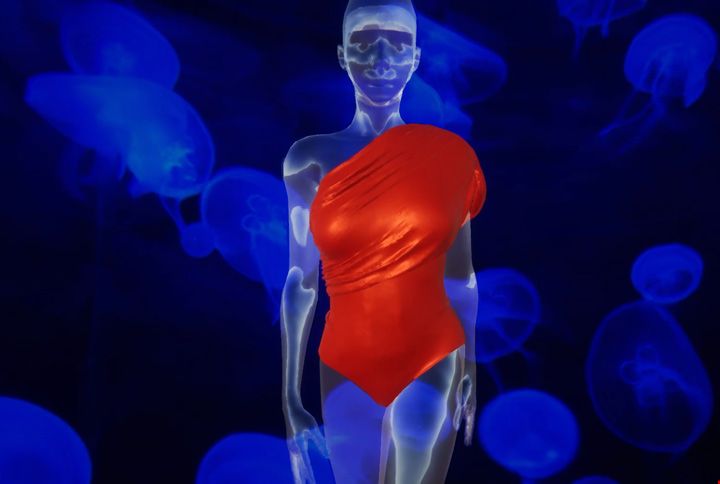 Challenges faced while putting together a 3D fashion show:
The primary challenge we faced was in educating designers and models on how and when to deliver pictures. In normal fashion shows, designers are often working until the very last moment to make sure the look is exactly what they envision. However, in order to produce a virtual show, pictures and details of the clothing need to be provided in advance to allow time to digitise them. This is something that designers are not used to. We even displayed garments in the virtual show which were from only concept sketches and even a prototype had not been made yet.
To digitise models, we request just a single front facing, evenly lit picture of the model's face. However, due to the nature of photoshoots that are carried out for models, many of the pictures are taken from different angles to highlight their best features. These pictures cannot be used as the AI needs a clear frontal picture to recreate their looks realistically, including the shape of and proportions of the face. As a result, we needed to request new pictures from the model agency as the standard shots were not suitable for avatar creation.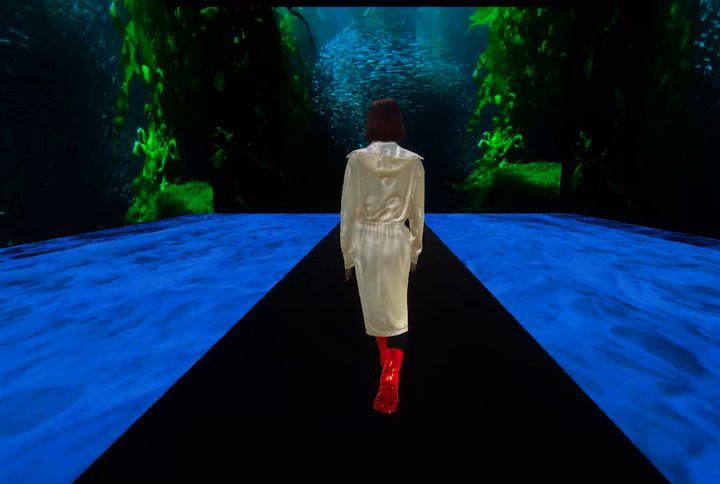 Potential ways that this technology could evolve:
This technology can not only simulate how clothing looks and drapes on digital versions of real people, but can also be sized up or down based on personal preferences to allow shoppers to choose the best look and fit for themselves. It can also evolve to being a standard part of e-commerce shopping experiences, branch out to in-store applications to allow quick and easy clothing trials, and be used to own purely digital collections for use in virtual communications and interactions. With the coming of holograms in the near future, phygital interactions will also become commonplace. Moreover, the advantages of this technology lie in improving the entire supply chain of the fashion industry. Human body data can be used by brands to tweak their clothing specifications and sizes to fit their shoppers better, produce only sizes that they know will sell and thus reduce wastage, and pre-trial designs with customers so that they manufacture only the products which have received positive responses.
Your take on digital fashion shows leading the fashion industry towards more sustainable approaches:
We believe that even though digital fashion shows will not completely replace the real ones, they will certainly become popular alternatives for brands that want to showcase numerous collections but don't want to take on the burden and expense of real fashion shows. They will also become a levelling channel for e-commerce brands and upcoming designers who cannot afford to put on traditional fashion shows and can benefit from a digital medium.
This approach is far cheaper and much more sustainable than traditional methods, and we expect to see widespread adoption in the near future.
The future of fashion weeks in a COVID-free world:
Fashion weeks have always been extravagant affairs, often more about people seeing and being seen than just the conducting of business. In a COVID-free world, there is going to persist a stigma towards close personal interactions and mass gatherings, and a call for more sustainable options. We expect that fashion weeks will follow the recent example set by Gucci to go seasonless and showcase fewer shows each year. While fashion shows will not disappear by any means, they will see a far greater proclivity towards sustainability and reducing wastefulness, a part of which includes supplementing their normal formats with purely digital or hybrid mediums.
You can watch the fashion show here:
What an amazing show, isn't it? What are your thoughts on virtual fashion weeks? Tell us in the comments below!
And don't forget to follow @missmalinifashion on Instagram to never miss a style tip!