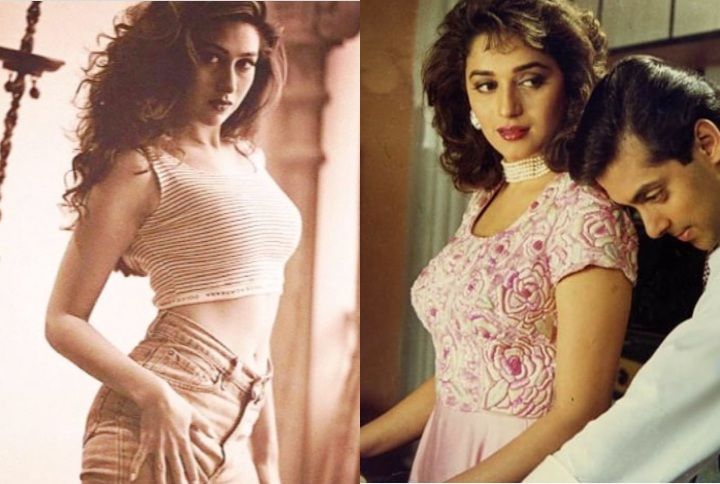 History more often than not repeats itself! This is especially true of fashion and beauty trends. Right now we're seeing a resurgence of everything you loved, or maybe even hated from the '90s. They have now returned more stylish than ever. If you're a millennial like me, you might find it strange that we are old enough to have styles returning that we actually remember. I don't know about you but I'm totally here for the '90s style resurgence.
With all these trends making a comeback, it took me back to when I was a kid. I remember so many iconic Bollywood actresses of that era donning these trends and making them popular among the masses. As fashion and Bollywood go hand in hand, so many of us tried to emulate the same outfits we saw on the screen on our favourite heroines. So with all these familiar trends making a return, I decided to take a walk down memory lane. Let's check out how our B-town celebs originally rocked these current trends in the '90s.
Keep scrolling to check out current styles that were popular back in the '90s with Bollywood celebs:
1. Athleisure & Activewear
Once Dil Toh Pagal Hai hit the screens activewear became super popular. Everyone wanted to look like Karisma Kapoor. All of her outfits, that were heavily sportswear-inspired looked effortless and cool, it was now accepted to wear these trendy outfits to college or look sexy for the gym. And let's not forget that epic dance-off between Karisma and Madhuri Dixit-Nene. This style has made its return recently with more relaxed silhouettes and matching sets for every day. Even the bicycle shorts has made its way back into fashion. More often than not you'll see influencers on Instagram rocking these trends on the daily.
2. Chiffon Sarees
You might remember Sri Devi's iconic blue saree from the '80s in Mr India. However, the chiffon saree really found its footing and evolved in the '90s. These sarees were seen on literally every heroine in almost every movie. One of the more memorable moments was Raveena Tandon in Mohra, who wore a vibrant yellow saree in the song, Tip Tip Barsa Pani. Regal chiffon sarees are still popular to this day. While it gets updated every few years, it's a classic that looks great dressed up or down and very appropriate for the summer months because of its sheer breathable fabric.
3. Opulent Lehengas
Of course, lehengas have been around forever that's nothing new. But the opulent and extravert style of lehengas gained notoriety in the nineties. I remember being wowed when I saw Aishwarya Rai Bachchan in Hum Dil De Chuke Sanam. She looked like an absolute dream in a medley of lehengas each one more gorgeous than the one before it. All of a sudden, this was every girl's number one outfit choice for weddings and special occasions. For a few years, many had gravitated towards different styles but now we have seen the shift back to modern, opulent and intricate lehengas worn by big stars on their special day. We should definitely thank director Sanjay Leela Bhansali and costume designer Neeta Lulla for introducing us to the fabulous royal lehengas in the '90s.
https://www.instagram.com/p/B-rof6vHj03/
4. Chokers
You couldn't have survived the '90s without wearing some type of choker at least once. For me, it was the goth style chokers made of plastic. These were the ultimate trend and chokers of all kinds were available everywhere. But what was popularised by many Bollywood heroines was more feminine pearl detailed chokers, some chunky and some delicate. One of these versions was worn by Madhuri in Hum Aapke Hain Kaun. Paired with matching earrings and a cute pink dress, she looks sweet like candy. For 2020, more extravagant chokers are in style and popping up on the runways. The current theme being, go big or go home.
5. Denim Shirts
A denim shirt isn't a new thing but it has become a classic and wardrobe essential for the modern girl in the last few years. Urmila Matondkar showed us the right way to pair denim shirts and high-waist jeans in the movie Rangeela from the mid-nineties. This look was overshadowed by her more sexy outfits in the movie but was definitely a style statement at that time. The great thing about a denim shirt is that they're so versatile and super easy to style.
https://www.instagram.com/p/CA6w8XMjbWW/
6. Dungarees
Remember Kajol Devgan's tomboy look in Kuch Kuch Hota Hai? While there were many memorable fashion moments from this movie, like her tracksuit and hairbands, her denim overalls were equally as famous. After disappearing for a while, they have slowly inched their way back. You now can wear this in a variety of fabrics and styles, loose, cropped, flared, etc. Take your pick! They even play into the functional fashion trend. A cool way to stay comfortable and stylish at the same time.
7. Crop Tops
You have had to be under a rock not to notice the influx of crop-top styles in fashion. They first made a major mark in the era of the Spice Girls. Every actress rocked some version in more movies than I can count. Flaunting their toned midriff, this top was worn with skirts, jeans and even as matching sets. Top actress of the time, Karisma, Juhi Chawla, Shilpa Shetty and more, all wore this trend onscreen and off.
8. High-Waist Pants
High-waist pants always keep coming back in style. They make you look taller and leaner plus it is flattering on most bodies. It's no secret that it made it's way back into the closets of every fashionista. TBH when I was a kid I wasn't a huge fan of this style, but you couldn't avoid it and now, it's one of my favourite pieces. Whether it was jeans, trousers or even high-waist shorts it was on everyone- from Kajol in DDLJ onscreen to Karisma Kapoor for casual everyday wear.
What is your favourite trend that has returned in style? Let us know in the comments below.
Don't forget to follow @missmalinifashion for all the latest style updates!