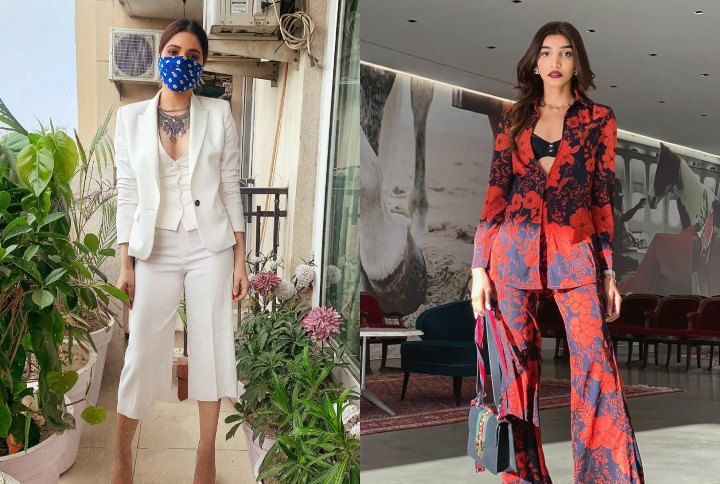 When we hit those hotter days and nights all we can think about is the heat and all the humidity that comes along with it. As the temperatures rise most peoples hemlines tend to go shorter, however, not everyone is into shorts, dresses or even sticky jeans. Picking the right pair of bottoms this season can be super important. Never fear! We're here with some tips to help you pick out the perfect pair of bottoms for every occasion for this kind of weather.
The key to looking fashionable and functional is all about fit and fabric. As you refresh your look this season the fabrics you choose and how the clothes fit on you can majorly affect your comfort level and how you look.
Let's start with some lightweight fabrics that you need in your wardrobe:
Cotton: This is an excellent choice for everything as it's a very breathable and lightweight material. The natural fibres help air circulate more freely through the fabric which makes the heat more bearable. Cotton is a very versatile fabric and clothing made with it can is easily worn for day and night time looks.
Linen: Literally made for hot weather, linen is one of the best fabrics you need to effortlessly complement your wardrobe. For centuries people have been wearing these textiles. It's one of the oldest materials in the world and for good reason. The light weave and natural fibres allow breathability and help keep you cool.
Chambray: The perfect choice for denim lovers. Chambray is a lightweight and plain-woven fabric that is made of cotton. It looks like denim, so you get the look without the weight of it.
Seersucker: Thin and lightly puckered, this fabric is also a member of the cotton family. It is commonly found to be in a striped or chequered pattern. Super light and breezy it's a great material that's often seen at outdoor garden parties.
We've gone over the most ideal fabrics but let's not forget about the fit though! With more relaxed silhouettes coming down the runway this year, looser fits and wide-leg styles are fashionable, comfortable and perfectly on-trend for 2020. The key is to have a good pair of pants that are easily dressed up or down. These pants should take you from work to drinks to running errands. We've listed some trending styles and silhouettes that are currently on-trend and perfect for those warmer days.
Take a look below at the on-trend pant styles that will keep you cool this season:
1. High-Waisted Wide-Leg Pants
It is all about wide-legged, high-rise bottoms this year. Earlier, this style had made its comeback with denim. However, currently, it's very popular and found on almost every type of bottoms – skirts, shorts, trousers, you name it! A high-waisted pant helps accentuate your curves in the right places and a wide-leg style will allow you to stay cool and breezy all day.
Style tip: Tuck in your blouse or wear a crop-top to accentuate your waistline.
2. Paper Bag Trousers
The paper bag trouser trend is still going strong this year. Essentially, with these pants, the fabric is bunched up at the waist. The gathered fabric cinched at the waist accentuates it and creates the illusion of long lean legs. Look instantly chic in this flattering pair of pants that are super comfortable too!
Style tip: Try and pair the looser fit pants with a tighter or shorter top. You can also tuck in your blouse for a proportioned look that is more polished.
3. Daytime joggers
The athleisure trend isn't going away anytime soon! We see joggers everywhere and it's a great choice for casual everyday wear. They make you look effortlessly cool! Opt for more neutral colours like black, white or grey. This will allow you to style your pair joggers more easily with a multitude of tops and jackets.
Style Tip: Go sporty and pick a pair that have elasticated ankles. They are super trendy and look fantastic with sneakers, graphic tees or more feminine tops.
4. Flared Trousers
Retro styles are back! These flared styles harken us back to the '70s where they first gained notoriety. Updated for the current season with some subtle fares, it helps elongate the leg and adds a fun dressy element to your outfit. Ditch your denim and pick a pair of chambray flared pants. This will give you the look of jeans but without the heaviness of it.
Style tip: Pair these pants with an off-shoulder top and some booties or chunky platforms or heels and your good to go!
5. Prints & Patterns
Patterns & prints are a great way to spruce up your wardrobe and introduce some new energy to your look. It's a fun bottom garment that you can make the standout element in of your whole outfit. It allows you to keep the rest of your outfit simple by wearing more neutral solid colours to complete your ensemble. Moreover, at the moment, some of the more popular prints and patterns are polka dots, checkerboard and florals(of course!)
Style tip: Go bold and pair your patterned paints with intriguing prints. Or if you want something simpler you can't go wrong with florals or polka dots.
6. Gaucho Pants
Cropped trousers are a chic look if you want something simple yet stylish and detest shorts. Depending on how you style them, these midi-length pants can create smart, sophisticated and casual outfits ideal for work or brunch.
Style Tip: Make sure to pair these pants with pointed toe pumps for a more refined chic look.
Which of these pants or trousers is your favourite for those hotter days and nights? Let us know in the comments below.
Don't forget to follow @missmalinifashion for all the latest style updates!