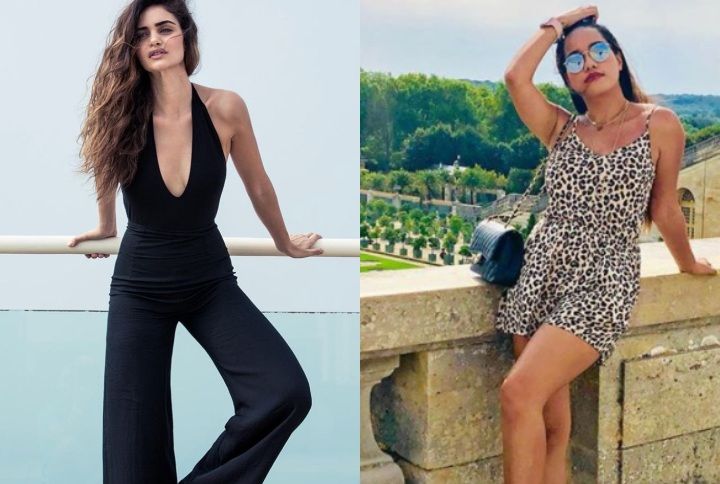 A popular style and go-to outfit for many occasions is the trusted jumpsuit. However, let us dive in and have a quick look at the origin of them. Invented in 1919 by Italian artist, Ernesto Michahelles, it was initially referred to as Tutua. The term jumpsuit was born due to the functionality of the outfit as it was made to be worn by parachutists and skydivers. Nonetheless, the practicality and ease of it lead to the reinvention of the suit for casual, everyday wear.
When it comes to women and the fashion evolution of this piece, timeless designer Coco Chanel transformed the jumpsuit to loungewear, epitomising it in the '20s. By the '30s many famous designers took on the jumpsuit and adapted them to add a more feminine style. These suits were also customised for sporting activities and skiing. It was around this point of time women flaunted this classic design and it rose to popularity. By the '60s this trending style was worn by Hollywood icons Elizabeth Taylor, Jackie Onassis and Audrey Hepburn. Moreover, it started the inception of many jumpsuit variations that we see trending on the market today.
Listed below are some of the different jumpsuit designs:
Blazer Jumpsuits
Boiler Jumpsuits
Culotte Jumpsuits
Denim Jumpsuits
Overalls
Playsuits or Rompers
Shirt Jumpsuit
Skinny Jumpsuit
Tank Jumpsuit
Wide-leg or Flared Jumpsuit
The various styles, designs and comfort of jumpsuits make them our number one pick for any occasion. Additionally, these one-pieces are for every kind of body shape or age and can be worn by anyone based on personal preference. However, it may get confusing to pick the right jumpsuit for a specific outing. Inspired by our stylish Instagrammers, we have put together a list of occasions and the best-suited jumpsuit for each. Be it a date night, brunch, office meeting or even a holiday-we have got you covered!
Scroll below to see the ideal jumpsuit for every occasion:
1. At Home
Ever since WFH became a thing, being comfortable while looking stylish is a priority on our list. What better way to execute this than by going for relaxed onesie. A harem styled jumpsuit like the one Shereen Sikka is wearing by Rheson looks suited to lounge at home all day. Vibrant colours and a printed pattern adds some fun to your look, whereas the soft material allows you to stay cool all day long. Additionally, a loose fit and tapering leg style is perfect to look trendy without sacrificing comfort when you have a Zoom call or supermarket errands.
2. On The Job
Calling out all the boss ladies! Radiate power by swapping your traditional two-piece suit to a one-piece jumpsuit. This is a good choice to look professional without being too dressy. Malini Agarwal makes a statement in a teal blazer wide-leg jumpsuit by Ajiesh Oberoi. Dark colours such a black, navy, bottle green, charcoal grey or a pinstripes pattern are more office-appropriate. Moreover, don't be afraid to dress it up with high heels and elegant accessories!
3. Weekend Brunch
A blazer playsuit is the right mix of formal and casual for the weekend. Riya Jain looks chic and carefree in her white playsuit. She chooses to let her accessories pop with a bright red clutch and sunnies, along with a chunky neckpiece. With the Monsoon season here, dressing light and airy is key. Hence, a playsuit in a moveable fabric is a more sensible choice along with a soft colour selection for the day time. To look more effortless, you can choose to pair your outfit with casual sneakers, an ideal ensemble for a lazy Sunday brunch!
4. Holiday Fun
Whether strolling a new city or lazing by the beach, a romper is exactly what you need. We love Debasree Banarjee's leopard print romper that she has paired with gladiator sandals and oversized sunglasses, making it the perfect holiday look! Furthermore, a romper makes for a stylish alternative to your usual beach cover-up. Layering your swimsuit below looks cute and casual while allowing for maximum comfort at the same time! Additionally, pairing footwear with this is super easy as you can match anything from flip-flops to sneakers with it.
5. Cocktail or Night Out
Ditch your fancy dresses and choose to dazzle in a one-piece wonder for the night. Rich colours, luxurious fabrics such as silk, and sparkly accessories can make your look fancy. Gabriella Demetriades sizzles in a deep neck fitted jumpsuited by her brand Deme By Gabriella. This classic, yet ravishing piece is fit for a formal night out. Furthermore, you can choose to dress up the look with high heeled pumps, sparkly accessories and a designer handbag. Stand out from the crowd and make a statement in your classy jumpsuit!
Which style of the jumpsuit is your favourite, and where do you wear it the most? Let us know in the comments below.
Don't forget to follow @missmalinifashion for all the latest style updates!