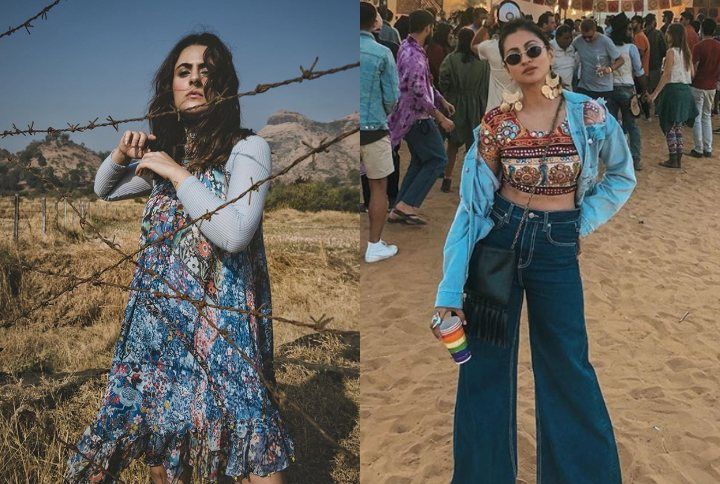 The boho-chic style was born in the '60s and '70s and has made its mark on the fashion industry ever since. Hollywood celebrities to likes of Nicole Richie, Kate Moss and Sienna Miller are regular advocates of this style. However, the speciality of the bohemian look is that it never goes out of style. Although it has evolved over the years, the basics of paisley prints, flowy dresses and silver jewellery make them wearable all year long. This colourful, carefree look is a staple uniform in music festivals such as Coachella, Burning Man, Glastonbury, and India's own Magnetic Fields Festival.
A quick throwback to the roots of the Bohemian style—it originated from the hippie movement and their cause of being free and organic. The more contemporary version of this style came into effect in 2004, with Siena Miller's outfit in the Glastonbury music festival. As a result, the boho-inspired outfits have become common, with tweaks and twists made along the way. Emphasis on this style is given to the ability to mix and match and the uniqueness to express your character. To add to that, natural materials, oversized clothing and loose fits are some key characteristics of the trend to focus on if you want to be a true endorser.
The boho-chic trend is fun to style and play around with because of the freedom you have to be creative. Get those clothing layers and jewellery out as you we show you the best ways for you to put together this look!
Read below for inspiration on ways to pull off the bohemian trend:
1. Boho Print
Nothing expresses the trend more than a strong floral print. Shereen Sikka looks effortlessly bohemian in a Hemant & Nandita technicolour printed dress, where the texture and frill at the bottom are apparent. Even though done subtly, she has layered a ribbed long tee below her dress, playing with the contrast of the materials of both clothing pieces.
2. Crochet
Incorporating the crochet look with organic material is an easy way to spark your inner boho-chic. A minimalistic way to support the trend, Riya Jain has paired a flowy summer dress over a crochet knit bikini. Additionally, Riya's bamboo handbag adds the natural ingredient contributing to her vibe. This makes for the perfect beach-appropriate outfit!
3. Silver Jewellery
Make use of your ethnic statement pieces and trinkets, and start layering them to master the bohemian way of accessorising. We love how Kritika Khurana's Tribe by Amrapali jewellery have hints of bright colours in them. This adds some vibrancy, in addition to creating a fluid, layered look to her simple white outfit. Resulting in a true boho babe indeed!
4. Flared Pants
The paisley print is known to be the archetypal print of bohemian style. This motif is popular in fashion for many years and is a major identifier for the trend. Riya's flared paisley printed pants make her the walking description of a boho beauty! Not drawing away too much attention from her bottoms, she has paired it with a white front-knot shirt and added a tribal print headband along with silver jewellery to compliment the look.
5. Tassels & Fringe Details
To pull off the boho look with simplicity, choose to add elements of the trend through your choice of accessories. Juhi Godambe successfully does this by pairing a fringed satchel bag and long tassel earrings with a strappy summer blue maxi dress. Fringes and tassels are two prominent aesthetics in the bohemian trend that can instantly elevate your look!
6. Sheer Layers
Diipa Khosla is festival-ready, creating a stunning bohemian silhouette in her chic ensemble. A sheer layer over a swimsuit, with some silver jewellery and over-sized shades, is the elegant and sexy look we aim for! Also, don't forget to notice Diipa's studded boots, these are the must-have footwear for every boho girl wanting to pull-off the laid-back look.
7. Maxi Dresses
If you want to be authentic to the trend, go for the most relaxed, flowy maxi dress you can find. Urmi Daga's dress with small pattern prints and lace detail at the bottom has all the factors needed to make her a contemporary boho chick. In addition, staying true to the style, she has paired her dress with the staple ankle boots making for a quintessential bohemian outfit.
8. Some Denim Detailing
You can't get any more '70s with flared jeans and a denim jacket! Sukhneet Wadhwa shows us how to mix tribal prints with denim to make a statement. Indian inspired motifs on her crop-top go perfectly with her distressed denim jacket and flared jeans. Moreover, playing with the variation in shades, she has chosen light denim above compared to the dark wash of the bell-bottoms. The ability to mix fabrics, prints, and colours is the perfect expression of bohemian fashion. To conclude, we definitely think Sukhneet is owning the artistic boho style with this look!
Are you a fan of the boho-chic trend and what style are you most excited to try? Let us know in the comments below.
Don't forget to follow @missmalinifashion for all the latest style updates!