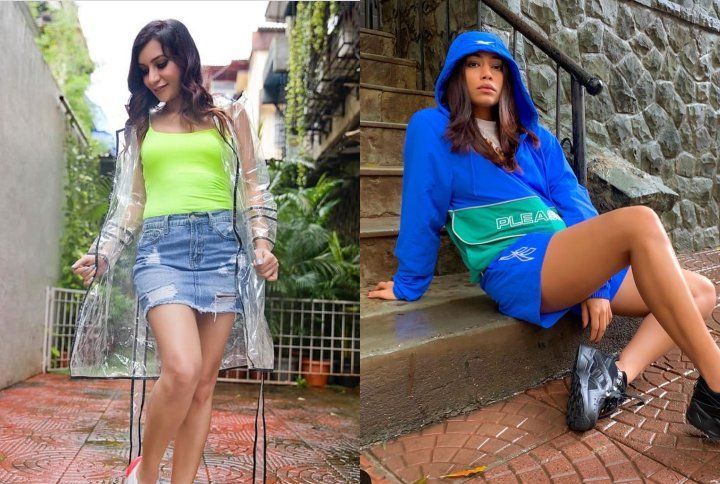 The monsoon season is finally upon us. While most of us rejoice at the sight of these chilly showers but it can be a pain when you have places to be and people to meet. The gloomy days can at times, result in very dull outfits. It can be confusing to dress for the rain with the fear of getting drenched and getting caught in traffic. This, however, does not mean you can't step out in cute yet durable outfits for the weather. Don't be afraid to experiment and have fun.
We've picked out some cute outfits to get inspired by and get you started, but first and foremost let's break down the importance of choosing the right fabrics for this weather. When dressing for the monsoons, you basically need to stay away from fabrics that have high water-absorbent qualities.
The following fabrics listed below will keep you comfortable and help you stay dry:
Cotton: Perfect for humidity, the cotton material allows air to flow and creates a cooling effect. While 100% cotton does well in most climates, opt for a poly blend during rains. This type of blend dries faster and falls right when drying.
Rayon: Made from cellulose that is extracted from trees, rayon can feel like silk and even imitate cotton or linen. It's cool, airy, does not trap body heat and is not as moisture-wicking as other natural fabrics
Nylon: One of the most adapted fabrics for this season, it is famously used in swimwear and sportswear. It has a low absorbency rate and is breathable and durable.
Dri-Fit: Used in a lot of athletic wear, it soaks up the sweat and sucks it up to the surface leaving your body feeling dry and clean
Chambray: The great thing about chambray is that it looks like denim but is much softer and lightweight. No sticky denim issues during the rains here. It's a great choice when you want to look a little dressier and want the style of a denim shirt or jeans.
Polyester: Easy to dry and wrinkle-free, polyester doesn't absorb moisture. It's considered to be waterproof for everyday use, the perfect material to protect you come rain or snow.
PVC or plastic: These are perfect choices for water-resistant raincoats, boots or even accessories like plastic bags.
You can also opt for some other silk and poly blends like lycra, mesh and tricot that dry fast and won't shrink. Once you know what fabrics are best for the rainy weather, it becomes easier to shop the pieces you need for your wardrobe to style your outfits.
Time to scroll below and check out some style inspiration for the monsoon season:
1. The Trendy Raincoat
This is, of course, your BFF of the season. While you might remember your fun jelly raincoats from when you were a kid, its lately had a stylish makeover for us adults. Why should only kids have all the fun! You can choose completely transparent versions to lightly lined silhouettes like our very own Malini Agarwal, who is rocking her raincoat paired with a cute outfit underneath. As she struts through the rains, the coat keeps her dry and her neon green top adds the much-needed pop of colour for the gloomy weather.
2. A Stylish Umbrella
Say hello to the many colourful and vibrant styles of umbrellas available because black is so old-school and boring. A fun umbrella is the way to go during this monsoon season. Colours, not your thing? Check out Saily Patre totally on-trend with a clear bubble umbrella from Prop Shop 24. The clear transparent look with boss babe written on it creates a fun chic statement but doesn't distract from her overall look.
3. Embrace Active Wear
Lucky for us athleisure or activewear is booming and it has become socially acceptable to wear it all day, every day. While a rainy morning is not the most motivating scenario for working out or running errands, you can stay dry and look cool when stepping out of the house by taking a style cue from Santoshi Shetty. She looks effortlessly cool in this electric blue windbreaker set from Reebok. Perfect for a jog in the rain or casually stepping out to the shops.
4. Shorter Hems
Hems usually rise peak summertime and this trend is also carried into the monsoon season as well. Opting for shorter or cropped hems whether its pants or dresses will keep you breezy and comfy in the humidity. Plus this helps you avoid the issue of sticky muddy hems. Jannat Khan looks super trendy in her sporty ensemble consisting of a bucket hat, bicycle shorts and loose tee. Don't forget her durable Nike fanny pack too! You can't go wrong with this look that's super stylish and easy to recreate.
5. Bright Colours
Just because the weather is gloomy doesn't mean you have to dress like that too! Go for deeper colours and brighter shades that will uplift your mood and are also good at hiding rain marks. Norma Castelino's whole outfit is fashionable from head to toe. Her pink sweatsuit is really popping paired with a black crop-top and combat boots which give some edge to the otherwise very feminine colour.
6. Durable Bags
Don't ruin your good leather bags when out running errands. Your bag needs to be durable and water-resistant too! Accessorise your overall look with bags in vibrant prints and bright colours made out of jelly or PVC style materials. We're in love with Sanjana Patil's vibrant green, transparent, jelly backpack! Did we mention the clear or see-through accessory fad is casually sticking around? Super cute and stylish, it'll keep your contents dry and safe from the rain, definitely a must-have for the season.
7. The Right Pair of Shoes
Brave the dampness by selecting the right pair of shoes made of water-resistant materials. Try out a pair of trusty wellies aka gumboots or if they're too clunky for you try some strappy PVC sandals. Perfect for breathable days, PVC sandals are durable and the best choice if you're commuting or running around all day. Mira Kapoor looks fresh as a daisy and monsoon ready in her light washed denim outfit teamed with a cute pair of vibrant, floral PVC sandals from Crocs.
Which of these outfit ideas is your favourite and are most likely to wear? Let us know in the comments below.
Don't forget to follow @missmalinifashion for all the latest style updates!