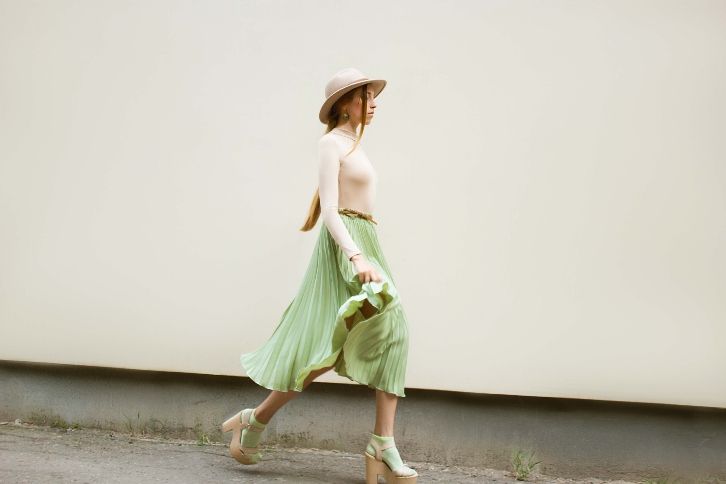 We live in a world where trends come and go. Recently pants and trousers of all sorts have been more upfront and popular. But what about skirts you ask? People often forget that skirts are easily one of the chicest items that you can wear all year round. More easily styled than you think, skirts give you the much-needed variety when you're bored with trousers or jeans. Whether you're a skirt person or not, you can't deny that they can be dressy but also laid-back and effortless as per your needs. So, today we're talking about skirt trends we've noticed, that you've just got to jump on and try in 2020.
Skirt bottoms have been gaining more traction this year, with updated versions of the '90s and 2000s era trends making a comeback. While you'll find that all length variations are available, one key length in many collections has been the midi-length and high-waists. The best bit about all these styles is that they can keep you cool and breezy on warmer days and can easily be worn to transition right into the Autumn/Fall season! Just pair them with your favourite boots and you're good to go!
Keep scrolling to check out the skirt styles you have to try ASAP:
1. Midi-Length Denim Skirts
Denim skirts, in general, are very trendy right now. You can literally take your pick from a variety of styles and sizes like maxis, minis, button-downs, paper bag waists etc. However, the midi-length back from the '90s and is reigning supreme. If you're denim skirt looks or even is vintage congrats! You have just nailed this trend. The best part is that they're super versatile just like your favourite pair of jeans. These were seen on Celine and Stella McCartney collections for this year. If denim's too heavy for you, opt for chambray fabric to get the look of denim without the weight.
Style Tip: Swap out your T-shirt and keds for a tucked-in blouse and sandals on a casual workday. Fall into autumn with a cardigan tucked in or cropped jumper. Don't forget to belt it at the waist for the finishing touch.
2. Thigh-High Side Slits
Say hello to thigh-high side slits and flashing a little skin. This cut makes you look sleek and sexy with minimal effort. Also perfect for those warmer days when the heat and humidity get to you. These were spotted earlier this year on runways of designers Jason Wu and Prabal Gurung. There are so many fun designs and styles to choose from like asymmetrical versions, wrap styles and more, that you're bound to find a style that works for you.
Style Tip: A great trendy combo to go for is the monochromatic look. Pair the skirt with a matching crop-top and sneakers for the day where you can then swap out your shoes for heels or pumps at night.
3. The Mini Skirt
Mini's were the must-have garment of the 2000s and since fashion trends always come back around, they're slowly making their way back into fashion circles. We've recently noticed this style pop up among fashionistas on Instagram. Among the many versions are the more preppy pleated styles and even very school-like, plaid prints, gaining traction online. However, the new subtle yet striking detail in its resurgence across the board is a small slit. The slit option is available whether you want to wear a denim mini or bodycon style tube skirt.
Style Tip: Keep your satin or bodycon mini daytime appropriate by pairing it with an oversized tee and slides.
4. Tiers Upon Tiers
While we floated in tulle last year, for 2020 we have some lovely light tiered skirts that are surprisingly versatile with some fun twirl-ability. The ruffle or tiered skirt regardless of the size or length is what we saw down the runways for summer, with some designers calling back to the '70s more bohemian street styles. Don't underestimate the power of these bottoms. You can easily create a look that can be switched up to go from day-to-night. Effortless and enviable, it was best showcased by Saint Laurent and Celine fashion houses.
Style Tip: Dress it up for the evening with a blouse or black turtleneck and stilettos.
5. Pleats For Days
No, your minds not playing tricks, pleats are back in style with a surprising resurgence. Pleats came in hot this year at Christopher John Rogers, and Chloe shows. The perfect skirt that's wearable all year round, this is a trend you don't want to miss. Pleated minis can be fun but the midi version can make you look effortlessly chic and sophisticated. Pair it with a blouse or shirt for something that's more appropriate for work.
Style Tip: Go with bright colours this season to counteract the gloomy weather and team it with a fitted tee to counteract the extra fabric and look super cool.
What skirt trend are you most excited to try out? Let us know in the comments below.
Don't forget to follow @missmalinifashion for all the latest style updates!