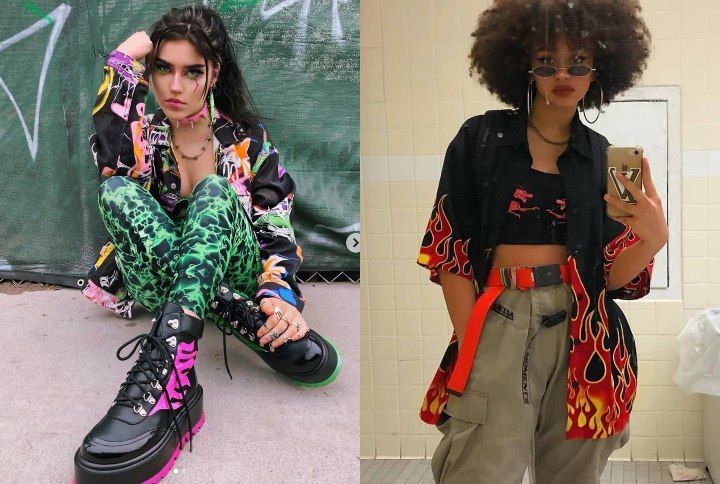 If you've been around TikTok for any amount of time, you would have encountered the ever-growing phenomena of the E-girl prevalent among the Gen Z crowd. This online trend has been emulated by teenagers and even adults over the past year and has had no indication of slowing down.
What is an E-girl you ask? Well, first off,  the term stands for an 'electronic girl'. This was because originally their personas were found only online. However, the significance and meaning of the term have changed and evolved over the past few years to what it is now with the current E-girls you find on TikTok. They have created a strong community that lasts longer than short videos and whose style has become more widespread and constantly emulated.
Now the E-girl look is more of vibe that's instantly recognizable from their makeup down to their fashion choices. If you pay close enough attention, you'll realize this style is an amalgamation of trends taken from previous generations. In fashion or art, nothing is ever really new, is it? The look seems to include aspects of the British punk era (think band tees, tartan and safety pins), '80s goth styles and more recent '2000s angsty punk-emo phase. All those aspects thrown in with some anime and colourful K-pop influences seems to be the best way to describe the E-girl fashion and beauty aesthetic that at times, resembles a Bratz doll.
However, as I mentioned, it's more of vibe with elements that aren't restricted to only black or dark shades. In fact, there is a more prevalent mix of pastel and vibrant colours. Depends on your personal choice and the persona you are going for or are more comfortable with, online or off. This trend has gained so much prominence that many online stores have popped up that sell beauty and clothing items that cater specifically to this aesthetic. Eager to dip your toe this fashion trend that has also made its way from TikTok to Instagram? We've got you covered!
Keep scrolling to check out the starter pack items you need to achieve the e-girl look:
1. Makeup
There are tons of tutorials online showing you how to achieve different versions of an e-girl look, some bolder than others. The makeup is one of the most important characteristics of this overall look. Emo and anime just to name a few, are major influences in their makeup choices. However, here are some common key features to note across the board.
First, you'll need to create the sharp as a dagger winged eyeliner. Next, its time to go ham with your blush over your cheeks and nose plus adding subtle freckles for a sunkissed Kawaii look. And do not forget to add some face stamps, like hearts or other shapes under your eyes. Additionally, if you want to go to the next level, you will need colourful duo dyed hair or a wig. But if vibrant hair is not your thing, just section your hair, or a part of it into two mini pigtails and your good to go!
2. Butterfly Hair Clips
Another nostalgic trend adapted by Gen Z-ers is the butterfly hair clips and barrettes. This cute as a button accessory you might remember from your younger days. These clips help to instantly elevate your outfit with added fun. It's an easy way to emulate the e-girl aesthetic. Place these clips or some barrettes on either side of your hair to help frame your face and elongate your features. Want to have some more fun? Play around and spread these rainbow clips evenly around the length of your hair.
3. Beanies
There are so many accessories that go into being an E-girl but a beanie is the ultimate. The great thing about these versatile hats is that they look great on everyone and keep you looking stylish. With so many versions and colours available the sky's the limit! You can even opt for a simple logo design that works just as well.
4. Oversized Tees & Sweaters
Like I mentioned before, there's a lot of influences inspiring this look, which also includes a lot of grunge. Luckily the E-girl clothing options can be quite comfy and you probably already have these items in your closet. Oversized tees and jumpers are cute super cute and very appropriate at the moment. Opt for band merch styles for these two items to nail the look. When styling these items, try including a long sleeve shirt underneath your tee or even a turtleneck for a more layered look. Relax and chill out with some high waisted jeans and sneakers et voila! You're all set to chill at home or show off your new look by recording some fun TikToks.
5. Crop-Tops
I know y'all must be must tire of hearing about crop-tops, but these are the best way to accentuate your waist and showcase some skin. It's a great way to create an hourglass figure with the infinite number of styles available. Play around with the endless styles, patterns and prints like stripes, plaids and etc, but don't forget to add in some much-needed popular flame print to your collection. You can even opt for a slinky, spaghetti cami or mesh tops. Pair your tops with oversized jackets and heaps of chunky accessories. There's literally no limit to the creativity here. So if this is aesthetic you are drawn to, have fun with it and express yourself through your clothes.
6. Vibrant Cargo Trousers
Embrace the current utility trend and stand out with coloured cargo pants. Make sure to pick a style and size that's on the looser end. Don't worry about the fit, you're going to cinch these on your waist with a cool belt. Pick vibrant colours that will turn heads like neons and electric hues. The E-girl style sometimes emulates the look of a Bratz doll, so play with proportions. Pair these pants with a sleek fitted top or crop top to balance it out.
7. Plaid Skirts
Another OG yet critical item of an e-girl, the plaid skirt might remind you of your old preppy school uniforms. When pairing the plaid print, you can keep the colours of your outfit neutral to evoke a more winter feel or with random pops of colour to brighten it up. Want to up the ante a bit? Accessorise your ensemble with a chain belt and/or some tights and you're bound to look super cute.
https://www.instagram.com/p/B0wE_zJH_Q2/
8. Platforms & Boots
While sneakers are always a good choice, if you want to follow the E-girl look to the tee, you're going need some chunky shoes! Platform sneakers or combat boots are your best bet here. They'll keep you looking and feeling tall and ready to kick ass. Once again, while white or black goes well with most everything, the colour choice is up to you. Try and pick a hue that goes well with the existing clothes in your closet. As these shoes are currently in style and very versatile there is unlimited potential in creating in looks for every situation.
9. Chunky Accessories
Your accessories game needs to be on point to take your style to the next level. Here, the chunky and chain-like items are super popular for this aesthetic. Elevate your outfit by adding belt chains, the more the merrier, to your chosen pair of bottoms like cargos, plaid skits or oversized jeans. Don't forget your '90s chokers, multi-layered chain necklaces and more chains dripping from your ears as well! Adding metallic items helps accentuate your look and create dimension to your overall ensemble.
In conclusion, there are so many ways to embrace the vibe of an E-girl. While I hope this starter pack helps you dip your toe into this fad if you were contemplating it, don't be afraid to experiment with colours, mixing styles, prints and etc. It's all about expressing yourself and finding a comfortable spot that works for you personally. Have fun!
What do you think of the popular online E-girl aesthetic? Is it something you want to try? Let us know in the comments below.
Don't forget to follow @missmalinifashion for all the latest style updates!