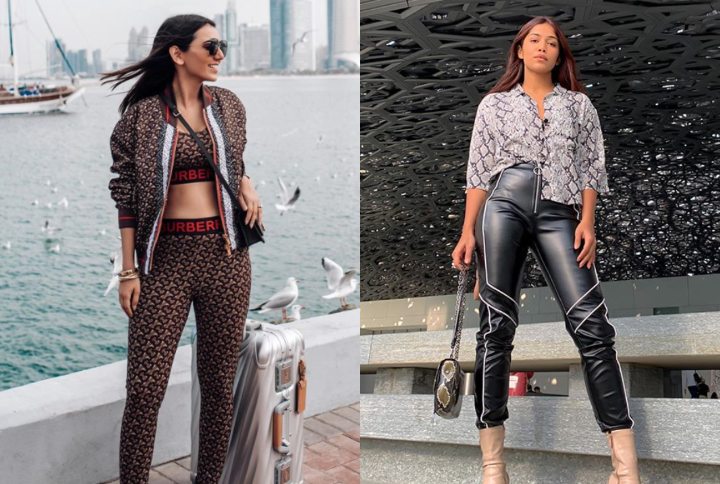 With humidity on the rise along with regular the rains, there are some days where we cannot be bothered to slip on those jeans. Or as a matter of fact, any outfit that feels heavy when worn. This definitely makes having a stylish OOTD more challenging. However, there is an alternative for those lazy days—make way for the good old leggings. Almost every girl has this staple in her wardrobe and it is the epitome of comfort and reliability. However, all the Gossip Girl fans out there can relate to style queen Blair Walforf's words echoing as to how leggings are not pants! Well in this scenario, I agree to disagree. There are ample ways to avoid criticism and style them up to be wearable for every occasion.
Firstly, let's outline some basic points about leggings. Not to be mistaken for tights which cover your toes, leggings are made of a thicker fabric, and at the most, end at your ankle. To avoid looking trashy, ensure that they are opaque along with a great fitting to flatter your legs. Your leggings should be comfortable and provide you with support for the entire duration worn. Secondly, always invest in a pair that can be utilized for various outings. With a good fit and sturdy quality you can wear them not only casually, but to work and even a night out. When investing in a good pair, it is helpful to go for a classic colour like black that can be paired easily and repeated without being noticeable. Moreover, try to stay away from crazy colours, shiny materials, or loud patterns that can lead to a fashion faux pas.
Some styles may be more suitable to petite body shapes, whereas others for a wider-frame. However, the key to rocking anything is confidence! To guide you through this process, we have turned to our fashionable It girls and rounded up several outfit ideas to help you style your leggings.
Below are 7 stylish ways to look cool in leggings:
1. Front-Knot T-Shirt
Add some swag to your look and swap your basic tee for one with tie-up detail. Nikita Sachdev looks comfortable as ever for a picnic in classic black leggings paired with a basic V-neck knotted top. This look is suitable for any occasion that requires you to be relaxed all day long, or even one that requires you to be mobile. If you are conscious of your midriff, tie over a plaid shirt on your waist. Additionally, accessorising with a baseball cap adds to the sporty vibe along with providing protection from the sun, or keeping the rain off your head!
2. Crop-top + Jacket
We are totally digging how badass Riya Jain looks in her combination of a crop-top and leggings. This style might be more suitable for a petite frame, however, don't be afraid to rock it either way! Going for an all-black look, Riya's leggings are a trendy work-out pair with mesh detail. Pairing this with a front cut-out crop and kicks gives all the edge needed to make this outfit look hardcore. Last, but not least, a vibrant red jacket adds a pop of colour, and works as a great cover when needed, without compromising the style.
3. Oversized Hoodie
Black seems to be the go-to colour choice in leggings, and we can understand why. A great way to balance proportions is by pairing an over-sized top with your fitted leggings. This look is Shereen Sikka's pick for travelling, where comfort is a priority. Amidst her monochrome look, the white and black Reebok trainers stand out and add some serious vibe. Furthermore, avoid looking grunge by limiting the length of your oversized hoodie to your mid-upper thigh. The over-sized look is an easy combination that is amped up by simple additions.
4. Button-down Shirt + Heels
Get inspired by Roshni Bhatia to transform basic pieces into a date night outfit. The style queen has switched it up by going for black 3/4th leggings and a crop-top in the same colour. She has then layered over a large button-down white shirt. These three simple elements combined look more fabulous than imagined. Moreover, for the finishing touches, Roshni has gone for strappy high heels that instantly dress up the leggings. She has also added a pop of colour via her Chloe mini suede shoulder bag. Assembled together, you have yourself a dressed-up look that will have everyone's attention!
5. Matching Set
If you're a fan of sets, you can opt for a matching set from head-to-toe. For designer fanatics, take a cue from Masoom Minawala's all Burberry look with monogrammed activewear. With a colour-clash logo on the waistband, the set of a jacket, sports bra, and leggings makes for an easy ready-made styled outfit. This ensemble is not limited to any one occasion, from travelling or touring to casual wear, this set is appropriate for all. Moreover, if the monogram gets overwhelming, breakaway by changing up your shoes or bag.
6. Blazer + Heels
To wear your leggings in a more corporate or sophisticated setting, pair a fancy blazer with a good pair of black leggings. Avantika Chhabria has gone for a power look with a long, silver blazer that looks dressy enough for a fancy night out. The styled hair and black pointy heels add a further layer of elegance to make the leggings work, creating a classy outfit.
7. Long Shirt
Keep cool all day with a light flowy shirt. From a style perspective, a loose-fitted shirt and form-fitted leggings paired together create a visual balance. Santoshi Shetty shows us how to pull off this look the right way with her combination of leather leggings and snake-skin print shirt. Taking this an extra mile, her shoulder bag mimics a similar animal print, creating coherence. The selection of leather leggings gives a more polished and formal look in comparison to the standard pair. Also, going for a printed shirt adds dimension to your one coloured leggings. Furthermore, Santoshi's nude pink heeled boots look ultra-chic with the entire get-up. A picture-perfect example on reconstructing the way to wear leggings and setting some serious style goals.
What is your preferred way to wear leggings? Let us know in the comments below.
Make sure to follow @missmalinifashion on Instagram for more style updates.