Raja Kumari is one of the most badass rappers out there and there's no denying that! Apart from collaborating with some of the biggest names in the music industry like Iggy Azalea, Gwen Stefani, Fifth Harmony, and many others, she's also put out some insane singles. Her latest one is called Peace—which she revealed was written when she wasn't feeling very peaceful but wanted to feel that way—as a way to manifest it! She spoke about other things as well—all during the first Girl Tribe Gig on Malini's Girl Tribe on Facebook!
Talking about her experience at MTV Hustle, she revealed how her jewellery actually gave her bruises and cuts when she had to wear them for 16 hours. She said,
I had so much fun because there was so much hope in the room, you know. There's so much excitement! And I think a lot of times when I am sitting there and realising that I am shaping the future of Hip Hop, I just feel so honoured, to be able to be the custodian of that and protect the girls, fight with the other people. I used to fight with all the producers and be like "You need to give them more time" (laughs) that'd be crazy! So I miss that and a 100% I miss the fashion.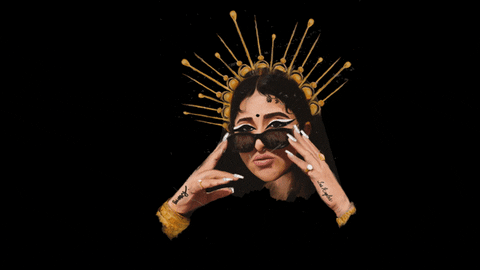 Talking about her fashion on the show, she said,
Because I think on Hustle is where we really pulled it off, like every week me and my styling team Saloni Mahendru (she is incredible) would pick up one item and would say "Okay, this necklace!" and then the whole outfit would shape around it. And I think the craziest outfit was the leopard dress with 100 pounds of silver jewellery with it—I can do anything for an hour and a half but we did not realise 16 hours in that jewellery would actually give me bruises after. So we had to ice my collar bone because I had cuts and stuff. So, you know what? Beauty is pain, pain is beauty, baby!
Ladies from the Tribe also played a fun game with her, asked her their questions, and chatted her up! To catch the full conversation, click on the video below.
Catch us live as we kick off our new series, 'Girl Tribe Gig'. Let rapper Raja Kumari beat your mid-week blues with her music and banter. 💜 If you want to be a part of these fun conversations too, stay tuned for our upcoming virtual events – we have a lot of cool ones planned for you! 😁
Posted by MissMalini on Wednesday, July 15, 2020
We do a lot of fun stuff like this every week on Malini's Girl Tribe. If you too wish to be a part of all our events then join the Tribe today! Also, let us know in the comments below what's your favourite Raja Kumari song.
And don't forget to follow @missmalinilifestyle for more interesting updates.