Some content creators really go that extra mile to entertain us and keep us engaged, right? Especially during this lockdown, comedy creators have taken their content to the next level with relatable, funny and snackable content. One such example is YouTuber—Nikunj Lotia a.k.a Be YouNick! He's been creating some fab videos that are leaving us in splits! But what he did in his Video Call Series IGTV today, really made us ROTFL. He collaborated with none other than the queen of grace and elegance, Madhuri Dixit! Scroll for all the deets…
About Nick
With over 7.5 million followers on social media, YouTuber Be YouNick has proudly put his town Dombivali on the map, which he refers to as the Republic of Dombivali, a name that has caught on with his fans too! His new series called Balcony Blues has also been received very well by his audience where he can be seen crooning to nostalgic numbers on his balcony. That's because his music is entertaining everyone who's struggling to cope with the lockdown.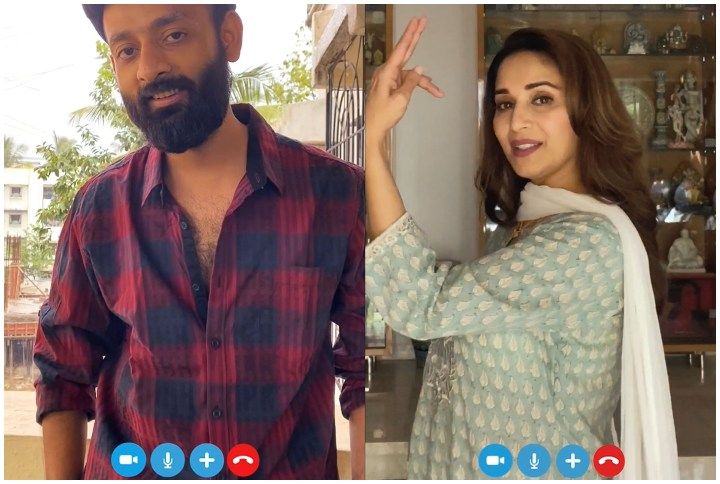 About the collaboration
Nick had the honour of being the only Indian comedy creator to have collaborated with the sensational Madhuri Dixit. Come to think of it, she totally Miyagi'd Nick in the super funny IGTV he uploaded today. In the video, he asks for Madhuri's help in learning how to shake a leg so he could impress a certain "someone" at a wedding. And so, she really tries to teach him her signature 'Mai ni mai' hook step from the iconic movie, Hum Aapke Hain Kaun. To be fair, Nick really tries hard to learn it, but after many attempts, fails. Eventually, after being extremely patient with Nick, she demonstrates how he can act on stage before the Sangeet begins and performs the hook step.
But in the end, there's a hilarious twist! We don't wanna reveal the climax of the video to you so, we'll let Nick do it. Check out the video below!
When we asked him how he felt about this once-in-a-lifetime collab he said,
Back in the day, I sneezed and someone said, Bless You! That came true today! Khushi Ne Humari Humein…Maar Dala 🥰
Apart from Madhuri, Nick has also collaborated with Arjun Kapoor, Sunny Leone, Nargis Fakhri, Alia Bhatt, Varun Dhawan, Hardik Pandya and several others recently. How cool is that?
We thought this video, in particular, was epic, much like Nick's efforts to learn the dance. Who else loved Nick's dance moves in the video? Tell us in the comments below!
Also, don't forget to follow @missmalinitrending on Instagram to know more about your favourite influencers!