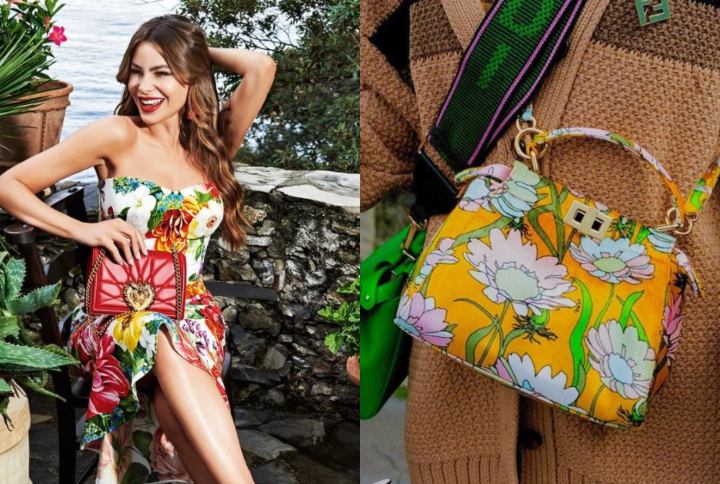 Floral prints and bright colours are pretty much synonymous with the current season. They go hand in hand as the hotter days are incomplete without them. However, don't mistake this for a trend. Florals are ubiquitous 365 days of the year in the fashion industry. While most flowery patterns emerge during spring-summer, there is no way of defining when you can actually wear them. Available in a variety of shades, textures, prints and styles, these motifs have become a staple in our wardrobe. Moreover, in a city like Mumbai where we are restricted to 3 seasons, this versatile print is wearable throughout.
Looking into the prominence of florals, the motif has a much deeper meaning. Besides the aesthetical beauty it provides, flowers were also used to symbolise femininity—beauty and women. Integrating this into clothing was a representation of the ideal, which lead to its prevalence in various cultures and diversity of the design. Going back in time, the floral fabric saw its origin from the East, mainly in China. One of the first prints on Chinese silk was the peonies, which is a flower native to the country. Through the sale of these expensive and exquisite silk-prints, florals made their way to the West. As a result, the emergence of florals became widespread.
More recently, we see an array of them in endless colours and unique designs in the global fashion industry. Luxury brands such as Dior, Dolce & Gabbana and Hermès capitalise on the popularity and widely feature florals in their seasonal collections. If you are looking for some new additions to update your collection, you are in for a treat. This year designers have whipped up some floral delicacies that will tickle your fancy. We have narrowed down our selection of pieces that are worth the moolah.
Scroll down to see 9 floral printed items that are worth the hype:
1. Silk Scarf:
Emulating the East origin of florals on silk, the Hermès scarves are printed on 100% silk material. The use of florals is abstract and random, with a fantastical and cosmic approach to the design where all the elements combined tell a story of its own. The vibrant hues and unique use of florals make the scarf stand out. Moreover, this twilly is the perfect way to add a quirky factor to your outfit, and can be styled in endless ways! Wrap it around your head like a turban as a fun hair accessory, or tie it around your neck for a more sophisticated look.
2. Midi Skirt
The prince of prints, Emilio Pucci does it again with his floral collection. Browsing through will have you wiping out your bank account clean. Tailored from lightweight fabric, the kaleidoscope of prints and Mediterranean colours on this midi skirt makes it an ideal statement piece suitable the season. The floral prints are inspired by Polynesia's traditional Tapu fabric and are not very obvious due to the psychedelic effect. As represented, the flared silhouette and pleats will match great with a front-knot top, or even with a simple shirt tucked in to accentuate the ruched waistline.
3. Handbag
Why stop and smell the flowers when you can wear them around your arm? Fendi's take on flowers is large, vivid motifs that can instantly make you feel tropical. Made from orange chenille, the multicolour floral print with gold metalware has an upbeat aesthetic, and is extremely fashionable. This makes for great arm candy; sling it across for casual day out such as brunch, or carry it by the handle for a formal occasion. Additionally, I think it would look great paired with ethnic wear as well, a vibrant accessory for those Mehendi and Sangeet functions.
4. Strapless Dress
Get fun and flirty with this floral strapless number from Dolce & Gabbana that is sure to make heads turn. Let's choose to ignore the forecast, pretend its spring, and blame it on this gorgeous floral print. The outfits white base is decorated with a variety of multi-coloured flowers and has a high-low hemline which adds a playful factor. Paired with some high heels and red lipstick, brunch with the girls in this dress is exactly what the doctor prescribed!
5. Shoes
Following the brand's deep-rooted expertise with silk, Salvatore Ferragamo's Magic of Silk capsule collection is one for the hidden maximalist in us. While a real vacation is not possible at the moment, the bright and busy prints in Ferragamo's curation are dreamy enough to substitute. For instance, the signature pumps with an oversized bow are emblazoned with a display of oriental flora, hydrangeas, hunting cheetahs and so on. Make a stylish imprint with the iconographic Viva pumps, a great addition to spruce up your monochromatic outfit.
6. Mini & Midi Dress
Donatella Versace's design appeal is always more daring, with a gothic romance element to it. The Pre-Fall '20 collection personifies this, in addition to the symbolism of the Greek goddess of love, Aphrodite. Firstly, we see this through the prominent blooming tie-dye rose prints that decorate most of the material surface. The rich colours contrast perfectly, deep red for the roses with grass green that represents nature. Secondly, furthering the goth style, we see a replication of the same print in stockings to match the dress. Both outfits featured—the fitted mini and a more refined mid-length pleated are chic styles. However, make sure you style them elegantly to avoid looking like a bouquet.
7. Active-Wear
There is no better way to brighten up a workout session than with some fashionable gear. Famous for his excessive prints and flamboyant collections, Roberto Cavalli has incorporated florals in his activewear collection. The matching set of leggings and top replicate the hues and design of the East. In China blue, the white and red oriental floral prints play a close resemblance to the traditional silk-printed designs from the country. In the end, you've got a twist to the usual workout wear. Make a mark with your ensemble and of course, calories burned!
8. Retro-Inspired Dress
It's all about the '70s in Louis Vuitton's Spring-Summer 2020 collection. In an orange hue, the highlighting features are the balloon sleeves, peter pan collar and a colourful belt—reminiscing the retro style. The use of floral prints in a painterly expression is present in a selected portion, minimizing the attention drawn to it. This style is appropriate for those who are not keen on the overwhelming presence of flowers on their attire. Sport some chunky platforms along with it and complete the groovy  '70s vibe.
9. Jacket
Add a touch of florals to your formal wear with a jacket by Emilio Pucci. This patterned moto jacket has just the right amount of colours to inject into your office wear wardrobe. The large peonies motifs in white and green stand out against the abstract swirls of lilac and byzantine purple. Furthermore, the off-centre zip and oversized collar accentuate the style. For a head-to-toe floral look, layer it over a white t-shirt and pair it with matching silk printed slim-fit trousers by the designer. An excellent way to look trendy and yet be comfortable.
Which item from the list above have you got your eyes on? Let us know in the comments below.