Deepika Padukone's style has definitely evolved over the years and for the better. She's turned into a fashion risk-taker and has grown to love experimentation. No matter what new fads come up, she sports them with ease. One such trend that she's given her stamp of approval for is oversized clothing. No one can deny the comfort of clothing that's larger than your size. Not even Deepika. Her closet comprises oversized sweaters, blouses, t-shirts to floor-grazing pants and more. She's got no solo key to nailing her looks. She tries and tests with a variety of styles and somehow each one proves to be better than the other. With oversized clothing, one must ensure to not look as though the clothes are wearing you and Deepika's aced that trick too! Want to get a look at how oversized clothing effortlessly favours the star? Scroll ahead!
Deepika Padukone is a pro at sporting oversized clothing and these looks are proof!
1. Oversized t-shirt + jeans
For an event, the star wore a basic t-shirt and jeans look, however, her choice of picking oversized numbers is what ensured that her outfit didn't look basic. She cuffed her oversized jeans at the hems turning them into boyfriend-jeans and teamed them with a plain, black t-shirt, also oversized. She added a chic touch to her outfit with a yellow belt from Offwhite.
2. Oversized sweater + jeans
Nothing like a sweater to keep you warm during the course of your flight and nothing like an oversized piece to keep you cosy! As Deepika jet-setted out of the city last December, she teamed her bright pink, colossal sweater with jeans that were also oversized. However, she cuffed them at the bottom giving the look a little more edge and structure.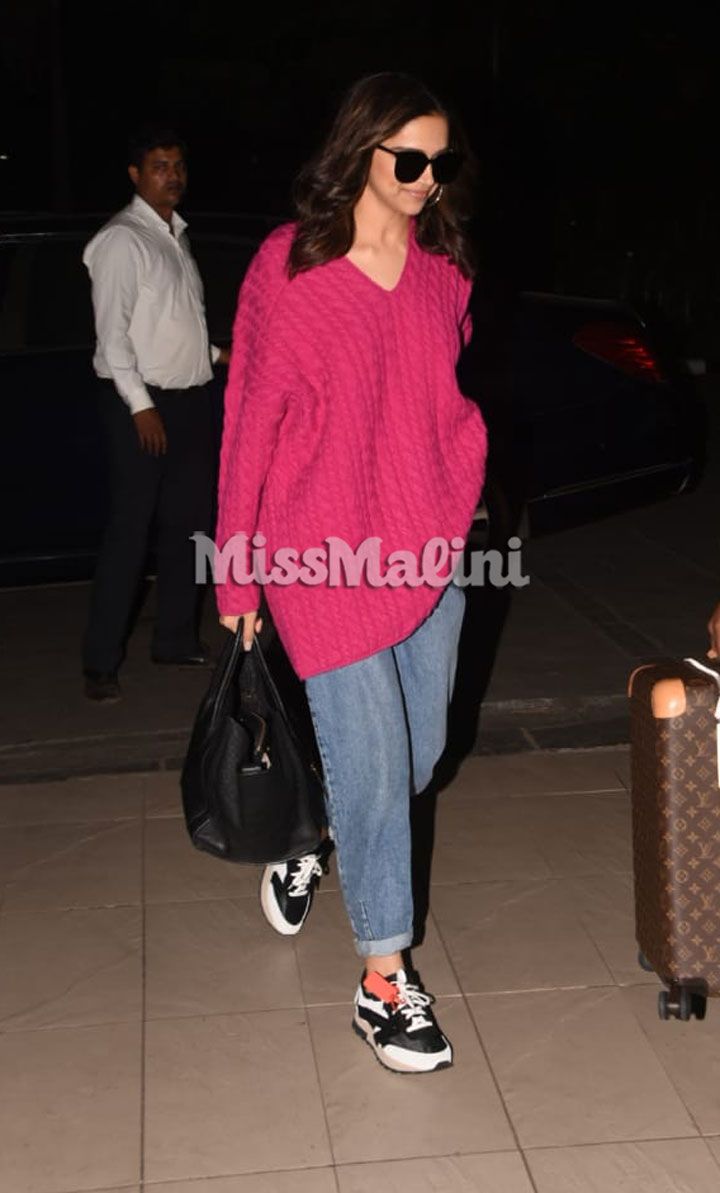 3. Oversized shirt with corset and jeans
For one of Chhapak's promotional activity, Deepika wore a casual-chic outfit that consisted of a long, white shirt, her favourite boyfriend jeans and a black corset. She left the shirt unbuttoned at the bottom and on top, only buttoning the mid. To up the glam factor, she layered her shirt with a black Jacquemus corset and golden bangles.
4. Oversized shirt and skinny jeans
Honestly, leave it to Deepika to give you cues on how to style a white shirt in a myriad of ways. For her flight back to Mumbai last year, the actor teamed a pair of ripped, skinny jeans with an oversized white shirt. The fluid appeal of the broadened neck and long and loose sleeves was balanced with the skin-fit bottoms, giving it a more structured feel.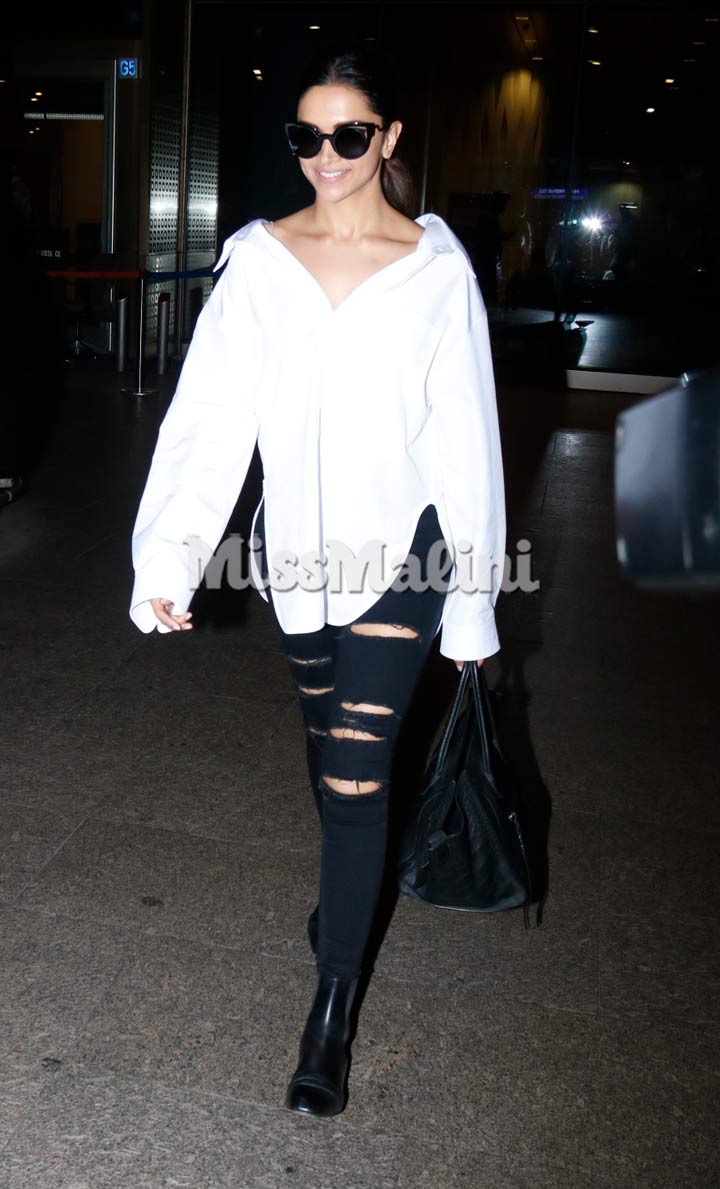 5. Oversized blouse and flared pants
Larger than life sleeves and floor-kissing flared pants—Deepika's OOTD for a promotional event was simple yet show-stopping! Her pristine white blouse came with ginormous balloon sleeves that she teamed with a pair of jeans that were equally large. She further accentuated her look with layered neckpieces and hoops. Even though both the pieces were oversized, the fact that she tucked the blouse in made the outfit look uber-chic and offbeat!
To conclude, there's no one way to ace the oversized trend. You can ace the trend as and how you like it by paying attention to tiny details. Cuffing the jeans, layering it or sometimes, as simple as tucking your blouse in. On that note, what do you think of Deepika's looks? Tell me in the comments below!
And don't forget to follow @missmalinifashion on Instagram to never miss a style tip!