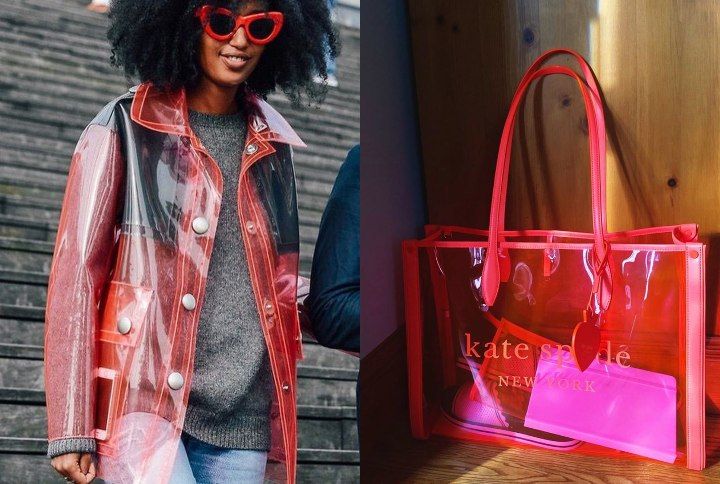 Rain rain go away, never come back, not even another day! That is my mantra. I can hear the gasps and sense the despair of those of you who are lovers of the rain. However, let's not forget what the monsoon brings along: the humidity, potholes, mosquitoes, leaky roofs and so much more! While many of these nuisances can be handled, the one thing that breaks my heart the most is the fashion aspect. Do I get some nods of agreement? During the rains, the consciousness to dress smarter and adapt to the wet roads and muddy puddles arises. You can no longer slip on your stylish white pants or Chanel pumps without the fear of ruining them. With no direct line to the rain god, the only option left is to deal with it.
That being said, instead of sulking about the outdoor conditions, I decided to find fashionable alternatives that are water-proof. Sure, some of my favourite items will find their way to the back of the wardrobe, but I've made a special place for some new monsoon staples. Luckily, many designers and luxury brands have collections that are extremely stylish and rain-friendly as well. For instance, the trendy Louis Vuitton 3D monogram raincoat and stylish umbrellas by Kate Spade. Read on to know how you can get creative with your fashion picks amidst the rainy weather.
Here are my top 5 picks to look good and be stylish while staying dry:
1. Nylon or PVC Handbag
Please don't make the mistake of carrying out your leather bag or Birkin in this weather. Firstly, it would be a sin to ruin an expensive designer piece or any bag for that matter. Secondly, it is equally important to protect the valuables in your purse from any damage. Have a look at bags that are made from nylon or PVC. These materials are rain-friendly and extremely practical to carry around. My pick is this fluorescent, see-through tote by Kate Spade. It's large enough to dump all my belongings in, even a laptop, and the plastic PU material keeps everything safe. Moreover, the neon pink looks trendy and brightens up the glum brought on by the showers.
2. Transparent Raincoat
The solution to my fashion woes is resolved with this transparent raincoat. Perfect to flaunt your OOTD without the worry of being soaked—this is by far one of my most-loved design inventions. Few designers such as Calvin Klein, Mui Mui and Louis Vuitton have modelled this trend on their runways. The glossy vinyl texture keeps the droplets away and you can find them in an array of colours suitable to your preference. Layerable over almost any outfit, you are sure to make a style statement in this plastic staple. Additionally, depending on the weight, they are easy to fold away and store in your bag when the rain stops pouring.
3. High Shoes
Although a classic rainy-day outfit typically consists of gumboots, I find the process of wearing them and styling them slightly hectic. An easier alternative is to stay high and dry with a thicker soul such as platforms. It helps to keep the muck away from your ankles and your feet from sinking into puddles. Ensure your selection of sandals or flip flops are light in weight and in a neutral colour that can match most of your clothes regardless of the occasion. My go-to pair are slider platforms like the ones below. They pair well with most of my outfits, are easy to slide on, and the soul is super comfortable. Checking all the essential boxes while keeping my style chic!
4. Fancy Umbrella
A must-have during the rains, but also a cute addition to your ensemble is a fancy umbrella. It is easy to pick up the standard black foldable umbrella, but where is the fun in that? A selection of vibrant or quirky designs makes the process of getting ready for the monsoon so much more interesting. With a range of prints, and translucent material made available, you can take your pick to complement your look. I love this simple yet quirky cat ears umbrella by Kate Spade which is perfect to spruce up my everyday outfit.
5. Cropped Pants
Through trial and error, I have learned that there are few key factors to keep in mind when shopping for this season. For instance, material plays a vital role—opting for lighter and breathable fabrics such as cotton and avoiding synthetics makes a huge difference. During this inclement weather, the shorter your bottoms are the more efficiently you can navigate through the busy and wet streets. Other than the usual shorts, skirts and dresses; cropped pants or 3/4th's are a fashionable alternative. While it keeps you cool and breezy, it also prevents the common problem the ends of the pants from getting dirty. Add on your see-through raincoat, platform sandals, and shine bright in a drizzle-free outfit!
What is your monsoon fashion staple? Share them with us in the comments below.
Follow @missmalinibeauty and @missmalinifashion on Instagram for more updates.