Widely popular and loved digital creator Prajakta Koli a.k.a @mostlysane recently collaborated with the legendary actress Madhuri Dixit Nene for her new video called 'The Happiness Routine FT Madhuri Dixit | #RealTalkTuesday'. The video premiered on her YouTube channel and has garnered more than 2 lakh views os far. Check out all the details about this dream collab right here!
A little about Prajakta Koli a.k.a @mostlysane
26-year-old digital creator Pajakta Koli is popularly known as @mostlysane. Her relatable videos and unique content has won over millions of fans in the last few years. Recently she made her acting debut in a short film 'Khayali Pulao' that released on YouTube and it received an overwhelming response. We will also soon see her starring opposite Rohit Saraf in an upcoming Netflix series 'Mismatched'. Among all of this, she got a chance to collaborate with Madhuri and it was amazing to see them get so candid with each other in the video. Here's everything you need to know!
'The Happiness Routine Ft. Madhuri Dixit'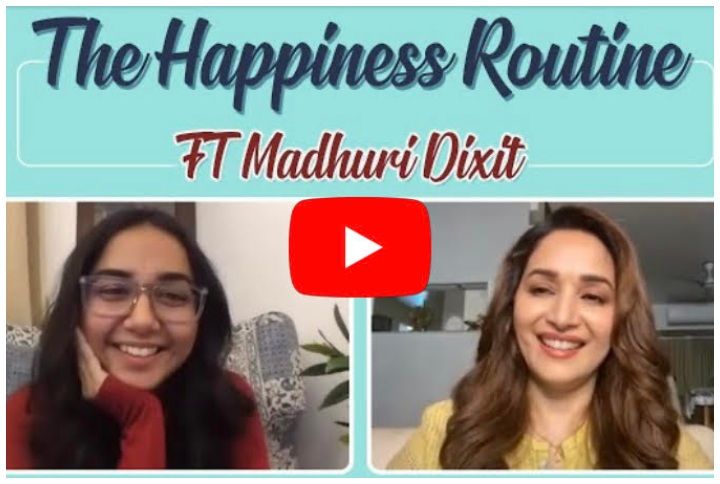 The conversation kicked off by each of them sharing the hobbies and skills they learnt during the lockdown. Madhuri mentioned that she learnt how to singlehandedly use shooting equipment with the help of her husband.  She also gets candid about how her heart has always dominated her head and how she has always wanted to do things that made her happy. Taking up acting was more like her destiny, though she always knew she would associate herself with dance (Kathak)
Childhood dreams and parenting

In conversation with Prajakta, Madhuri mentioned how her parents were always supportive of her decision of becoming an actress and that really helped her mental health and stability. Similarly, she always tries her best to support her children's dreams and aspirations. According to her, every child is unique and as parents, it's their moral responsibility to encourage their child's talent. However, you must always have a plan B in place in case plan A doesn't work out. We loved how practical her thoughts are!
All about her debut single 'Candle'
Madhuri recently released her latest debut music single 'Candle' and it has already garnered more than 13 million views on YouTube. She gets real with Prajakta and tells her how this song is her way to express her emotions and highlight her struggles. The track is named 'Candle' because an actor is always expected to be a beacon of light for people. When Prajakta asks her about her happiness quotient, Madhuri says that curiosity is what drives her towards optimal living. That advice is really something we live by!
Overall the video was super insightful and really candid. It was amazing to see Madhuri open up about her childhood, career, journey and so much more. If you haven't seen the video yet, check it out right here!
Don't forget to follow @missmalinitrending on Instagram to know more about your favourite influencers!