We all have mentors and idols we follow and we always want to know more about them and their journeys. @missmalinitrending has taken it upon themselves to come to your rescue with an all-new IGTV series that will bring you closer to your favourite content creators and influencers. The series is called Show & Tell with Karishma Govil and our first guest is the widely popular musician and content creator Ananya Birla. Apart from being an extremely talented singer, she is a mental health advocate, an entrepreneur and songwriter. Moreover, she is amazing at everything she does! We got a chance to speak to her and you absolutely can not miss out on all the deets!
What is Show & Tell all about…
Show & Tell is an all-new IGTV series that will give you a chance to know fun facts about your favourite content creator. The aim of the show is to have artists share their story and journey with us and be as candid and comfortable as possible. However, the series has a little twist to it—the video starts off with Karishma holding one item in her hand that holds utmost importance for the guest artist and is extremely connected to their journey. That one precious item helps us deep-dive into the influencer's journey. We kicked off our series with a talented musician and content creator Ananya Birla, who not only told us about her inspiring journey and her upcoming track but also a lot more about herself.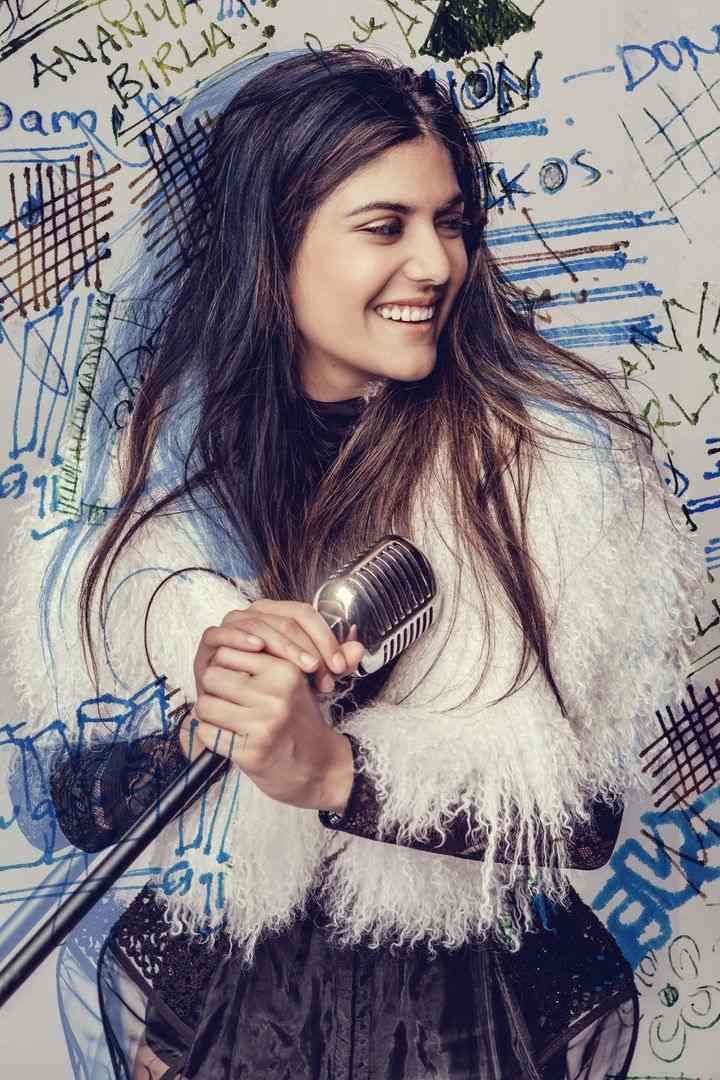 What Ananya had to say
Ananya was super candid about her education at Oxford and how she dropped out to pursue her passion for creating music. For Ananya, her red diary is really precious because she loves to write her experiences and emotions down and likes to have something to look back to. She has always liked to have a diary with her to write stuff down. Coming to her passion for music, according to her while she was growing up,  music had always been an integral part of her household as her mother used to play the Santoor. This prompted her to play the Santoor too at a very young age.
Her reason for creating content…
Ananya candidly shared that with the kind of content she creates, anyone and everyone she can reach out to is a blessing for her. The reason behind creating music is to connect with people on a deeper level because that is what other artists have done for her.
Apart from being a musician…
Ananya has launched various initiatives. At the early age of 17, she launched Swantantra Microfin for the rural population in India. Moreover, she has had her own mental health journey and hence is a great advocate for it. She, along with her mother launched Mpower solely to raise awareness about mental health. She wants more and more people to talk about their mental health freely and reach out.
And the most exciting news ever!
Her all-new track 'Let There Be Love' is releasing on the 31st of July and we cannot wait to hear it! It's an extremely special song for her because love is what keeps her going! Her love for work, her friends, her parents and her music. She sincerely wishes that her love radiates to her fans through her new track. We are absolutely sure it will!
Pro-Tip for budding creators
Here's what Ananya had to say to all the upcoming content creators out there,
You are good enough, you are more than good enough. You are beautiful inside-out, talented and you have everything you require to reach your goal. Your goal is not too big to be true. You can do it! If you want to do it, then you can do it!
That's some real candid advice right there! The first episode of Show & Tell was nothing but amazing featuring such a talented creator. We wish Ananya all the best and we can't wait to hear her new track. Check out the whole IGTV video right here if you haven't yet.
Also, don't forget to follow @missmalinitrending on Instagram to know more about your favourite influencers!