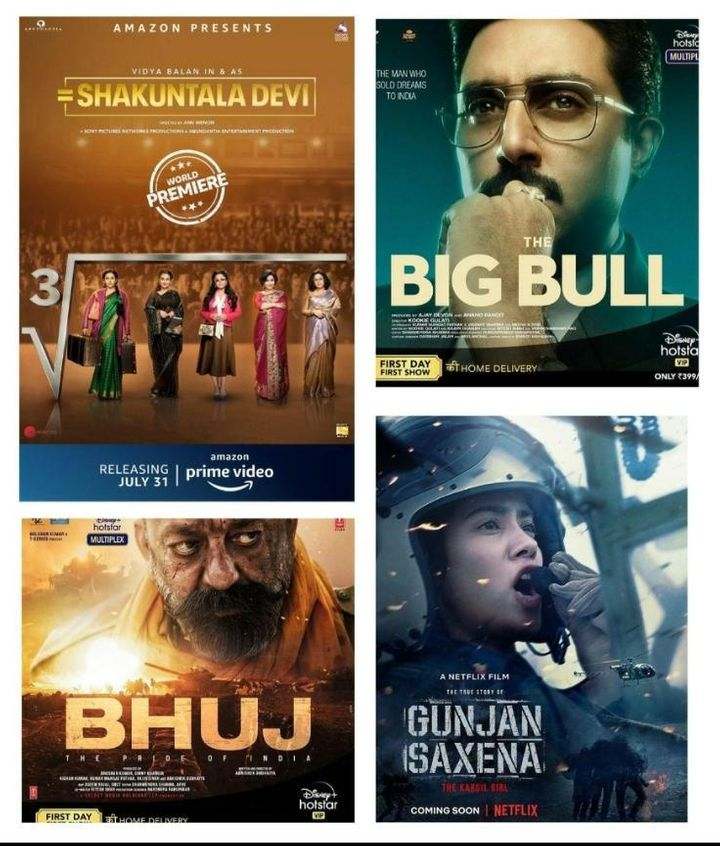 Real-life can be way more mysterious, interesting, and inspirational than stories sometimes. And there are so many people who need to be applauded or at least for their real-life deeds. And hence, we have books or movies based on such people, so more of us can understand and get to know them. As you know, the movie business is a sucker for a good real-life story and so it's no big surprise actors and filmmakers are always looking to do biopics. But as exciting as it to make a biopic, it is equally as hard to play a real-life character because there's a benchmark that the person has already set. Nevertheless, it is an opportunity any actor would love to take up. And there are a lot of biopics coming our way in the next few months, so get ready to get an insight into a real-life character's life.
So, here are 4 such upcoming biopics soon to be streaming on different OTT platforms:
Shakuntala Devi
The movie is a biopic on the life of Shakuntala Devi, the miracle woman also holds a Guinness Book World Record for solving math equations in seconds. The movie brings to light the struggle of Shakuntala as a mathematician, a hero, and a mother. It also shows the journey of her with her daughter Anupama. The fact that she is not a perfect mother nor a perfect woman is very well highlighted in the movie and that sure is going to strike a chord with the audiences. Vidya Balan will be seen as Shakuntala and Sanya Malhotra will play her daughter. It'll be interesting to watch this duo and their chemistry on-screen. The buzz around this is immense and everyone is waiting for this one!
Gunjan Saxena: The Kargil Girl
Inspired by the life of the first Indian woman Air Force officer to fly in a combat zone during the 1999 Kargil War, the story of Gunjan Saxena highlights grit, determination, and courage. Janhvi Kapoor will be seen as Gunjan, portraying her life's ups and downs. It encourages other women to step out of their comfort zone and dream big. The movie brings to light Gunjan's journey from Lucknow to quite literally giving wings to her dreams.
Bhuj: The pride of India
Set amidst the backdrop of 1971 Indo – Pak war, the movie is an untold story of Squadron Leader Vijay Karnik and the brave 300 women of Bhuj who saved their home from being taken away during this war.  These women came together to rebuild and repair the only runway in Bhuj, which was crucial for the war. With a stellar star cast like Ajay Devgan, Sanjay Dutt, and Sonakshi Sinha, Bhuj is one of the most awaited movies making its way to a digital platform on your phones, laptops or TV.
The Big Bull
The Big Bull is a rag to riches story. The first look was released a while ago and the film is based on real-life stockbroker Harshad Mehta's life. This man sold dreams to India. It chronicles his financial transgressions over a period of 10 years from 1980 to 1990. The lead role is being essayed by Abhishek Bachchan and Ileana D'Cruz. The film is produced by Ajay Devgn and Anand Pandit.
These are just some upcoming movies that will soon be on your laptops and phones. Trust me when I say these people's real life is way more interesting than any movie that you've ever seen.