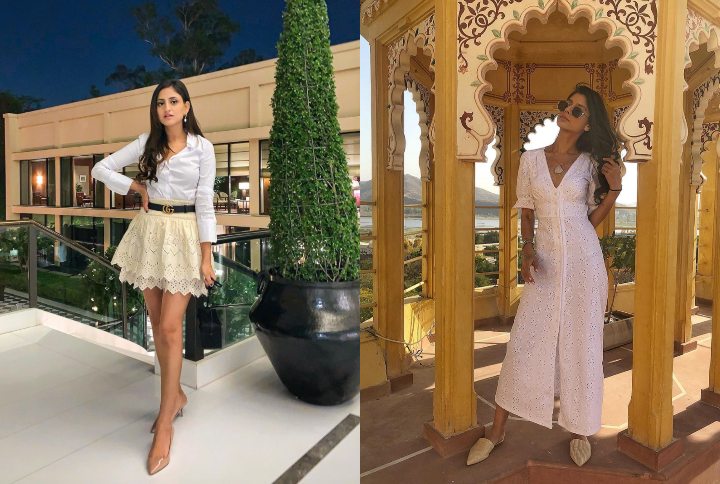 If you are obsessed with the colour white like I am, this fashion trend is for you. A style that transcends through decades, and worn by every age group is this British favourite, broderie anglaise. Many of you may be wondering brod-what? If you are unfamiliar with this term, don't worry, scroll down to see the images and you will instantly understand what I mean. This sophisticated style is a Wimbledon staple of the Middleton's, and favourite of many fashion houses such as Zimmermann, Valentino and Chloé.
Broderie anglaise is the French word for English embroidery, a mechanism that involves eyelets or punched hole like patterns in the fabric. These perforations fluctuate in their size and mimic the design of nature, such as flowers and leaves. The popularity of this method was brought on in the 1870s and was seen mostly in white-coloured materials such as cotton and linen. However, in recent times we see the colour palette stretching to a rainbow of shades, although white and light pastels remain a favourite.
The light-weight fabric and dainty style are perfect for the warm weather and humidity, hence we see the resurgence of this prolific style during the summer season. This look is famously worn on beach holidays, summer escapes, or an exotic island. It has the delicacy to make you feel like a porcelain doll. While lace is a more sensual material, the broderie is a more delicate and wearable alternative. As a result, this cutwork can be styled to fit any occasion. It looks equally fashionable with a pair of jeans as it does with a skirt and heels. We have rounded up some of our favourite ways to wear this whimsical style for every occasion, to make you feel like a mid-summer dream.
Keep scrolling to see 5 ways to wear broderie anglaise pieces:
1. Co-ord Set
To really feel the broderie vibe, go for a matching set that looks as good paired together as it would when styled separately. Khushnaz Ashdin Turner's off-white shirt and skirt set is a sweet casual outfit that is apt for an afternoon out or weekend brunch. Adding another colour to the mix, you cannot go wrong with the combination of tan and white. Looped in trendily is a thick brown belt that adds an alluring division between the shirt and skirt. By doing so, one can appreciate the intricacy instead of being overwhelmed by the patterns. Moreover, the accents of brown in her bag and tassel-tied heels add a bohemian element which works together perfectly with broderie.
2. Casual Top
A strappy V-neck, asymmetrical top can make you feel as elegant or badass as you wish. Riya Jain has managed to work up an edgy look by pairing her flowy Deme by Gabriella broderie top with denim shorts and some funky tea shades. If you prefer to add some street-style, opt for ankle or combat boots to enhance the vibe further. Like Riya, you too can dress the top down with shorts, which is ideal for a day of adventure. Alternatively, swap the shorts for some dressy trousers or an elegant skirt for a romantic evening of cocktails!
3. Mini-Skirt
We cannot emphasise enough on the fact that the best thing about broderie is the versatility of its use. To illustrate further, see how Karishma Yadav Bhalla has dressed up her casual, cut-out, lace mini-skirt for a formal night out. This Zara off-white mini looks elegant with a classic white shirt tucked in and tied together with a simple black and gold Gucci belt. Her choice of footwear was nude kitten heels, which is subtle like the rest of her look. As a result, you have a minimal and sophisticated outfit. A smart look for a formal night or even a corporate event.
4. Maxi Dress
Another all-occasion and common piece in the broderie trend is a floor-length dress. This an easy outfit to wear and experiment with accessories. Looking relaxed and chic in an Asos tea dress, Roshni Daswani has kept her look relatively simple. Ideal for a variety of events from a picnic to a formal dinner, this breezy dress does the trick. Play with your accessories to elevate your attire based on the outing. Grab a sparkly clutch, add on some dangly earrings and embellished shoes for a tasteful dinner out. Otherwise, go low-key like Roshni and finish your look with a delicate necklace and some slip-on mules.
5. Crop-top
A crop-top in white and with delicate cutwork is the dream wardrobe staple to match any bottom. Go wild and pair it with flared trousers, printed pants, or even a funky skirt, the possibilities are endless! Radhika Seth's broderie patterns and puffed-sleeved style lends a romantic, feminine touch to her pairing of a denim skirt. The contrast of indigo with white is not too stark and creates the perfect summer combination. We love this fun-flirty look, a balance of cute and sexy, it makes for an ideal first-date outfit!
Are you a fan of the broderie angelise style? Let us know in the comments below.
And don't forget to follow @missmalinifashion on Instagram to never miss a style tip!