Fashion was always a pretty big part of Indian cinema but it was always Indianwear centric. We lapped up the culture, song, dance and colourful Indian outfits. We tried to emulate Bollywood so bad and then suddenly came a shift. Aisha a 2010 romantic, dramedy film starring Sonam Kapoor and Abhay Deol hit the big screen with a splash. It was all everyone could talk about but what were they saying? Of course, it was all talk about fashion because as you know Sonam's name is now synonymous with high-fashion. The movie did justice to its time and the fashion showcased was still ahead of its game.
The film was set in the upper-class society of Delhi and is an adaptation of Jane Austen's Emma. However, the film had undertones of the Hollywood cult film Clueless. Aisha solidified Sonam's reigning status as Bollywood's style queen and was produced by her father, Anil Kapoor and sister, Rhea Kapoor.
Aisha changed the narrative:
Aisha redefined the fashion in Bollywood flicks by proving that Indian movies can also carry international designer brands like vintage Chanel, Ferragamo and Dior. This is exactly why Aisha is still a big deal, even 10 years after its release, despite having a script with classist undertones, especially directed towards her on-screen friend Shefali. The movie soon became a popular chick-flick amongst women because the fashion took centre stage. As we reminisce about the movie today, let's take a look at 5 outfits from the film that we love even today!
Here's a look back at how Aisha was a total game-changer of Bollywood's sartorial choices:
Pernia Qureshi set the look and style of the film and worked on the costumes with the help of several other designers for the entire film. Sonam's looks itself consisted of over 100 changes, wowie!
Look 1:
The movie opens to Sonam driving up in her lil' yellow Bettle, she then steps out in her gorgeous, lilac lehenga from Anamika Khanna. The statement-making dupatta featured silver bootis and a crushed, silver border. She accessorised her look with a chunky necklace, a cuff and dangly earrings.
Look 2:
This was the very first time in Bollywood history we saw an actress in a vintage Chanel, tweed skirt suit. Couldn't have picked a perfect look to represent Delhi's upper-class crowd. Her headbands and veiled hats could give Blair Waldorf a run for her money.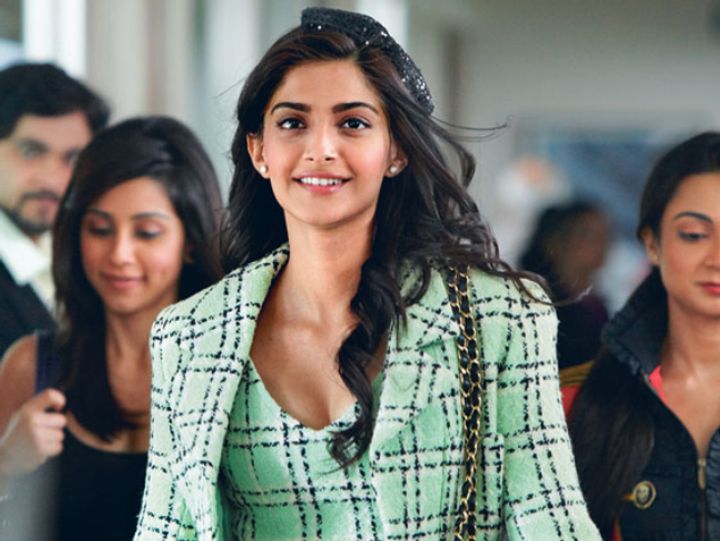 Look 3:
For the next look, we picked this vintage two-piece Christian Lacroix. The tube top, bubblegummy pink set with a peplum waistline, really accentuate Sonam's curves. A side ponytail, dangly gold earrings, snake print clutch and strappy shoes pull the look together.
Look 4:
The perfect look to wear to the derby I would say, a white ruffle dress quite the rage in 2010, I remember having a similar one in purple myself. Love that statement red lip and black, veiled clip-on bow, the look was accessorised with a thick, black belt and the Lady Dior Bag. Hello! wealthy lifestyle, when will you be part of my life.
Look 5:
In the last look, we picked Sonam wearing high-waisted, grey trousers with a white shirt. Silver ballet shoes and a chunky long necklace, the highlight was, however, her Ferragamo Sofia satchel. She totally nailed casual, corporate dressing with this number.
Which of Sonam's look in Aisha do you like most? Let me know in the comments below.