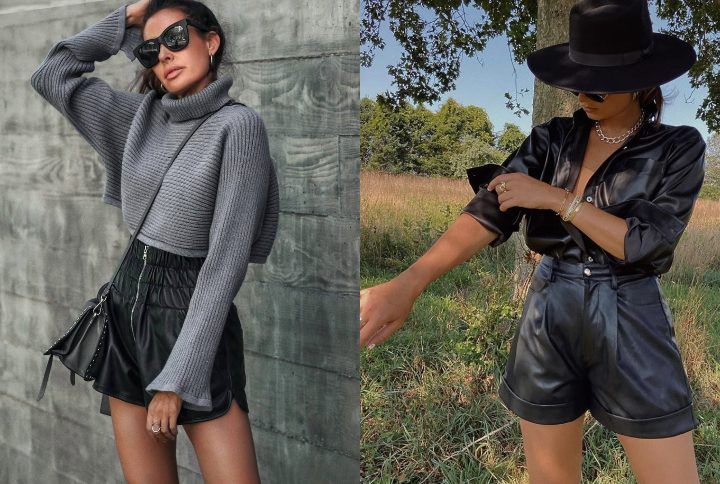 A short disclaimer before you proceed reading—as an animal lover, I urge everyone to invest in faux or vegan leather instead of animal-derived forms. Vegan leather is a great alternative that looks equally great and the composition of the fabric is much lighter on skin. The appearance of leather on our clothes is edgy, sexy, and it is a material that is always trending.
Leather is a material that we don't often get a chance to wear due to the climatic conditions of the country we live in. Also, we are aware of how they might not be the most practical choice either. But fashion doesn't always have to make sense. We can make some exceptions and the incorporation leather (faux) is hopefully one of them. With Fall right around the corner, it is time to switch some of our clothing items to adapt to the new season, taking into consideration both, the fashion trends and weather. And so it is time to bring out the leather shorts. Other than being a recurring trend at the moment, they are also fitting for the transitional period. Shorts keep your legs cool while the less leather fabric doesn't overheat you. They are the ideal in-between staple.
Another great thing about leather shorts is that there are plenty of ways to style them. There is no need to spend a lot of money and buy multiple of them. One or two suffice and be worn a multiple of times in different ways. Go as basic or funky as you prefer, pair them with a classic white shirt, sweaters, tank tops or even crop-tops. Moreover, playing around with footwear to match leather can be fun! Heels, boots, sneakers and sandals are all great options to complete an edgy look. While denim or cotton shorts are wardrobe staples, the texture of leather instantly adds a more high-fashion and elevated look to your style. Are you ready to invest in a pair for the upcoming season?
Below are 6 of my favourite leather shorts looks styled by fashion influencers:
1) White Shirt
A sophisticated and simple way to rock the look is with a crisp white shirt. You can never go wrong with this style. Roshni Bhatia adds a touch of sexy by leaving her shirt unbuttoned and tucking it into her paper bag style leather shorts. These high-waisted shorts with a belt are comfortable, accentuate the waist to make you look slim, and are super trendy. Moreover, Roshni looks like a million bucks with the finishing touch of red lips and heels.
2) Crop-Top
A different style of leather shorts can change up your entire look. Check out Diipa Khosla's leather shorts with a criss-cross stitch detailing. In this case, the shorts are attention-grabbing with their details which allows for the other elements to be more simple. As Diipa has, keep cool with a simple bralette in a neutral colour. Additionally, if you wish to add an extra layer throw on a lightweight blazer or jacket that doesn't take away from the look. We love how simple and stylish her entire ensemble is, especially with the addition of the fringe jacket!
3) Leather-on-Leather
If you love the edgy look of leather, go all out in a head-to-toe vegan or faux leather outfit! Danielle Bernstein sets some goals in her monochromatic ensemble of wide-leg shorts and a button-down, boyfriend shirt. This chic look is completed with a wide-brim hat, sunglasses, chunky silver chain and arm candy. These additions break the all-black monotony and add a super-cool vibe. To finish off the entire look, imagine how badass some studded ankle boots would look!
4) T-shirt
For the followers of the minimal look, casual basics look great paired with leather shorts. Take inspiration from Julie Sarinana's chill weekend look of a white tee tucked into black leather shorts with some silver detail buttons. This is the perfect example for elevating your look through accessories—her layered necklaces, big hoops, gold watch and oversized sunnies all play a role in making her OOTD fashionable. Moreover, I am loving the black leather slides along with an anklet and her Fendi sling bag. All these little elements are working together to lift her informal leather shorts look.
5) Knee-length Shorts
Perfect for those who aren't comfortable wearing the super short style, the Bermuda style of knee-length or slightly baggy is a suitable alternative. We saw this pair on the runway in the Fall 2020 collection by Saint Laurent. Hence, for those who like to be up to date with their fashion game, now is the time to invest in this style. Check out how Olivia Palermo has styled hers to look Fashion Week ready. Adding more structure to the wide leg Bermudas, Olivia has paired a fitted, lace camisole below a sheer open shirt which has some feather detailing on the sleeve. On white, the delicate lace and feather details perfectly balance the rigidity of the black leather. And of course, like a real fashionista, she completes her look by adding a pop of colour with turquoise heel pumps.
6) Sweater
In true Fall-Winter colours and style, a grey turtleneck, ribbed sweater with leather shorts is a cosy and cute outfit. A street-style approved look which is suitable for the chillier days, the characteristics on the top and bottom is what makes the look stand out. The ribbed texture, crop-style and flared sleeves of the sweater make it cool, along with the zipper detail and ruched waist of the leather shorts. Erica Hoida looks effortlessly chic pulling this off with oversized shades, a sling bag and no make-up look. An ideal outfit for lunch, brunch or even a date!
How do you wear your leather shorts? Let us know in the comments below.