The thing about wardrobe basics is that they're essential to men including the likes of Bollywood celebs like Rajkumar Rao and Ranbir Kapoor. While we always find ourselves making long lists of what a woman may need to build the perfect wardrobe, it's important to recognise that maybe men need the help more. A wardrobe of must-haves helps build a solid foundation with oodles of room to expand and grow. I always say it's super important to have a pair of well-fitted jeans.
Ill-fitted jeans can make you look and feel sloppy, now how do you spot a pair of ill-fitted jeans, you ask? Jeans that are offensively bag butt down are a hell no, gents. Jeans that are extra long always create those extra folds in the bottom, another no-no. What your looking for is a pair of jeans that elongates your legs, fits your length correctly and highlights your butt. Don't underestimate the power of a cute looking butt. Scroll on for examples from Bollywood's best Rajkumar Rao and Ranbir Kapoor.
Here's a closer look at Rajkumar Rao's look:
You know what's really exciting about Rajkumar's look, is that this guy seems to be trying his hand at a pair of hipster mom jeans. What this means simply is that this pair of jeans fits loose around the hips but tapers towards the bottom. Often this silhouette cuts off at the ankles or can be rolled up to sit flush against one's ankles. I love, sincerely love the blue on Rajkumar's jeans. It's that classic denim blue that is essential to a man and woman's wardrobe. This colour works best when paired with a classic white shirt or black tee. While it's a versatile colour and works with a multitude of tonalities I remain biased to the black and white combo.
Rajkumar pairs his jeans with a white tee with a quirky heart graphic on his chest. He styles his look with a black and white Adidas baseball cap, round frame, green-tinted sunglasses and black slippers. Now, these kind of slippers are a real pet peeve of mine but somehow Rajkumar makes it work. He completes his look with a black and white facemask that works in tandem with his cap.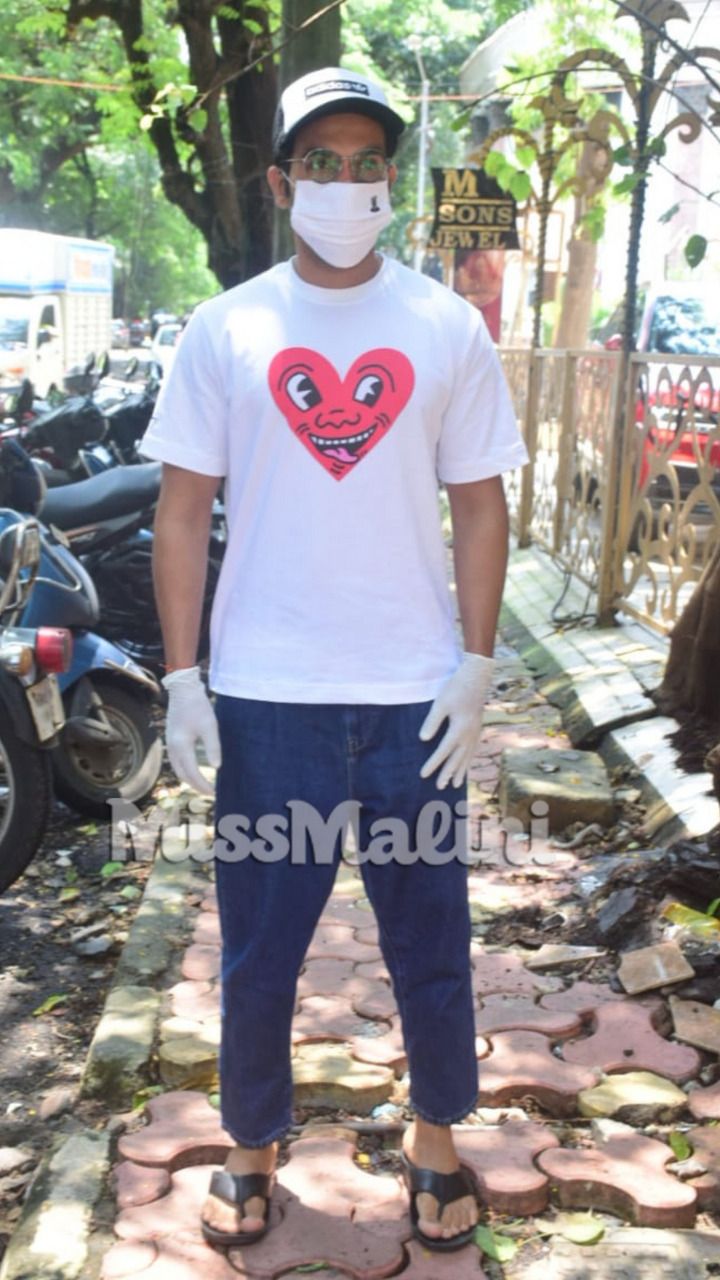 Here's a closer look at Ranbir Kapoor's look:
Ranbir works with a lighter dressier denim, his jeans feature rips and tears and an unfinished hemline. His jeans also seem to have visible silver zippers at the ankle which allow for the jeans to be longer but also showcase one's shoes effectively. The actor wears his ripped denim with a grey slub t-shirt. What is a slub t-shirt you ask? This wardrobe basic is made from cotton fabric that appears to have slight lumps in it. This creates a unique texture making slub tees light and airy, without clinging to the body. I also love the duality in tones that these tees offer as they always look like a mix of two colours. He styles his look with a silver watch, platform, grey Converse shoes and a grey pork pie hat. The actor wore an unusual black face mask.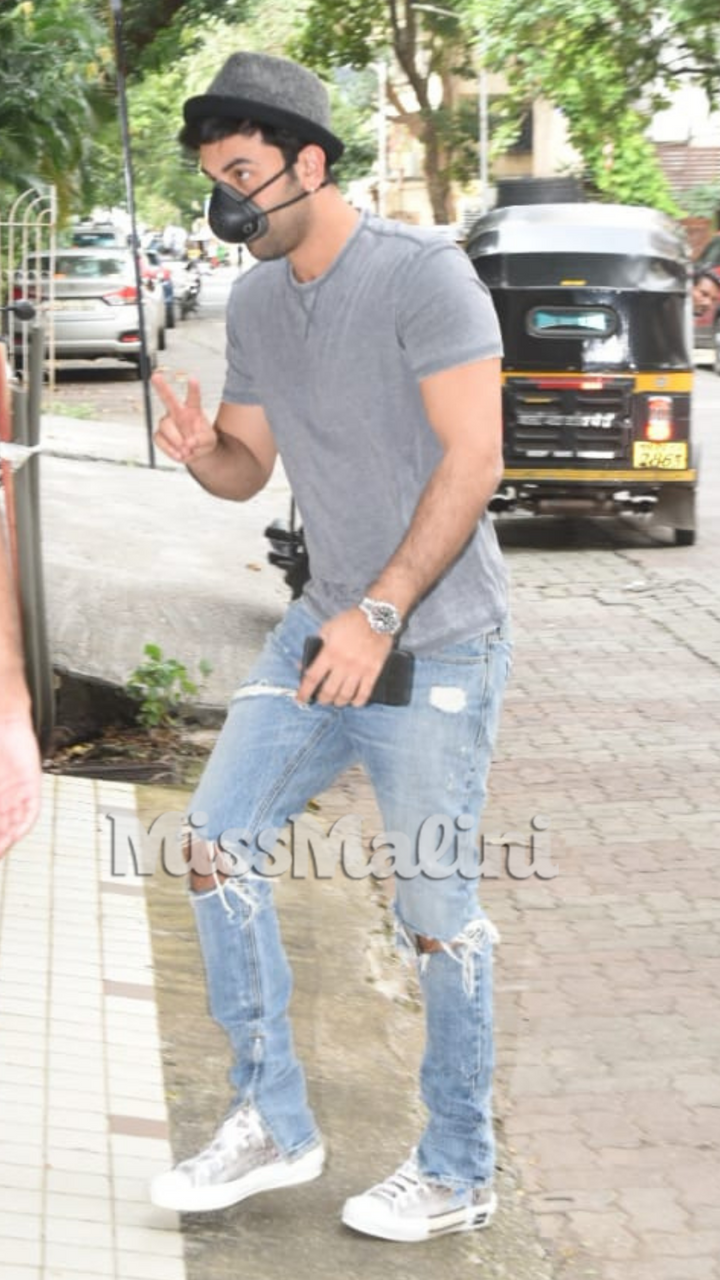 What do you think of Rajkumar's and Ranbir's look? Let me know in the comments below.
Follow @missmalinifashion on Instagram for more updates.