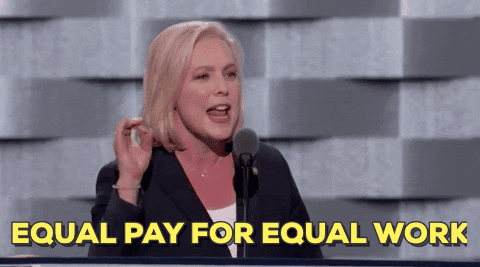 International Equal Pay Day, observed for the first time this year on September 18, is a marker of the continuing fight for pay equity globally. According to the Global Gender Gap Report of 2020, most likely neither we nor our children will live in a world where equal work yields equal pay. Women make up half of the population, and pay disparity along gender lines fundamentally decides how societies and economies perform nationally and globally.
Out of the 149 countries surveyed in the report, which was created by the World Economic Forum, India ranked 108th on the gender gap index. Moreover, according to the Monster Salary Index, Indian women earn 19% less money on average than Indian men.
In the past decade, the gender wage gap has increasingly become a public topic of conversation. In 2015, after she addressed the wage gap in her Oscar acceptance speech, actor Patricia Arquette reported that she lost out on roles because of speaking out. Since her speech, however, many celebrities in the limelight were emboldened to speak up about their own experiences with inequity in the workforce. Many have also taken individual pledges to do their part in bridging the gap. Here are some of the celebrities who are using their platform to bring attention to this global inequity.
1. Jennifer Lawrence
After an email hack into Sony Entertainment in 2015 revealed gigantic pay discrepancies in Hollywood, Academy Award-winning actress Jennifer Lawrence wrote a powerful letter titled "Why Do I Make Less Than My Male Co‑Stars?" for Lena Dunham's Lenny. Lawrence wrote,
I would be lying if I didn't say there was an element of wanting to be liked that influenced my decision to close the deal without a real fight. I didn't want to seem 'difficult' or 'spoiled.' At the time, that seemed like a fine idea, until I saw the payroll on the Internet and realized every man I was working with definitely didn't worry about being 'difficult' or 'spoiled.'
2. Salma Hayek
Actress Salma Hayek spoke at Variety's 2015 "Power Of Women" luncheon and brought attention to the wage gap which is persistent in all industries. She said,
We are 66% of the work power of the world. However, we only get 10% of the income of the world. This is really, really sad and tragic.
3. Sandra Bullock
In the same year, for Variety magazine's cover story on income disparity, actress Sandra Bullock noted that income disparity is only a facet of the larger issue of sexism in Hollywood. She said,
I always make a joke: "Watch, we're going to walk down the red carpet, I'm going to be asked about my dress and my hair while the man standing next to me will be asked about his performance and political issues." Once we start shifting how we perceive women and stop thinking about them as 'less than', the pay disparity will take care of itself.
4. Benedict Cumberbatch
Sherlock actor Benedict Cumberbatch, in an interview with the Radio Times, said that he has committed to only taking on projects in which his female coworkers receive equal pay. Cumberbatch also said that he is "proud" to be one of only two men at his production company, through which he plans to create more female-oriented projects.
5. Emma Watson
A Global Goodwill Ambassador to the United Nations, Emma Watson helped launch the 'HeForShe' solidarity movement in 2014. The movement is grounded in the call for the advancement of gender equality and demands male allyship for the cause. Then, POTUS Barack Obama, singer Harry Styles, and actor Matt Damon were some of the men who pledged to promote gender equality.
6. Billie Jean King
The former tennis player Billie Jean King, winner of 39 Grand Slam titles, joined the Virginia Slims Circuit founded by Gladys Heldman in 1970 to protest the inequality in prize money for tennis tournaments. In conjunction with a group of women known as the "Original 9," King formed the Women's Tennis Association. In 1973, after lobbying for equal prize money for both men and women, the U.S. Open started offering equal money to both sexes. In 2014, she also founded the Billie Jean King Leadership Initiative, a non-profit organisation that aims to achieve diversity and inclusivity in the workforce.
7. Ashwiny Iyer Tiwari
Here at home, where the relative under-performance of female-centric films at the box office is cited as the reason for income inequality in Bollywood, Nil Battey Sannatta director Ashwiny Iyer Tiwari said,
Audiences see what we as writers and directors offer. If we encourage more stories where the woman is celebrated, then more such films will be made, and more female actors will get to fulfil their true potential.
What do you think that people can do on an individual level to enable gender-based income equality? Let us know in the comments below.
Join Malini's Girl Tribe on Facebook to be a part of more such conversations!