Sonam Kapoor has been living it up king-size with husband Anand Ahuja in London. I love that she shares snippets of her daily life in London to her Instagram. It makes me feel like I'm living vicariously through her. She also seems to have launched a series on Instagram called Story Time with Sonam, the first one tackles PCOS through her experience. Frankly, I thought her suggestions were illuminating because I struggle with PCOS as well. I have a sneaky feeling that this series is going to get super exciting with the next few episodes.
Another thing, I observed is that Sonam and Anand are the biggest cheerleaders to one another. It's so lovely to see how they support each other with their cutesy lil captions on Insta. Are these guys' couple goals or what? Can't tell me you don't love them! Scroll on to see how Anand has been full filling the dutiful role of an Instagram husband in London.
Here's a closer look at what Sonam Kapoor's been wearing in London:
As I mentioned above, Sonam Kapoor is Anand's biggest cheerleader and supporter, so it comes as no surprise that she would want to wear a Bhaane piece. For this look, she opts for the training day dress blocked printed in Bhaane's signature print called dos and dots. This taupe coloured cotton dress features a stand collar, snap buttons, diagonal pleats and a drawstring waist. It also features pockets on the chest and looks adorable AF when styled with a belt that cinches in the waist. She wears a pair of Sergio Rossi moccasins with a squared toe and a distinctive gold-coloured logo plate. She further accessories her look with round frame sunglasses, black, round earrings and a black leather, square-shaped sling bag. Sonam Kapoor wears her hair pulled back into a nice slick bun. Btw, don't miss that cute caption!
Another day, another look I really can't get enough of. The actress wears a striped blouse with a white yoke and a Chinese collar, the blouse also features a puffy sleeve and thick white cuffs that end at her elbow. Sonam Kapoor pairs this super cute, summery blouse with a pair of navy blue trousers from Stella McCartney. She accessorises her look with white Nike sneakers and round frame sunglasses from Giorgio Armani, an Apple watch, silver dangly earrings and a long silver necklace. I definitely think the addition of silver jewellery takes this look up a few notches, no? With this look, she also supports a small bag business called Jeenaa that makes Vegan handbags. She carries a triangular-shaped, black vegan leather handbag and proves how it cane effortlessly go from day-to-night. Scroll below for the night look.
I truly adore this night look because it is so something you could even wear in Mumbai as well. Sonam Kapoor wears an oversized poncho jacket from Etro. The gorgeous jacket features the Navajo print and fringe detailing along the collar, hemline and sleeves. The actress layers her jacket over a black crop-top that she pairs with a black, high-waisted, a-line skirt from Khaite. She accessorises her look with gold layered necklaces, black sneakers and bespoke eyewear from Maison Bonnet that really adds to the hipsterish, Londoner vibe if this look.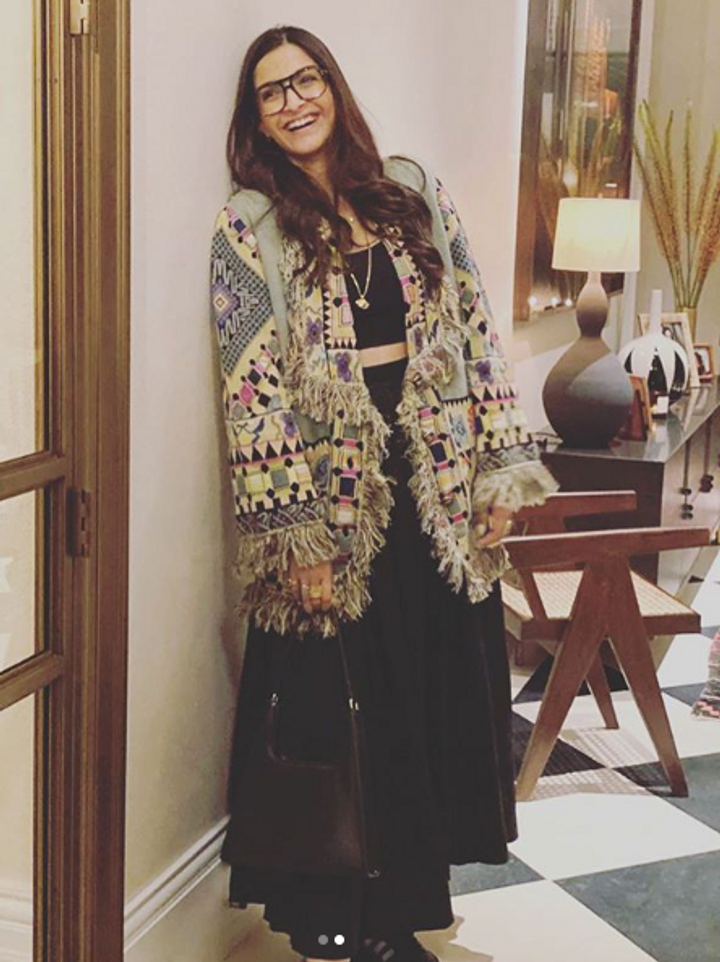 What do you think of Sonam Kapoor's look? Let me know in the comments below.
Follow @missmalinifashion on Instagram for more updates.