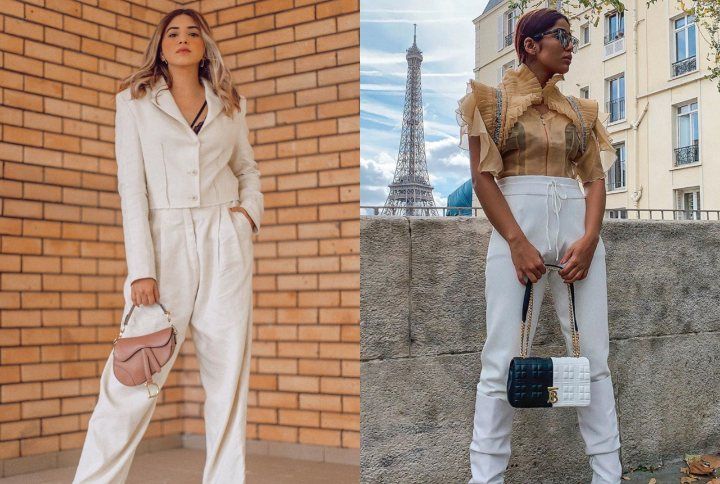 Another wardrobe staple that is ideal for the transitional season is white pants. While they might not be everyone's cup of tea, there is a lot to love about this versatile style. We have been there and done that with reliable denim jeans and classic black pants, it is time to move on. The neutral hue of white makes it easy to wear and ensures an easy match with a lot of tops. All this while looking smart and fashion-forward. If you haven't yet, consider taking on the challenge to explore the realm of white bottoms which are a great alternative to the basics.
The range of styles, design and materials available makes them easy to wear for casual, semi-formal and even fancier occasions. Wear them to the office for a meeting or a brunch, there are ways to make them work. Moreover, don't be mistaken that they are only for summer. White pants can be worn throughout the year—you just need to style them right. They might be a little bit of work to take care of, but once you overcome that obstacle and find the right pair, it will be worth it.
To get you inspired, check out my 6 picks of styling white pants inspired by fashion influencers:
1) Smart-casuals
Experimenting with shades of white, Diipa Khosla has gone for cream white trousers and a handbag in a similar hue paired with a pure white crop-top and sunglasses. The two variations of white don't seem to clash and work well together with the break of indigo. This added layer of a light denim jacket is perfect for transitional weather from summer to fall. As a result, the entire ensemble is smart, chic, and current to the season.
2) Sophisticated
Be daring and go all out in white in a head-to-toe formal look. We love how Aashna Shroff has pulled this off in a subtle manner. She has styled her loose-fitted white pants with a smart buttoned-up white blazer and white open-toe heels. Not going completely off-track, she adds a bit of colour with a rose pink Dior Saddle Bag. Moreover, the soft makeup and simple hairstyle complement the entire look. Make this white pantsuit work for a formal party, business event or daytime function. Just play around with showing some decolletage and experimenting with a pop of colour. A refreshing look to the conventional black pantsuit!
3) Sporty Vibe
We can finally remove those light sweaters and make use of them! Riya Jain is going for a relaxed casual vibe with her white cropped-cargo pants along with a cropped-sweater layered above a sports bra. We love how she has gone for soft, feminine colour elements in her outfit such as the lavender sweater and sports bra. The pink sling bag and shades and pink + white Nike sneakers. This gives an understated aesthetic to her sporty urban attire. White cargo pants are a great athleisure staple to own for those no-fuss, dress-up days.
4) Dressy Vibe
Are you ready to make a statement in your white pants? What better easy to do this than with the iconic combination of black and white. Roshni Bhatia shows us how to do this by opting for some stylish wide-leg trousers and pairing it with an off-shoulder, black crop-top. The flared leg pant in a rich material showcases elegance and a sophisticated style. All other components are kept simple and monochromatic as she finishes off the look with bold lips and a silver choker neckpiece. A super easy outfit to put together, it is ideal for a fun night out or special events. Moreover, it is an upgrade from the LBD, so be ready to be the envy of the night!
5) Chic Vibe
If you want to vibe some runway styles then look no further, Santoshi Shetty has nailed this look. Her narrow-leg, white pants look sturdy despite the drawstring detail. They seamlessly blend into her white high-leg boots lengthening her silhouette. And of course, you can't miss out on her statement ruffle top neatly tucked into the pants along with her Burberry Lola Bag. Overall, Santoshi looks like she's come straight off the runway in this super trendy attire. It is a fun and different way to wear white compared to the usual.
6) Semi-formal
Since white colour goes with almost any hue or pattern, experiment by pairing some funky prints along with your white bottoms. This can even work for a more semi-formal look. For instance, Juhi Godambe's gone for high-waisted, tapered white pants which are more formal. However, she balances this out by pairing it with a polka-dot shirt. This adds some freshness to the classic look, making it look chic and voguish. Moreover, you can also opt for a more casual feel by going for white denim jeans and dressing the look down in ankle boots or ballet flats.
How do you style your white pants? Let us know in the comments below.
And don't forget to follow @missmalinifashion on Instagram to never miss a style tip!