This one-of-a-kind deterrent in our lives doesn't seem to be going away very soon. Good thing, each day we're learning new ways to co-exist with it but really just working towards making it go away altogether. Although it brought with itself innumerable problems, the one good thing it did is strengthen human relationships for the most part. Not being able to see your close friends and relatives only made us appreciate them that much more. And for couples that were forcefully made to explore long-distance relationships, meeting once again became that much sweeter. Zoom dates, romantic dinners or drives have now become a tad more special. So, it's natural for you to want to put in that extra effort to look good for your beau. And Nimrat Kaur's black dress is just what you need if you have a date night or romantic dinner planned with your S/O!
Nimrat Kaur's romantic outfit will become your go-to for dinner dates:
It's quite noteworthy how Nimrat makes modest party-worthy clothes look appropriate for casual occasions. Such as her routine salon trips! For her latest pampering session, Nimrat donned a fit-and-flare, plain black dress and elevated it with minimal accessories. The round-neck dress with a cinched waist and half sleeves made for a dainty, feminine look. But that surprising thigh-high slit added an alluring vibe to her outfit! She accessorised her look with a mustard-hued Gucci bag and black slip-ons. A black mask with an off-white, chain sling effortlessly upped the ante of her outfit, keeping her safe in style!
Beauty wise, Nimrat left her locks open and passed on makeup. Clearly, she was correct in doing so, now that half our faces are covered in public. However, there's also no harm in going all out on your eyes since they're the focal point of our face now. Either way, you do you!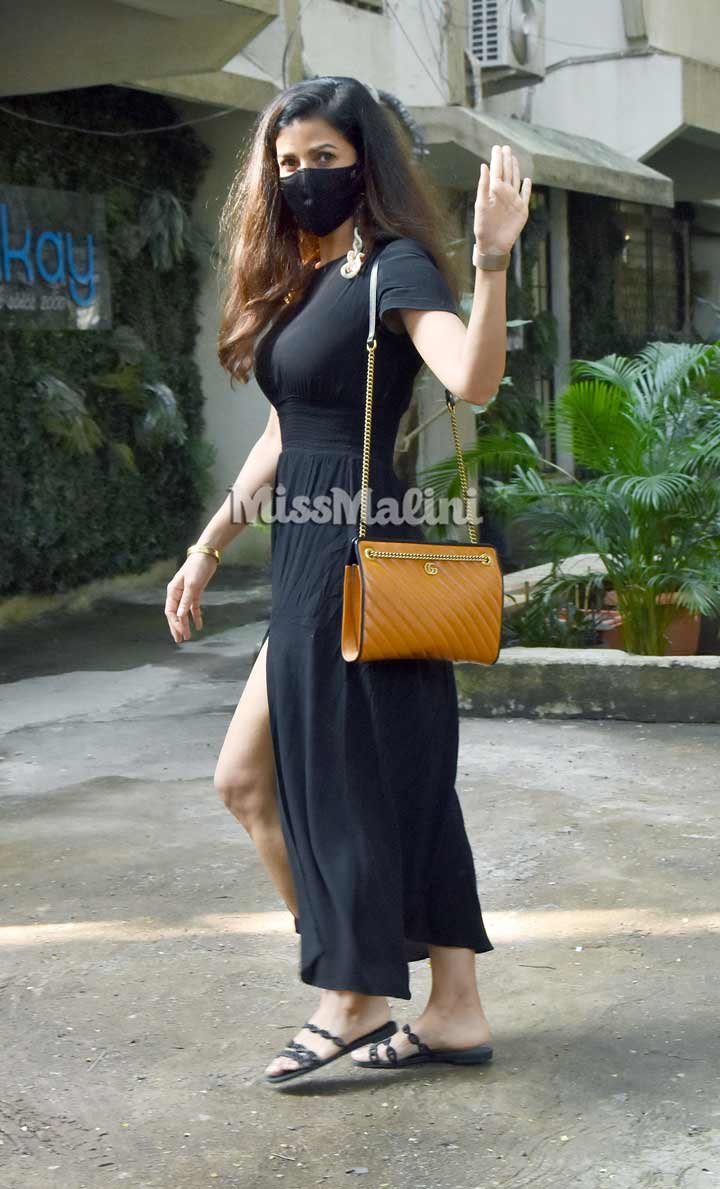 What do you think of Nimrat's look? Has it made to your list of date-night outfits? Tell me in the comments below!
And don't forget to follow @missmalinifashion on Instagram to never miss a style tip!