From a new logo colour to chat themes and custom reactions, Facebook's Messenger recently got revamped. Today, almost each and everyone uses Facebook in order to stay connected with their friends, family and relatives. Messenger is a popular chat medium for a lot of people today and this is exactly why they decided to strap on a new look! Not just that, they have also rolled out a brand new set of features and updates as well. From custom reactions to personalised features, here's everything you need to know about Messenger's classy new update!
Exciting new features:
1. New logo design + default chat colour
The main idea behind the new logo and default chat colour is to show a shift towards the future of messaging. It is a more vibrant, dynamic and an integrated way of staying connected to your loved ones. The whole chatting experience now is pretty seamless and more personalised.
2. Interesting new chat themes
Messenger has introduced interesting new chat themes. These themes can make your messaging experience more personal and fun. We personally adore their 'love' theme so much!
3. Custom reactions and expression tools
Messenger has created an all-new way of helping people express themselves better on chat! There are multiple custom reactions and message effects that are available to make chatting more fun. Not just that, new features like selfie stickers and vanish mode are coming soon too.
The idea behind this new update…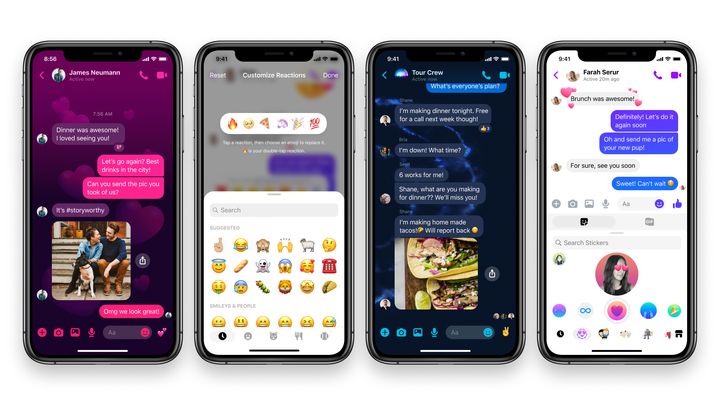 The main idea behind giving Messenger a new look is to bring people closer together. So with more than a billion users around the world, their mission is to find a universal way of connecting people whether it's about sharing funny videos, hanging out in a virtual room or getting in touch with businesses. Their aim is to create fun features that make your experience seamless!
Personally speaking, we are loving this new vibrant update! Messenger has always been a very easy medium to communicate on and now it's super fun too. If you haven't tried their new features out yet, you can get to know more about them right here!
Don't forget to follow @missmalinitrending on Instagram to know more about your favourite influencers!