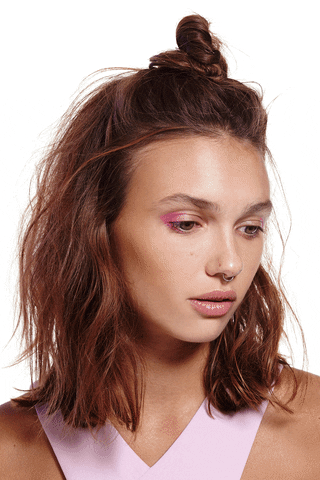 Makeup to me is a form of expression and happiness. That's why I like to switch things up once in a while. Although I can't really go out I've been eyeing on certain trending makeup looks on Instagram. These looks are something that I'd definitely want to wear when I do decide to step out. The minimal makeup eye trend has been all over the internet lately. The focus of these looks lie solely on the eyes and that's a total win-win if you like me want your makeup to be all about the eyes!
Here are some fun minimal makeup trends that I've been eyeing:
#1 Holographic Eye Sticker
This minimal eye look intrigued me the most. Starting off from rhinestones to pearls and even dried flowers this year has been about stickers and texture. What I love about this trend especially, is how edgy and cool it looks. Furthermore, the holographic eye stickers add,  an element of play, dimension and major drama to the eye look when paired with wispy lashes. Although it seems intimidating, I'm sure this eye look would make heads turn and probably can be considered for a one-time try.
#2: Jewel Blue Eyes
After the announcement of Pantone's Colour Of The Year, the classic blue colour has been used excessively. Making its way into the makeup trends, the gradient blue eyeshadow trend has been sported by many celebrities. Dua Lipa's eyeshadow look has been paired with another famous eye makeup trend… Clumpy lashes. Although I'm not a huge fan of the clumped lash look, the jewel-toned gradient blue eyes are something it'll definitely try.
#3: Floating White Eyeliner
This year, the while eyeliner trend has been doing a lot of rounds on Instagram. A lot of the makeup artists have given their own twist to the white liner. If you want to discover the genius behind this look, it's none other than Gigi Hadid's official makeup artist Partick Ta. The dynamic duo has been known to create some head-turning looks on and off the 'gram. I really rooted for this minimal look for the simplicity and symmetry it offers to your eyes. The white liner goes perpendicular to your crease and can be switched up with different colours.
Fun story, I tried this on with the Suva UV White Matte Hydra Liner in the shade Space Panda and it resembled like a worm. The key is to have really steady hands and a thin eyeliner brush for the look… Safe to say, lesson learned.
#4: Colour Block Eyes
It's really cool how fashion seeps into makeup with changing times. Colour blocking which is an age-old concept in fashion has been extensively tried out this year. This look sported by Tracee Ross made waves over the internet due to its fun fresh vibe. The fluorescent pink is placed on the entire lid while the orange eyeshadow is placed strategically on the brow bone for a two-toned negative space effect. The complementary colour-block situation can be replicated with other cool combinations like grey eyeshadows with yellow tones or blue eyeshadow with green tones. It's a super easy, low-maintenance bold look that maybe you can match up along with your mask!
I can't wait to try these looks as I step out.
What about? Let us know your favourite minimal makeup trend.