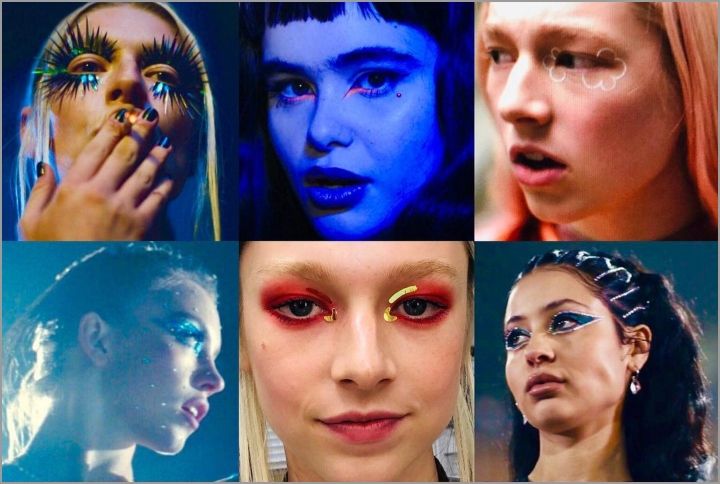 My mood board for makeup looks this year, has been heavily inspired by HBO's television show Euphoria. Apart from the gripping plot, the show has created some serious stir with its killer makeup looks. Be it graphic eyeliners or sequinned eye looks, the show has got it all, and I think that's what blew me away. To understand more about the process, I came across this  Vanity Fair interview by Doniella Davy, the makeup director for the show. She stated that she used makeup as a form of expression for the characters… So depending on the scene and mood, the vibe of the look changed. From OTT looks to playful colours, to grunge makeup, here are my 4 favourite looks from Euphoria that blew me away:
#1. Graphic Eyes
If you're big on avante garde makeup trends, Jules is your inspiration. Her eyeshadow looks comprise of a playful combination between glitters, neon colours and abstract shapes.  From what I understood, a lot of the makeup inspiration for Jules arrived from the idea of impressionism and fluidity with makeup rules. The simplicity and minimalism in Jules'  makeup look really blew me away!
#2. Glitter Tears
If you like to keep it simple yet dramatic, Rue is your go-to makeup inspiration. Her character has some strong looks that emote more than just pretty ombré eyeshadow looks. Her glitter tears stand for the ecstasy of emotions that she goes through in the show. And to convey that series of emotion, through a makeup look is honestly brilliant in my eyes!
#3. Rhinestone Eyes
Maddy's character is extremely flamboyant and likes to keep it feminine. Most of her makeup looks are a spinoff from the retro '60s or '80s makeup style. Moreover, she's often seen in the show with feline flicks, pastel eyeshadow and rhinestones on the eyes that match with her outfits. Her classic feathery brows made me desperately want to try the soap brows trend!
#4. Grunge Eyes
Kat's makeup look has been all about progress. Starting with a bare face in the first episode, Kat's makeup look transitioned to dark vampy lips with fun experimental colours.  This particular look stuck with me because of the outlandish combination of the neon green liner, flushed cheeks and the red glossy lip. In addition to that, the eyes of the look truly become the star and made Kat look lethal than ever.
So if you're bored of your basic makeup looks, try out these trends. Trust me, it'll be a conversation starter!
Have you tried any of these makeup looks before? Comment below to let us know!
For more follow @missmalinibeauty on Instagram.