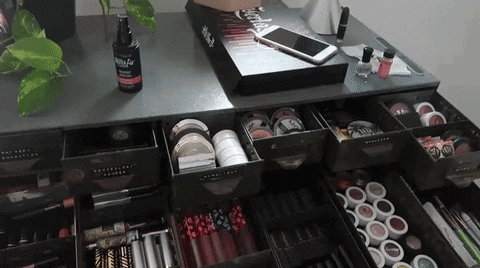 Remember the time when you first started trying out makeup and beauty products? At the start, you only have a handful of products to your name. But as your love and knowledge for makeup grew you might have woken up one day to a huge collection of products cluttering your dresser. As a makeup junkie myself, I understand how overwhelming it can be to keep everything in order. Every time you get things sorted they seem to get out of hand again. With palettes stacked on top of foundations, lipsticks rolling around with mascara, and many misplaced pencils, it can get chaotic.
Moreover, if you are an organisational fiend it can feel like an uphill battle to maintain your collection and keep your space clutter-free. Let's not forget that improper storage and care can really affect the quality of your favourite products. You really don't want to them going bad before their expiry date, especially if you've invested in skincare or limited edition items. If you're struggling with these issues you've come to the right place. Don't you worry about a thing! We've rounded up some brilliant makeup organisation ideas and tips that will keep your stuff tidy, in order and easy to locate!
Keep scrolling to check out our top tips for how to best store your makeup products:
1. Segregate
First and foremost the most important step in organising your makeup collection is by sorting everything out. Keep a save pile, a toss pile and a donate/share pile. Get rid of any old makeup, you don't want to be keeping any products that have passed their expiry date or gone bad. If you have any new or unused items that you don't need or want, share it with your friends and family. Or better yet, donate it to a local women's shelter.
2. Categorise
Once you've decided what you would like to keep start grouping items together by product type. For example, foundations, concealer, lipsticks, powders and so on. You can even create subcategories and be as specific as you want. However, I'd suggest starting big then whittling it down depending on the amount of space you have available.
3. Keep daily in-rotation products upfront
Next up, I would recommend separating and grouping items that are new and in your daily rotation. You want to put them somewhere that is easily accessible and convenient. You don't want to keep going through drawers of makeup when you're in a hurry to get ready. In this case have a shelf, drawer or better yet a targeted daily makeup bag to keep at your dresser or vanity. Throw in your must-have beauty products, aka the ones you use every day. This way you'll have your essentials ready to go for any last-minute occasions like an after-work party.
4. Labels & drawers are your BFFs
When it comes to beauty products including nail polishes you should always store them in a temperature and humidity-controlled space. Avoid areas with direct sunlight and bathrooms that are poorly ventilated and damp, This can really affect or even mess up your makeup products quality. Opt for storing them in drawers instead of your countertops to protect it from the sun and any invariable mishaps that tend to happen. You really don't want to shatter your favourite compact, do you? Plus a drawer organiser will help you out in grouping product types together. Depending on your makeup collection and storage space, it might be a good idea to consider investing in a drawer set or even a vanity.
You can even go the extra mile and label each drawer. Drawers can easily start to look the same if you have tons of product to go through. Creating simple labels for the drawers, however, you like to categorize your makeup will save you so much time and effort in the long haul.
5. Acrylic organisers too
Clear organizers and trays or stackable containers are super popular for a reason. They allow you to clearly see where all your products are instead of hunting them down. Plus if you're able to see them you might actually use it! Most of the time, when you can't see your products, it's very easy to forget about them and not touch them at all. You might even mistakenly repurchase something you already have. This problem is easily rectified with clear organisers or trays that will assist you in locating your product right away.
6. Organise your makeup brushes
Storing makeup brushes can be an issue as they get dirty quickly. Some brushes can even get lost in the shuffle. The best solution is by dividing them into two categories: face and eyes. Store them in a holder that has different compartments or separate glass jars or cute coffee mugs. Remember to keep the brushes upright as this will help them last longer. Plus this method makes your life so much easier rather than chucking them all together into a drawer and having to dig around to find the one you're looking for.  Alternatively, keep the brushes you use most often out and use dividers or trays to separate the other face and eye brushes in your drawers.
7. Makeup sponge stand
The right storage of your makeup sponges is crucial, as they can breed germs and bacteria very easily. Remember to care for them by keeping them clean and storing them in a holding stand or case. This will help them dry efficiently, breathe but not get contaminated by other surfaces or dirty brushes.
8. Easily see shade names
TBH nobody wants to spend time digging around a drawer to find that one lipstick or eyeshadow palette, so do yourself a favour and store them with the shades name side up. Have your lipsticks upside down with the colour tag facing up and your palettes on their side, instead of stacking them on top of each other. Once again here, try grouping them by their tones or colour story. This way you'll naturally see which section to reach for to find red lips or your warm-toned eyeshadows and so on.
How do you like to store makeup and beauty products? Let us know in the comments below.
Don't forget to follow @missmalinibeauty and  @missmalinifashion on Instagram for more updates.