Neha Dhupia's weight loss journey has been no short of inspiring to say the least. She began the debate around a very important subject that affects almost all new mothers. To state the obvious, a woman's body changes tremendously after she gives birth. This also affects the way she ends up perceiving herself thanks to societal pressure. Neha on the other hand has taken her own time to shed the baby weight. And rightly so, your only priority should be your child and your health post-delivery. And that is if you find the time to be healthy. So this is a healthy reminder to pause and tell yourself that it is ok for your body to not return to its original form immediately. Scroll on to see how lovely Neha Dhupia looks in her latest images.
Let me be clear here, women look beautiful at any size. And by no means am I saying that Neha only looks lovely now. She has always been a woman of refined sartorial choices.
Let's take a closer look at Neha Dhupia and her modern, bohemian airport attire:
The Gumani sisters style Neha Dhupia ina gorgeous, tan linen blazer from Zara. The length of the jacket and the rolled-up sleeves add to the relaxed look and feel of the outfit. She wears a nude, scoop neck tank top that she pairs with a Siddharth Bansal bohemian, print maxi-skirt. The skirt features colours like hunter green, mustard, pink and a raspberry red, all very fall-inspired colours. She accessorises her look with dark brown, two-toned brogues and the Artsy MM Louis Vuitton hobo bag. However, what makes the look special is the gold layered necklaces with an evil eye from Prerto, an animal print leather cuff and dark, round-frame sunglasses. How else do you nail the Bollywood celebrity look, I ask?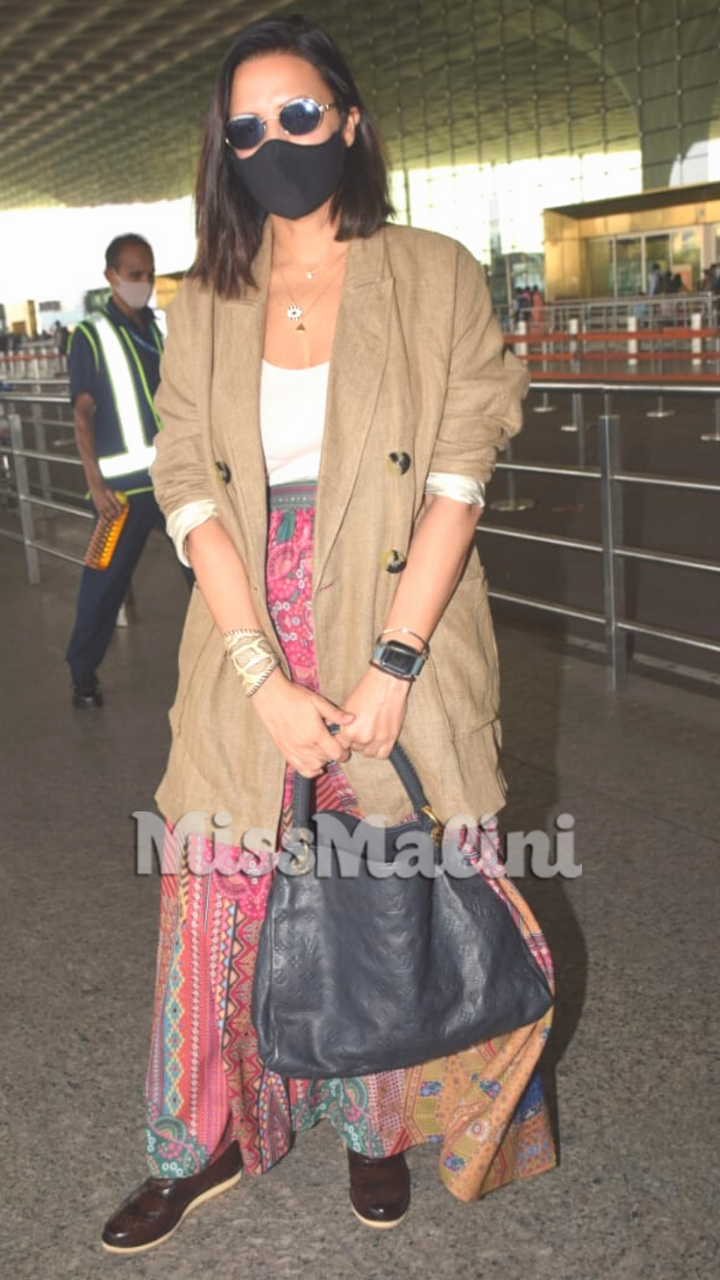 Neha Dhupia also wears an Apple watch, silver kadas and her black face mask to the airport. She leaves her hair slightly touseled but open. There's nothing I don't like about this look because this particular look is something I would totally wear to a brunch or even a dinner with my friends.
What do you think of Neha Dhupia's outfit? Let me know in the comments below.
Follow @missmalinifashion on Instagram for more updates.