There are many creators who collaborate and create thumb-stopping and out-of-the-box content. These creator groups win the hearts of their fans with their engaging, entertaining, and consistent work. One such popular creator group is Atrangz, which is a perfect example of friends turned into a family. They are super atrangi with their content and tbh, one of the best squads you will come across. Not just that, Awez Darbar, Nagma Mirajkar, Anam Darbar, and Zaid Darbar are full of gusto and with their positive energy, this combo always brings a smile to our faces. Last evening, was the grand launch of the 'Atrangz Dance Studio' a super majestic celebration of their new venture together. They created a kick-ass intro video of the studio click here to watch it now. A fun fact about the video is that it is choreographed by Awez and everyone is styled by our diva, Nagma which is super cool. Scroll through, to know more about the epic launch event!
All about Atrangz
This creator group has blown our minds with their talent and creative content. Did you know that they came up with the name 'Atrangz' while deciding and finding a unique and atrangi name? What we found quite fascinating is that this group name has all the initials of the founder members. They have garnered a lot of love on social media and we enjoy watching them put out fun content. #Atrangzfam is a community with a big heart and we are glad to be a part of them.
All about the grand Atrangz Content Creation Studio launch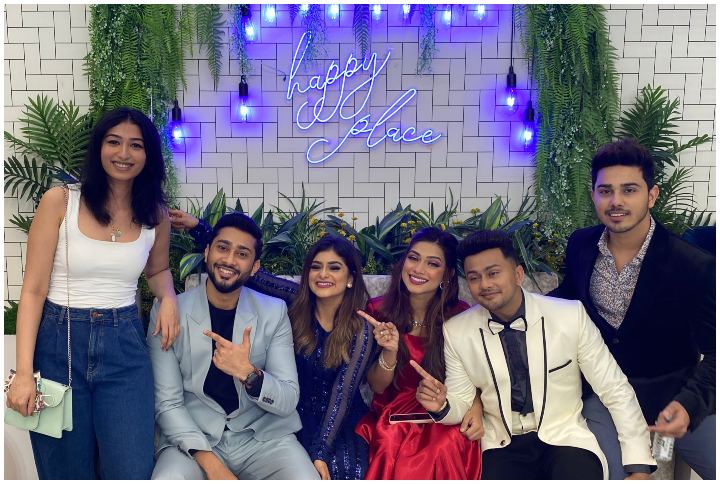 Last evening marked a grand celebration as the creator group launched their very own Atrangz content creation studio in Versova, Mumbai. A super cool fact about the studio is that it is designed by our super-star, Zaid Darbar himself. The studio has two huge dance halls as well as some recreated home space (bedroom, kitchen and more). It also has some adorable photo-ops, isn't that cute? The studio is open for other creators to make content too. However, we are super excited to see our gang #Atrangz create some amazing and unique content here. The launch was a big success and other than family members, many talented creators like Aadil Khan, Sunny Chopra, Mohammed Ali Mirajkar were present at the celebration. We are so proud of Atrangz for starting something new and wish them all the best in the future!
Here's what Atrangz (Zaid Darbar, Anam Darbar, Nagma Mirajkar and Awez Darbar) have to say:
We're very excited about our first step in this new journey, it's a dream come true! And we can't wait to bring you'll more, there's a lot more coming up and we're super excited so stay tuned!
MissMalini Trending took this opportunity and created a super fun studio tour especially for all of you, check it out right here:
Their love and belongingness for each other is what makes Atrangz a super special squad and we love them. They are indeed #friendshipgoals and we would love to see this lit squad do bigger things in life too.
Also, don't forget to follow @missmalinitrending to know more about your favourite influencers and content creators!