January 5th, 2021 marked Deepika Padukone's 35th birthday and the actor celebrated it with an intimate dinner with close friends and family. The outing was attended by the likes of Ranbir Kapoor, Alia Bhatt, Ananya Panday, Ishaan Khatter, Siddhant Chaturvedi, Karan Johar, Shaheen Bhatt amongst others. An intimate affair but a star-studded one. For the celebrations, the celebrities did not take the OTT glamorous route but their outfits were far, far from basic. Mostly eccentric and risqué in nature, here's what Deepika, Ranveer and the other attendees wore for the night. Keep scrolling for a peek!
Ranveer Singh and Deepika Padukone
The birthday girl channeled her love for the colour black and oversized clothing, dressed in a head-to-toe black oversized look. A turtleneck paired with baggy leather pants, stretchy black socks with pumps and a facemask—all in the same hue. To break the monotony of the look, Deepika added a gold necklace over her sweatshirt that made a sneaky cameo. Even her glam was a dramatic black and brown smokey eye. Complementing DP was Ranveer looking slick, suave and quite sober for the kind of sartorial quirks he's famous for. The actor picked a white shirt underneath a black sweatshirt, blue flared jeans, a Gucci hat with formal, printed Gucci shoes and clear sunglasses. Don't the two look uber-cool in their OOTNs?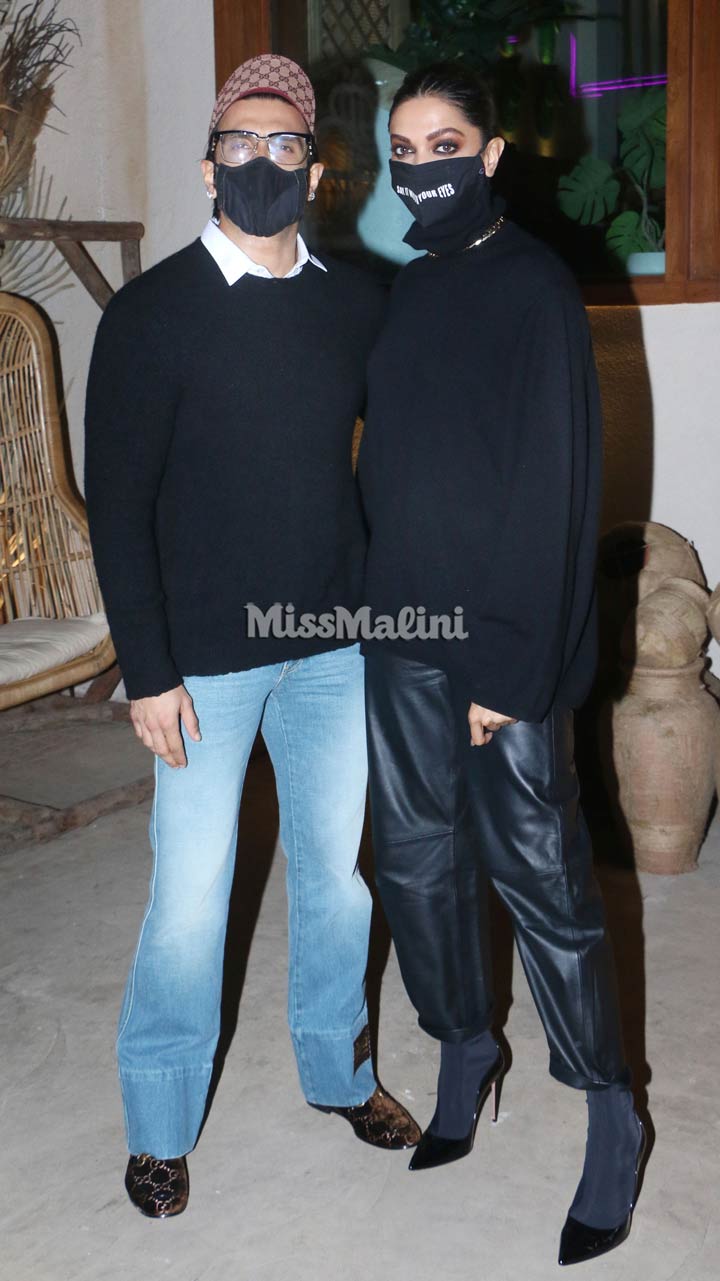 Ranbir Kapoor and Alia Bhatt
Ranbir chose to go in a semi-formal outfit for the celebrations. His picks: a white shirt with folded sleeves, black skinny jeans from DSquared2, a printed belt and combat boots. He rounded off his look with a black mask from Louis Vuitton. As for Alia, the actor also chose to go all-black but unlike Deepika's grunge-chic outfit, Alia opted for a more feminine and sexy look. She wore a black sweetheart-necked crop-top featuring voluminous sleeves from House of CB, that exposed her toned midriff. She coupled her blouse with a black denim with frayed hems. She completed her casual but impactful look with mini gold hoops, pointed-toe heels and a black facemask.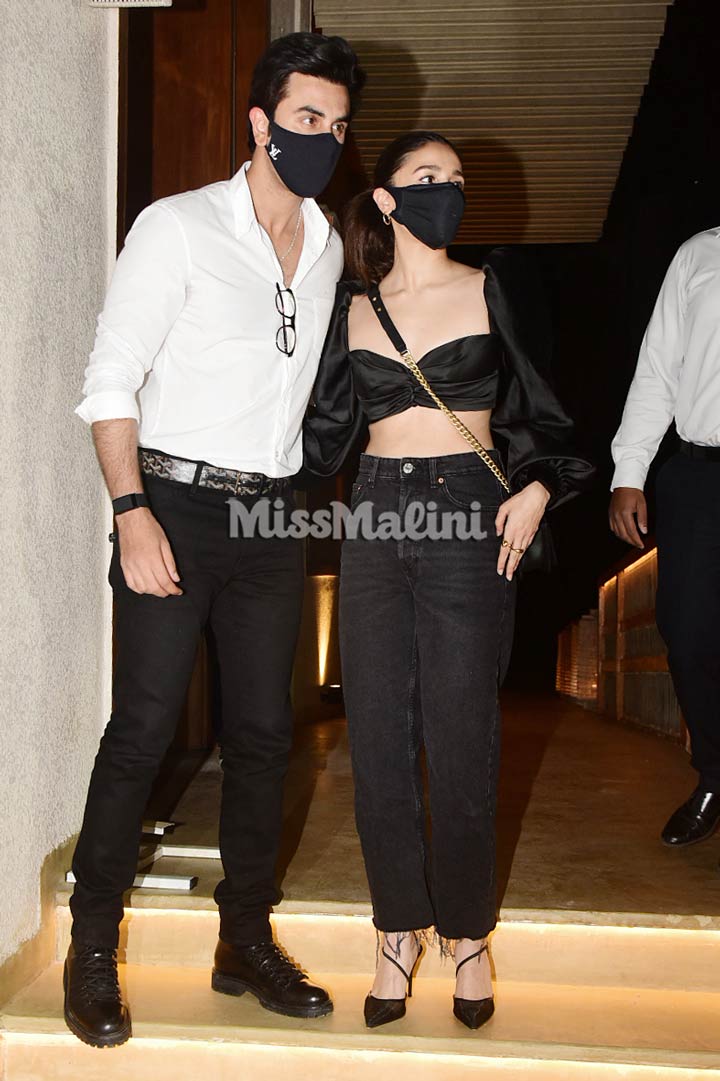 Ananya Panday and Ishaan Khatter
The new couple in town ensured they made a stylish entry for the night. For the event, Ananya chose to wear an all-white outfit. An off-shoulder corset blouse with a frilly neckline and sleeves and bow detailing teamed with a pair of white trousers featuring utilitarian details like pockets and a drawstring hemline. She added a pop of colour to her look vie neon pink heels and a black facemask. Ishaan also coordinated his look with Ananya and opted for an all-white look with pops of colour. His picks: an oversized, faux-fur sweater with black and pink spray paint-like design and white skinny jeans. A pair of multicoloured Nike Air Jordans and a black facemask completed his look for the night.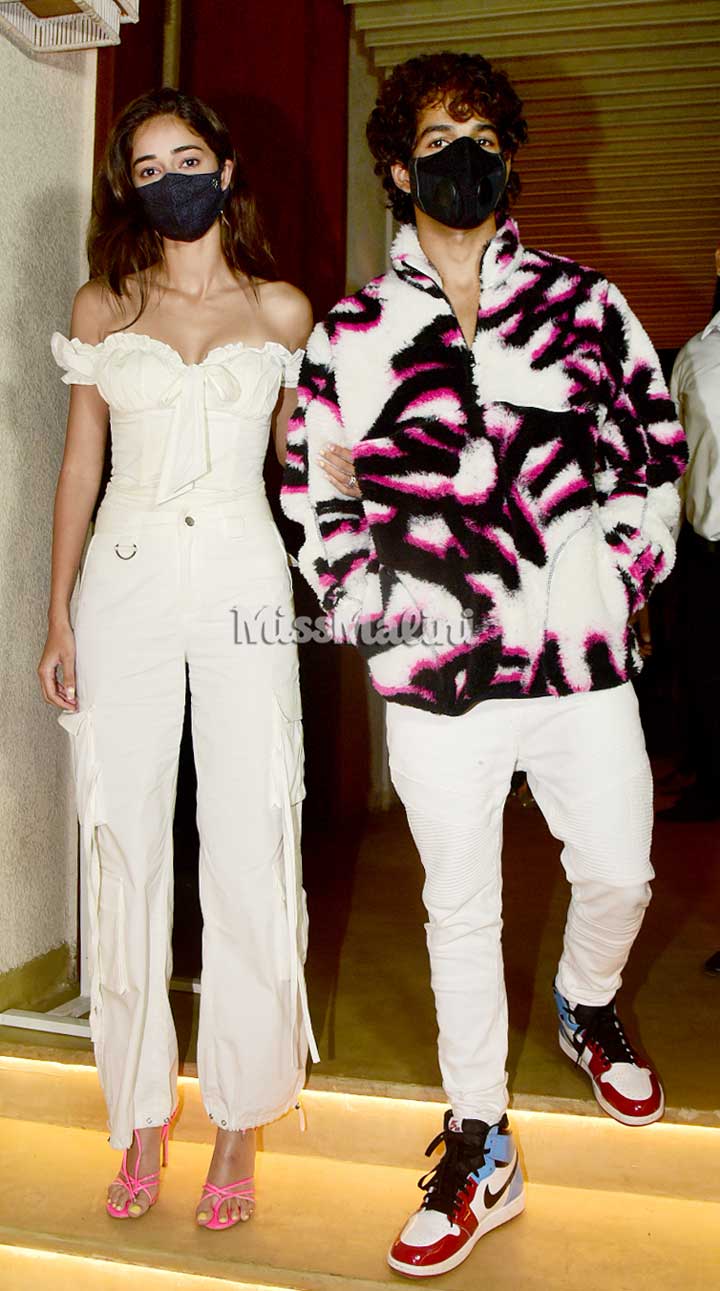 Siddhant Chaturvedi
Siddhant also opted for a black and white look like Ranbir but kept it easy and casual. The star wore a white t-shirt and layered it with a black shirt, teamed with black skinny jeans. A pair of white sneakers completed his monochromatic and fairly easy-to-recreate look.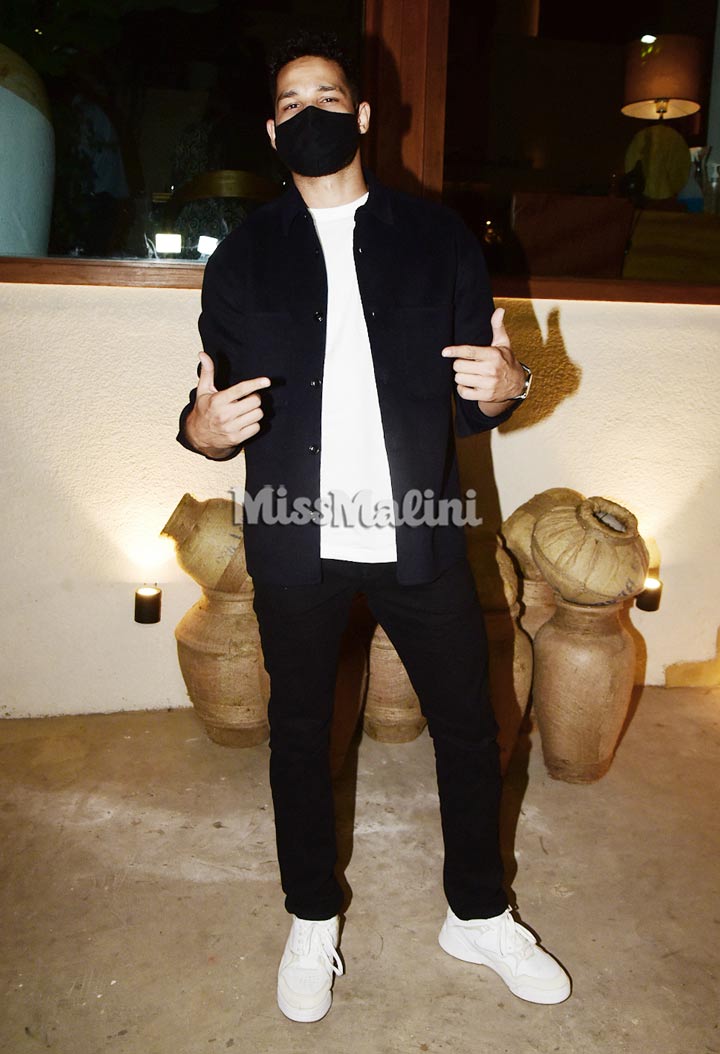 Love how all the stars coordinated their outfits not just with their beaus but also amongst each other for Deepika's birthday! Whose look do you like more? Tell us in the comments below.
And don't forget to follow @missmalinifashion on Instagram to never miss a style tip!